Scooter Maker Niu Charges in China, But Stuck in Bullpen Globally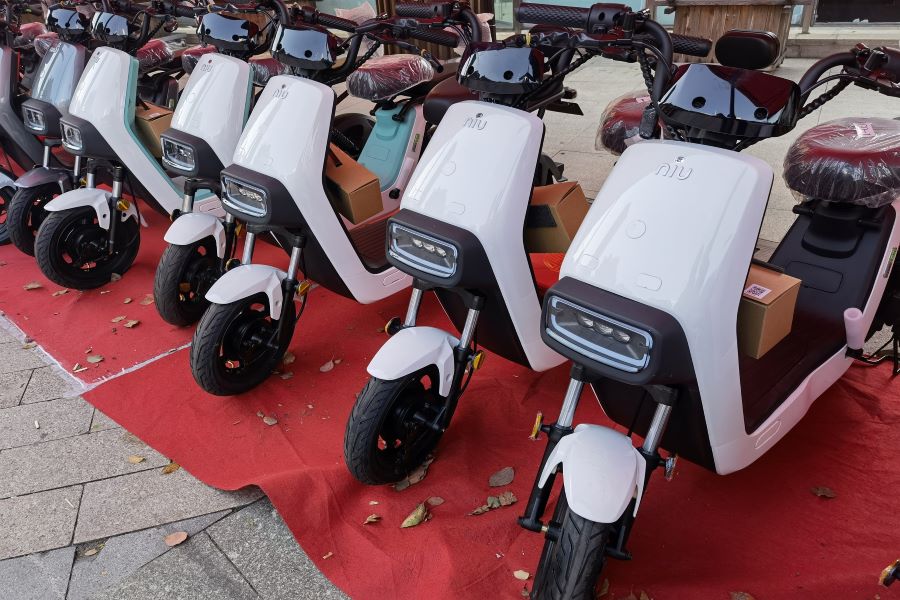 Company targets 600 new store openings in China in first half of 2021, raising total count by nearly 40%
Key takeaways:
Investors are growing cautious on Niu Technologies due to falling prices for its scooters at home and lack of progress internationally
The company could still emerge as a major global brand after the pandemic subsides and shipping prices come down
By Doug Young
Electric scooter maker Niu Technologies (Nasdaq: NIU), whose name means bull in Chinese, is making a major charge in its home China market. But its voice is barely audible overseas, even as the global market beckons as its next major growth story.
That's the message coming from the company's latest quarterly results, which show how reliant Niu continues to be on its home market and how that's where it's putting most of its focus for now.
That's not necessarily a bad thing, especially at this particular moment, since most of the Western and Southeast Asian markets where the company is active are still in some form of Covid-related lockdown. But it's not necessarily that encouraging for the future, as the company is already quite dominant in China and is likely to max out its potential there before long.
What's more, China is a land of knock-offs and imitators who can quickly pile into any hot sector, which automatically puts pressure on the market and results in cut-throat competition. That kind of worrisome trend was also rearing its head in the company's results in the form of sharply falling prices in the Chinese market.
We'll start with the good news, which comes in the company's first-quarter China sales and its outlook for the current second quarter.
The company previously pre-announced its first-quarter unit sales in early April, which showed its China sales nearly quadrupled to about 145,000 scooters compared with the first quarter of last year. While last year's first quarter wasn't tough to beat since that was the height of China's Covid outbreak, the latest figure was also triple the pre-Covid figure from the first quarter of 2019.
China accounted for 91.3% of the company's e-scooter revenues during the latest quarter, while international sales made up the rest.
Despite the huge China jump in unit sales, the company's overall quarterly revenue rose by a far more modest 135% to 547.3 million yuan ($85 million). When revenue growth lags unit sales growth by such a big gap, there can only be one culprit: falling prices. Indeed, the company said its average scooter price in the first quarter tumbled 35.8% year-on-year to 2,975 yuan.
International prices fell about 15%, but were actually relatively stable after accounting for a change in the way products are shipped and currency factors due to a weakening U.S. dollar. But the average scooter price in China fell 27%, which, no matter what the company said, can only reflect growing competition at home.
Partly as a result of that pressure, the company reported a loss of 5.4 million yuan for the quarter – its first such quarterly loss since the dismal first quarter of last year at the height of China's Covid outbreak. The company blamed the latest quarterly loss on big promotional spending at home, including the hiring of a famous singer during the Lunar New Year holiday.
China Charge
A deeper dive into Niu's results, supported by comments from its earnings call, shows the company has its sights squarely focused on China for now. It opened 300 domestic stores in the first quarter and is on track to open another 300 in the current quarter. With around 1,600 stores nationwide at the end of last year, that means the company will expand its national network by nearly 40% in the first half of this year alone.
By comparison, the company added a modest seven branded stores to its global network during the first quarter, bringing its total to 123. It also noted it works with another 1,000 independent dealers who are authorized to sell Niu scooters outside China.
The big China expansion is the major factor behind Niu's relatively rosy forecast for the current quarter, with the company expecting revenues will rise 40-60% to between 900 million yuan and 1.03 billion yuan for the three-month period. If we assume actual scooter prices will continue to fall by a similar 27% seen during the first quarter, that means second quarter unit sales of scooters should rise by between 50% and 75%.
Those figures would mark a strong increase from last year's fourth quarter, which saw revenue rise 25% and unit scooter sales grow by about 42%.
Investor reaction to the latest report wasn't all that strong, with Niu shares falling 1.2% to $28.85 in Monday trade after the results were announced. The stock has more than tripled since its 2018 IPO on the Nasdaq, though it has lost about 40% of its value from a peak back in February.
The company's international pause is probably one of the major factors behind recent investor disappointment. Electric scooters like Niu's are increasingly popular outside China due to their environmentally friendly image and relative affordably. The highly fragmented nature of the market should also offer a major opportunity for Niu, which is a relative heavyweight in its field.
Niu has frequently pointed out that global shipping costs are one of its biggest obstacles at the moment, as such costs have spiked since the middle of last year for pandemic-related reasons. So it's quite possible, and perhaps even probable, that if and when costs return to more normal levels Niu will resume its modest global push. But if that's its plan, it certainly isn't talking about it too much.
In the meantime, the recent sell-off means Niu's stock now trades at a relatively high price-to-earnings (PE) ratio of about 100, though that drops to 35 and just 22 based on forecasts for this year and 2022, respectively. There aren't too many comparables out there due to the industry's fragmented nature, though Italy's Piaggio trades at 30 based on last year's results.
To subscribe to Bamboo Works weekly newsletter, click here