Niu's Global Sales Hit the Skids, as Domestic Purchases Zoom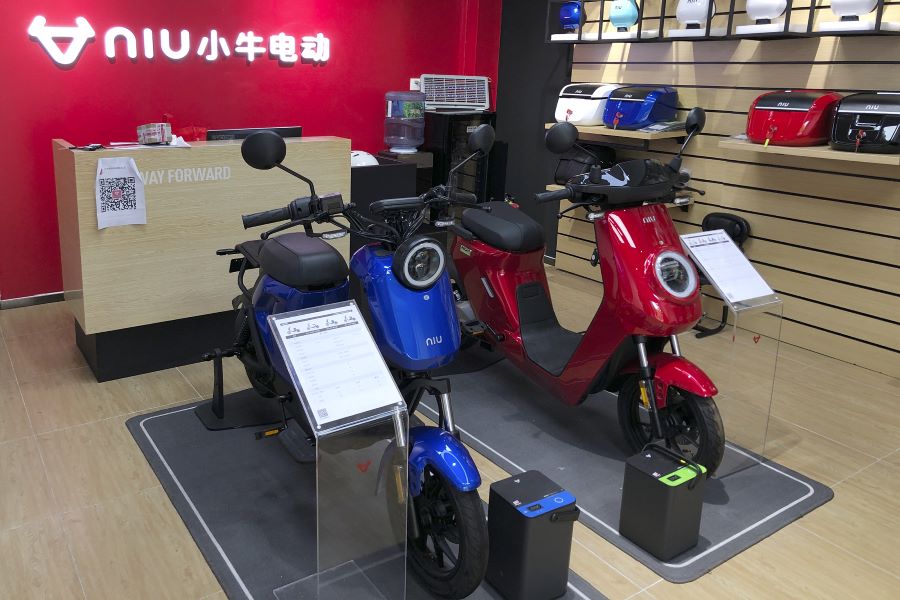 Electric scooter specialist blames Covid for overseas sales decline in first quarter, even as business in its home China market rebounds sharply in post-Covid surge
Key takeaways:
Niu Technologies is emerging as one of China's top electric scooter makers
The company's international sales have stalled for pandemic-related reasons, but could rebound later this year as more normal conditions return and its distribution improves
By Doug Young
Electric scooter maker Niu Technologies (Nasdaq: NIU) is a story with many moving parts, some of which were on display in a Tuesday update that showed sales in its home China market boomed in the first quarter. But while China sales more than quadrupled year-on-year, the same wasn't true for its global sales that actually fell by about 15%.
Niu is part of a complicated story about a highly fragmented global market that is expanding rapidly, with different factors fueling growth in different regions. Add to that the global pandemic, which Niu is blaming for its weak exports in the first quarter, and one can start to see why this market isn't easy to understand.
But the bottom line is a bit more straightforward. Electric scooters, which include both two-wheeled kick-style models and models that look more like motorcycles, are an increasingly popular option for people in many parts of the world for shorter-distance travel. In the West they are seen as environmentally friendly and less labor intensive than bicycles. Meantime, riders in developing markets like China and India like them more for their relative affordability compared with much pricier cars.
That dual popularity has created a market that's expected to grow from $18.6 billion in 2019 to $42 billion by 2030, translating to annual growth of around 8%, according to a report issued last year by Grand View Research.
While those sums may not sound too lofty, they are more than enough to fuel a highly fragmented electric scooter sector that could very well likely consolidate over the next decade. As one of the larger brands, Niu could certainly help lead that consolidation and emerge as a major player if it can move beyond its home market. China made up a hefty 80% of its sales by revenue and an even larger 97% by units sold in the just-concluded first quarter, even if that China reliance was distorted by the pandemic.
That leads nicely into the company's latest update, which shows that it sold nearly 150,000 electric scooters in the first quarter of the year, according to its announcement issued before U.S. markets opened on Tuesday.
China sales were particularly turbocharged, roughly quadrupling to around 145,000 units compared with a year earlier. That's not too surprising, since the company's sales plunged about 35% in the first quarter of 2020 when China's Covid-19 was at its height and most people were housebound. Still, it's worth noting the company sold about 50,000 scooters in China during the first quarter of 2019, a more typical year, meaning the latest figure has nearly tripled from two years ago.
Weakness Overseas
While China sales were booming, things weren't so great internationally. The company sold a meager 4,995 electric scooters outside China in the year's first quarter, representing a 14.5% decrease year-on-year. Unlike China, which experienced a sharp downturn last year and rebound in 2021, Niu's international sales have actually dropped in each of the last two years during the first quarter.
The company noted that chaos in the international shipping market was a major factor behind this year's first-quarter drop, due to limited capacity that caused cargo prices to soar. It said that factor left it with a backlog of unfilled international orders for 5,437 scooters during the quarter, implying its global shipments could have actually doubled during that period under more normal conditions.
Investors gave the report a relatively positive reception, with Niu's shares gaining 4.2% on Tuesday after the announcement. Anyone who invested in Niu's shares at the time of its June 2019 listing has done quite well, with the stock now more than quadruple its IPO price. But reflecting the mixed feelings many may have about the company lately, its shares have gone through several peaks and valleys since last September and are now down more than 20% from its all-time high in February.
A look at the leading brands in different countries shows how fragmented the global market is. A list of the top players in North America has almost nothing in common with similar lists for Europe. A list of manufacturers on Wikipedia is even more dizzying, containing around 80 major names. Niu does appear on some lists as a leading brand in both Europe and North America, which is perhaps a good sign as it means the brand is recognized as a leader in each place.
Niu's latest annual report shows it obtained about a fifth of its sales from non-China markets in 2019, which is probably a better barometer of the company's broader business mix than the numbers in the latest announcement. While about two-thirds of its overseas sales came from Europe, where it uses the Gova brand name, the portion from "other" unspecified foreign markets rose by more than a factor of 15 between 2018 and 2019, indicating it was diversifying its global base.
Since the big majority of the sector is smaller private companies, it's not surprising that the few larger publicly listed players like Niu have widely varying valuations. Niu itself trades at a fairly rich price-to-earnings (PE) ratio of 100 based on last year's earnings. That could come down to a more manageable though still somewhat high 45 based on 2021 profit forecasts from analysts polled by Yahoo Finance.
By comparison, Italy's Piaggio trades at a more modest PE of 37. And Chinese rival Ninebot (Shanghai: 689009), which briefly captured global headlines in 2015 when it purchased struggling former U.S. sensation Segway, trades at a stratospheric PE of nearly 350.
At the end of the day, those PEs could be relatively meaningless due to distortions created during the pandemic. And if one believes that Niu could rebound as the global economy returns to a more normal state, then perhaps the company could be well-positioned to emerge as a major global brand over the next decade.
To subscribe to Bamboo Works weekly newsletter, click here