Hailiang Sees the Writing on the China Blackboard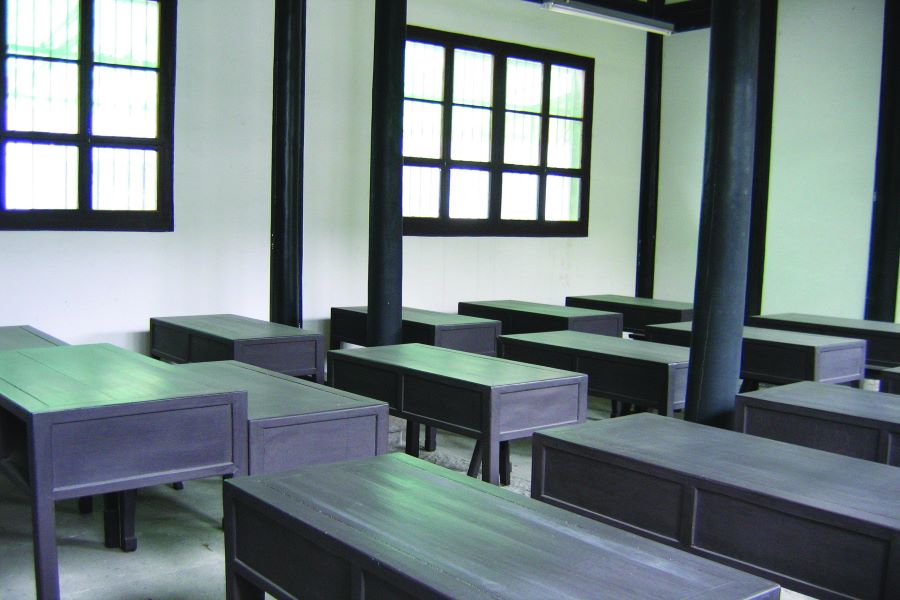 Private school operator launches privatization bid, setting a potential trend for others remaining in the embattled education sector
Key takeaways:
A management-led group has offered to privatize Hailiang Education at a large premium, setting a potential trend for China's listed education companies
Company was relatively less affected by recent government-led cleanup of private education sector, but still faces large uncertainties
By Doug Young
2021 will go down as a landmark year for China's private education sector, following a major government campaign aimed at easing the burden of after-school tutoring on the country's youth. One group that was relatively spared from the campaign was private schools offering actual degree programs, both for young students and adults.
But there's no guarantee the cleanup is finished, especially when it comes to the sensitive business of educating China's youth. Such concerns were probably a primary motivator behind a new privatization bid for Hailiang Education Group Inc. (HLG.US), which announced last week it has received a buyout offer from a group led by its founder Feng Hailiang.
The particular offer is relatively straightforward, even if the circumstances surrounding it are anything but. Hailiang said the buyout group is offering to pay $14.31 for each of the company's American depositary shares (ADSs), representing a 25% premium to their last closing price before the deal was announced last Thursday.
The stock shot up 18% after the announcement on trading volume that was many times higher than its usual level. It continued to move up to its latest close of $14 on Tuesday – just 2% below the buyout offer price. The small gap between its latest price and the offer means investors are fairly certain the deal will get done – a strong likelihood since investors probably just want to get rid of this uncertainty-plagued stock once and for all.
The bottom line is that China would probably prefer that all the companies in the beleaguered private education sector abandon their public listings completely. Such a tack would actually bring the country more in line with western standards, which tend to favor keeping private education in the non-profit sector to avoid potential conflicts between seeking profits and doing what's best for students.
To summarize briefly on the bigger picture, China launched its sweeping private education reform, known locally as "double reduction," in September. Key elements included the banning of after-school tutoring on weekends and public holidays, and the requirement that all private sector operators get official education licenses and run on a non-profit basis.
The campaign had a devastating effect on all publicly traded companies that had found a recent goldmine in after-school tutoring services, which many parents considered essential to giving their children an edge in China's ultra-competitive education system.
Companies that were once worth billions of dollars suddenly had 90% or more of their market value wiped out in a matter of months. The campaign has already claimed a few victims outright, including OneSmart (ONE.US), which in October announced the halt of most of its operations; and Rise Education (REDU.US), which announced a plan to transfer most of its assets to a private group.
A few companies have said they intend to move forward and try to salvage a business from what's still allowed, such as courses in non-academic areas like art and study abroad. Those include older giants like New Oriental (EDU.US) and TAL Education (TAL.US), which still have market values of $3.4 billion and $2.6 billion, respectively; as well as newer companies like Youdao (DAO.US) and Gaotu Techedu (GOTU.US), which feel they have proprietary technology and other capabilities that could give them an edge in the new landscape.
Stuck in the Middle
While the case is relatively clear for the group we've described above, it's a big hazier for a smaller group of companies like Hailiang and China East Education (0667.HK), which offer actual degrees, and also still have sizable market caps. Hailiang, which offers degrees for K-12 students, and China East Education, which offers vocational training for adults, currently have market caps of $360 million and $1.4 billion, respectively.
Of those two, Hailiang's position seems the most precarious position due to its provision of education to young students – an area that's particularly sensitive in China.
Under the new regime, organizations were barred from using contractual arrangements to control private schools that provide compulsory education from kindergarten to 9th grade. That was one of Hailiang's main businesses. Private schools offering compulsory education were also prohibited from making transactions with related parties.
Those changes forced Hailiang to give up control of affiliates that engage in compulsory education and stop all K-9 businesses as of the end of June, which resulted in an impairment loss of about 252 million yuan ($40 million) in the third quarter. Hailiang was also forced to effectively exit the tutoring business in October by selling all of its stake in a unit that ran after-school classes in academic subjects to an entity controlled by the chairman of Hailiang's parent group. Before that such tutoring had been one of its fastest-growing businesses.
The bottom line for Hailiang, and really all the others who are trying to salvage their business under the new rules, is that the next few years will be quite ugly from a financial perspective. Most of the companies' most-recent financial reports are for the third quarter, which runs through September and was mostly before the new rules took effect.
While most of the companies have estimated the kind of impact they will feel, we won't really begin to see just how bad things are until they start releasing their fourth-quarter reports in February. And even then, things are likely to only get worse for at least a year before they start to get better.
Against that backdrop, it's certainly not difficult to see why Hailiang would like to conduct its makeover in private. And given that reality, it wouldn't be surprising if some of the other remaining listed companies that intend to try to salvage their business also make privatization bids in the months ahead.
To subscribe to Bamboo Works free weekly newsletter, click here