Education Cleanup Claims First Victim as OneSmart Halts Most Operations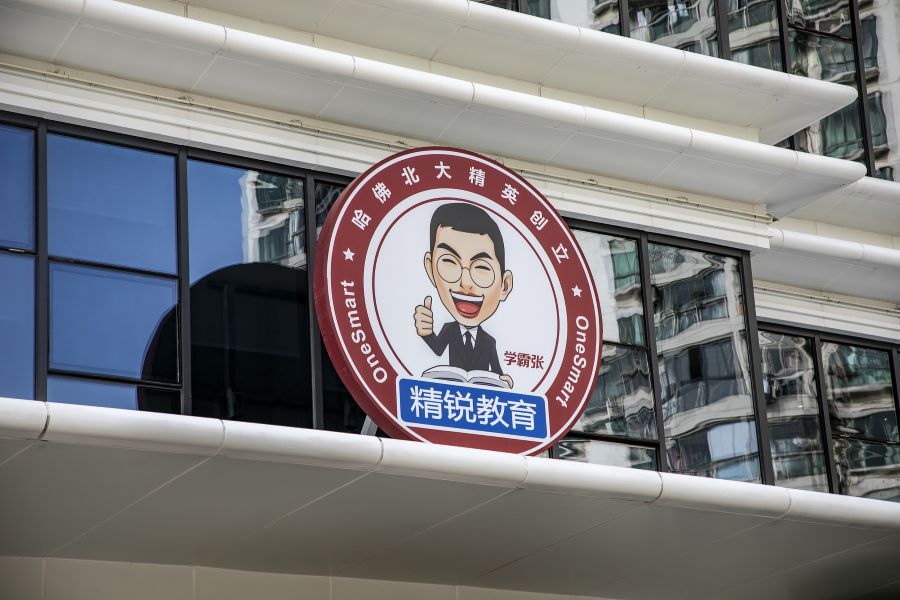 Board approves 'the suspension of all of the company's education programs and learning centers in China,' according to statement
Key takeaways:
OneSmart says its board has approved a halt in operations for all of its education programs and learning centers in China
Chinese education stocks are dividing into two camps of above and below $1, with day traders emerging as the driving force for the latter
By Doug Young
The bloodbath among education stocks that used to be some of China's biggest rising stars on Wall Street has claimed its first victim.
That's the first key takeaway from a new announcement by OneSmart International Education Group Ltd. (ONE.US), which says its board has officially approved the halt of operations for all of its learning centers and education programs throughout China. That would make the company China's first publicly listed educator to cease most operations in the ongoing regulatory cleanup that has gripped the after-school private education sector since July.
OneSmart shares were unchanged in Tuesday trade after the announcement came out. But the shares plunged 40% in after-hours trade, taking them further into penny-stock territory, where they have traded since dipping below the $1 mark in July.
July was a key month for China's previously booming sector providing after-school tutoring services for the nation's primary school students, as that's when details of a government-led cleanup of the sector started emerging. The campaign is aimed at easing pressure on China's stressed-out youth, whose parents were seeking to give them a competitive edge through enrollment in this new generation of after-school tutoring programs.
A key provision of the campaign was the prohibition of after-school tutoring on weekends, holidays and over long vacations, which were previously the most popular times for such classes. The other key provision required all operators to get education licenses as of Sept. 1 to keep operating. Many had been operating without such licenses previously due to their nature as supplemental education providers, often offering classes online rather than in traditional classrooms.
OneSmart didn't get too specific in its brief announcement. But a number of factors could be at play, including failure to receive an operating license, a cash shortage, or perhaps something else entirely.
"OneSmart International Education Group Ltd. today announced the approval by the board of directors of the company of the suspension of all of the company's education programs and learning centers in China, primarily due to challenges posed by recent changes in the relevant policy and regulatory landscape in China's private educational service industry and the resulting operational difficulties experienced by the company," it said in the three-sentence statement.
It added that two of the company's independent directors had resigned, and that it intended to appoint new people to fill those spots in "due course."
OneSmart issued its last financial report in May for its fiscal quarter ended Feb. 28. At the time it said it had 524 million yuan ($81 million) in cash and cash equivalents, with another 76.5 million yuan in restricted cash. In the same report, it said its net loss for the three-month period ballooned to 172 million yuan from 16 million yuan a year earlier.
Such losses were quite typical for most of the companies in China's after-school education sector, which has sprung up over the last decade and is extremely competitive.
Penny Stocks
We've previously said that stock buyers who can predict who is best-positioned to survive the current cleanup could profit handsomely, since most of China's after-school education stocks are now trading at or near all-time lows.
OneSmart seems typical of the group that many were predicting might not survive. The company was actually founded back in 2008, but expanded aggressively more recently and had 225 centers in 42 Chinese cities at the end of 2017 just before its New York IPO. It raised nearly $200 million in its March 2018 listing, and briefly saw its shares surge more than 40% above their $11 listing price, giving it a market value of as much as $1.6 billion.
Fast forward to the present, when the company's American depositary shares (ADSs) now trade at just 40 cents apiece, and could fall further to about 24 cents, based on the Tuesday after-hours trading figure. At that level it would have a market cap of just $40 million.
The company hasn't issued any financial statements since May, but it did issue an update on the cleanup in July that warned of "material adverse impact" on its business. It further warned in August that it had fallen out of compliance with New York Stock Exchange listing requirements after its stock fell below $1 for more than 30 consecutive trading days.
When that happens companies typically have up to six months to bring their shares back above $1 or risk being delisted.
As the cleanup moves into high gear, with operators like OneSmart facing the possibility of imminent closure, an interesting phenomenon is taking shape with their stocks.
As one would expect, OneSmart's announcement sparked selling pressure on many of its peers, with shares of companies like New Oriental (EDU.US), Gaotu Techedu (GOTU.US) and TAL Education (TAL.US) all trading down on Tuesday by 3% or more. But shares of smaller companies like Tarena International (TEDU.US), Rise Education (REDU.US) and 17 Education (YQ.US) were all either unchanged or even rose slightly during the session.
The dividing line between these two groups is the $1 mark for their share price. Whereas New Oriental, Gaotu and TAL all trade squarely above $1, Rise and 17 Education are firmly in penny-stock terrain. Tarena is on the cusp, last closing at $1.0088.
Thus one could argue that going forward, the $1 line could mark a symbolic divide under which these stocks are no longer taken seriously by longer-term investors and instead become betting instruments for day traders. While it's still possible one or two of these penny stocks could ultimately bounce back, they're unlikely to attract any longer-term bettors anytime soon.
To subscribe to Bamboo Works free weekly newsletter, click here