Wuxi AppTec finds bitter aftertaste in waning demand for Covid drug services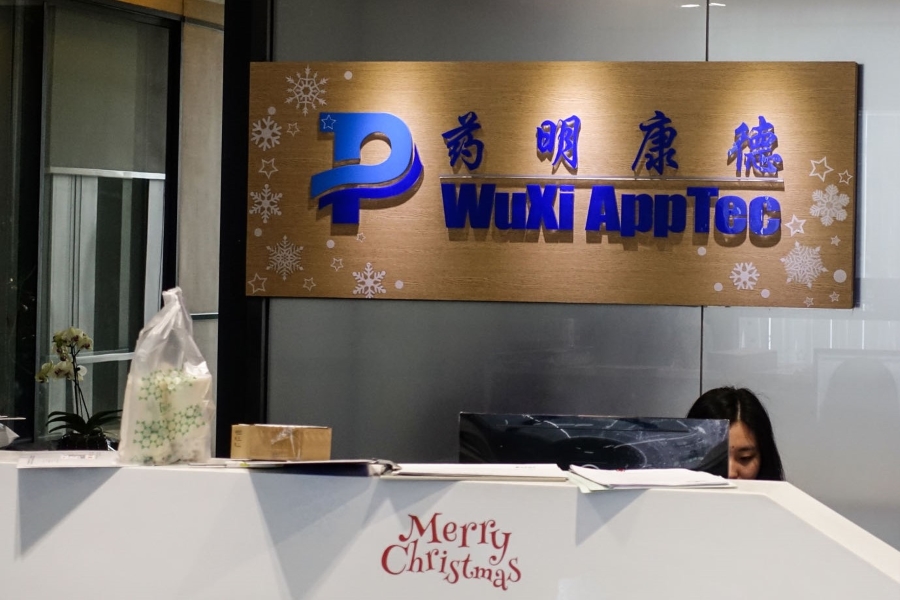 The leading Chinese CXO posted record revenue and strong profits last year, but its growth started to slow in the fourth quarter
Key Takeaways:
Wuxi AppTec's chemical business doubled last year, but only grew around 40% excluding revenue from Covid-related products and services
The drug outsourcing services company's net profit fell 47.6% sequentially to 1.44 billion yuan in the fourth quarter, as its growth momentum slowed
By Emily Chan
Most companies are breathing a huge sigh of relief now that China's pandemic has passed, basking in a return to pre-Covid times when things were more predictable. But a small group that reaped big profits on demand for Covid-related products and services are feeling just the opposite, suffering from a post-pandemic hangover.
One company feeling that Covid comedown is Wuxi Apptec Co. Ltd. (2359.HK; 603259.SH), China's leading R&D outsourcing specialist, known in the industry as Contract X Organizations or CXOs. The company published impressive 2022 financials last Monday, including revenue that surged 71.8% to a record 39.35 billion yuan ($5.7 billion), and profits that rose 72.9% to 8.81 billion yuan, also a record.
But a deeper dive into the report shows the company's growth tailed off considerably at the end of the year as demand for its services for Covid-related drugs began to slow.
WuXi AppTec's latest report shows four of its five divisions, WuXi Chemistry, WuXi Biology, WuXi Testing and WuXi ATU, all grew last year thanks to greater efficiency from an increase in commercialization orders and optimized production processes. The only division to post a revenue decline was WuXi DDSU, its drug discovery services business.
Its chemical operation, which provides one-stop services from drug discovery to R&D and production, was its big breadwinner with 28.85 billion yuan in revenue last year, up 104.8% from 2021, accounting for nearly three-quarters of its total. The division's gross profit also doubled to 11.4 billion yuan with a gross margin of 39.5%, helping to lift the company's total gross margin by 0.8 percentage points to 36.9%.
By comparison, revenue for the other three divisions grew more modestly by about 25%. The drug discovery services division's revenue fell by 22.5% to 970 million yuan as the company upgraded the operation by introducing higher-quality projects.
Covid demand
WuXi AppTec gave itself a pat on the back, attributing the strong year to its one-stop-service model that allowed it to better leverage services across its different platforms. But the company also got a major Covid boost as companies across the world raced to develop drugs to treat the virus, boosting demand for its outsourced development and manufacturing services.
As the race to market among new Covid drugs heated up, WuXi AppTec previously forecast a sharp pickup for its chemical business. The latest results show that's indeed what happened, making the company one of the few to benefit from pandemic-related developments.
But excluding business from Covid-related projects, the company's chemical division posted revenue of just 19.72 billion yuan, up 39.7% from 2021. Excluding such business companywide, WuXi AppTec's total revenue for the year also grew by a strong but far less impressive 31.9% to 30.23 billion yuan.
WuXi AppTec's business will inevitably face more headwinds this year as the pandemic quickly retreats and demand for related vaccines and drugs also falls. That reality was already showing up in last year's fourth quarter, when its revenue grew by only 3% quarter-on-quarter to 10.96 billion yuan and its profit tumbled by 47.6% sequentially to 1.44 billion yuan, accounting for just 16.3% of last year's profit. That's leading many to wonder whether even bigger slowdowns could be in store for this year.
Taking existing orders and the high base associated with last year's rapid growth into account, the company has conservatively forecast much slower revenue growth this year between 5% and 7%. Other factors like growing bulk drug procurement by the Chinese government, which tends to push down prices, is also likely to hurt WuXi AppTec's business since such falling prices tend to dampen new drug development activity.
Since late 2021, prices of innovative drugs like PD-1 monoclonal antibody drugs have been falling back to the earth, eroding profits for drug makers and prompting many to slow their R&D spending. WuXi AppTec warned in its annual results that demand for its outsourced services would be adversely affected by the R&D spending slowdown.
First sales commissions
While the outlook for its core services looks cloudy, a brighter spot for the company this year will be its first-ever revenue from sales commissions that are part of its commercialization business. It currently has two projects in the new drug application (NDA) stage for its drug discovery services business, and will get a cut of sales when those and other drugs it is helping to commercialize make it to market.
In addition, the company's money-losing WuXi ATU unit, a cell and gene therapy contract testing development and manufacturing organization (CTDMO), has helped a U.S. client complete the marketing application for an innovative tumor infiltrating lymphocytes (TIL) project. It has also helped a Chinese client complete a similar application for a project that uses a Chinese-developed chimeric antigen receptor T-cell (CAR-T) therapy. Those projects also, in all likelihood, will enter the commercialization stage in the second half of 2023.
At the same time, costs related to the development of new facilities to boost its services and production capacity are likely to eat into profits. The company is currently building a new laboratory services platform in the city of Nantong and is also designing and building other facilities in the Chinese cities of Changzhou and Wuxi, and abroad in the U.S. and Singapore. Such efforts will push up its infrastructure expenditures as it shifts from an asset-light model to a model where it directly owns more of its facilities.
We should note that only 19% of the company's revenue came from China last year. The U.S. alone contributed 25.88 billion yuan, or 65.8% of its total for the year. That meant substantial dollar appreciation last year caused the company to realize a nearly 400 million yuan investment loss related to its short-position dollar forward futures it bought for arbitrage purposes. Similar losses could remain a risk this year if global currency markets remain volatile.
Investors liked the company's latest report overall, with its Hong Kong stock rising a combined 11.7% in the two trading days after the announcement. Its latest price-to-earnings (P/E) ratio stands at 25.4 times, slightly higher than the 24.6 times for its peer Pharmaron Beijing (3759.HK; 300759.SZ). Most brokerages continue to be bullish on the stock as well. Macquarie Group estimates WuXi AppTec's core revenue, excluding its Covid-related business, will rise by 31% this year. It gave the stock a HK$120 target price, 40% above its current level.
To subscribe to Bamboo Works weekly free newsletter, click here