Undervalued Zai Lab on Licensing Binge to Boost Cancer Treatment Portfolio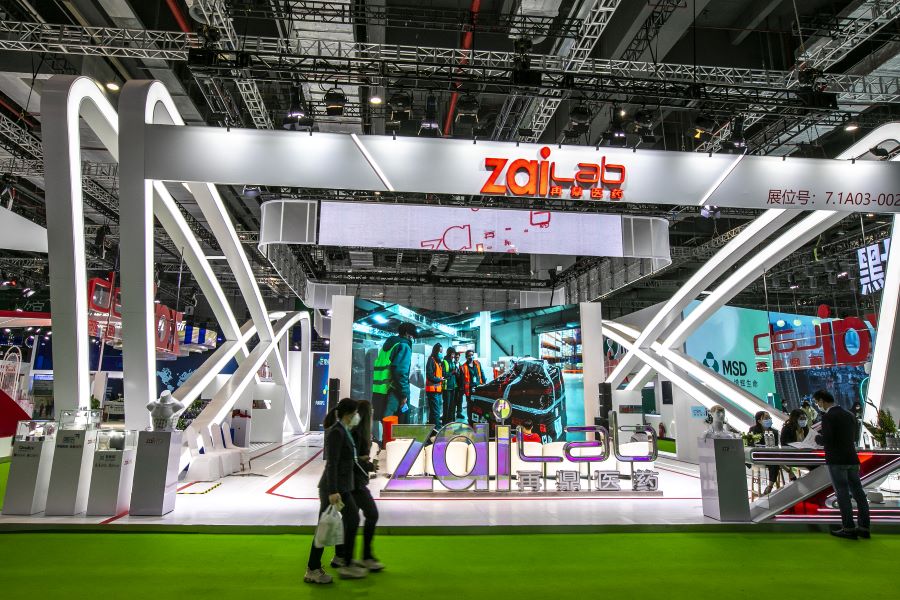 With $860 million in new cash from a recent share sale, company seeks to accelerate approval and rollout of new cutting-edge treatments from abroad
Key takeaways:
Zai Lab's revenue should continue to surge on new product approvals and inclusion of a core product on the National Reimbursement Drug List
Company's losses could continue to balloon as it pursues expensive new licensing deals at the cost of near-term profits
By Richard Barbarossa
Cancer and autoimmune drug specialist Zai Lab Ltd.(Nasdaq: ZLAB; 9688.HK) is poised to accelerate approval of new medicines and further broaden the types of illnesses its products can treat after raising almost $860 million in a new share sale last month.
Its aggressive tack, reflected in its latest results released Monday, follows a similar pattern among Chinese drug startups rushing to take advantage of the nation's recently streamlined drug approval process. Many of those are foregoing profits as they record their first significant revenues, seeking to pursue growth instead. And like some of its similarly loss-making local rivals, Zai Lab's stock may be significantly undervalued, many analysts believe.
With no debt, surging revenue and more than $1.8 billion in cash after raising $860 million through new share sales last month, Zai Lab's shares have plenty of room to rise, according to those analysts. What's more, the company is expecting approval for about 10 pipeline treatments over the next three to four years, adding to its three drugs already on sale.
A survey of 11 analysts gave Zai Lab's Nasdaq-traded shares an average one-year price target of $191.38, representing a 26% premium over its Thursday close of $151.68. That compares favorably with a 15% average upside among 14 analysts for Chinese counterparts BeiGene Ltd. (Nasdaq: BGNE) and is roughly comparable with 25% for I-Mab (Nasdaq: IMAB).
That doesn't mean investors haven't noticed Zai Lab's shares, which at one point in January were up as more than tenfold from their $18 New York IPO price from 2017. A recent price correction could be related to expectations that its revenue growth may moderate after soaring from zero as it began posting its first significant sales in 2019.
Twelve analysts surveyed by stock information site Simply Wall St in March expected the company to post $136 million in revenue and a loss of $3.19 per share in 2021. While that would be a 177% increase from 2020, it's also a large downgrade from previous estimates of $225 million in revenue and a loss of $2.73 per share.
That said, the same analysts expect the revenue of other companies in the industry to grow just 18% annually, according to Simply Wall St, putting Zai Lab's growth well ahead of competitors.
The company's latest quarterly report showed its net product revenues more than doubled to $20.1 million in the first quarter of 2021, compared to $8.2 million a year earlier. Its leading drug Zejula (niraparib) accounted for almost two-thirds of that, and its tumor treating fields therapy device Optune provided the rest.
First-quarter sales of Zejula doubled in the first quarter to $12.6 million year-on-year, while Optune sales soared almost threefold to $7.1 million.
Zai Lab distributes Zejula in mainland China, Hong Kong and Macao following a 2016 licensing deal with the drug's developer Tesaro, which was later acquired by GlaxoSmithKline. In December 2019 it won approval to sell the drug in China for treatment of ovarian cancer, and is currently evaluating its possible use for patients with advanced or metastatic gastric cancer.
In December, the drug was included on the National Reimbursement Drug List, which will make it more affordable for patients and further boost sales.
Cell Division Disruptor
The company's other major cancer treatment device Optune utilizes electric fields to disrupt cell division, inhibiting tumor growth and possibly leading to death of cancer cells. Zai licensed the device from Novocure Ltd. in 2018, and launched it in China last June for treatment of glioblastoma, the most aggressive form of cancer that starts within the brain.
Zai is actively talking with China's National Medical Products Administration (NMPA) as it studies whether Optune can also be used to treat gastric cancer as well. Such branching out to treat a broader range of aliments is common with new cancer drugs, as their developers seek to broaden their commercial potential.
McKinsey & Co. estimates that more than five people die from cancer every minute across China, with roughly half of all global gastric cancer, hepatocellular carcinoma, and esophageal cancer patients coming from China.
Zai founder and CEO Samantha Du is a veteran of China's young but booming pharmaceutical startup scene. Prior to founding Zai Lab in 2014, she began her research career with Pfizer in the U.S. in the 1990s, and later co-founded Hutchison MediPharma and Hutchison China MediTech, which is backed by Hong Kong tycoon Li Ka-Shing.
Zai chief commercial officer and president for Greater China William Liang also comes with strong credentials, joining the company in June 2018 after serving as vice president leading AstraZeneca's oncology business in China. And in December 2020, Alan Sandler joined as head of global development of oncology after serving in a similar role at Roche Group's Genentech.
Seeking to keep its pipeline full, Zai announced two new licensing deals in January, with price tags that blew out its first-quarter R&D expenses to $203.9 million – six times the figure from a year earlier. That caused its net loss to balloon to $232.9 million during the quarter from $48 million a year earlier.
The first agreement will let Zai Lab commercialize the Argenx autoimmune disease treatment drug efgartigimod in Greater China. That was followed by another exclusive deal to commercialize Turning Point Therapeutics' TPX-0022 in Greater China for treatment of solid tumor cancer.
Those agreements followed another similar commercialization rights deal in April 2020 for Regeneron Pharmaceuticals' REGN1979, used to treat B-cell non-Hodgkin lymphoma.
"We definitely (will) continue to strengthen existing disease strongholds in oncology …but also potentially to get into new therapeutic areas," said Jonathan Wang, head of business development, on an earnings call after the latest results were released.
To subscribe to Bamboo Works weekly newsletter, click here