Shared Powerbank Specialist Energy Monster De-Fanged by Competition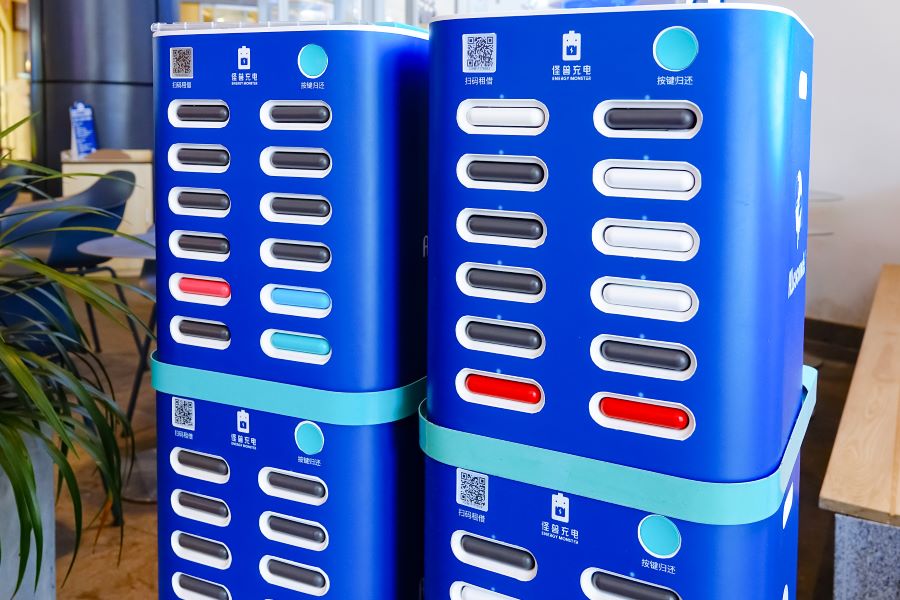 Company's operating profit tumbles by half in latest quarterly results on heavy promotional spending as shares trade near post-IPO lows
Key points:
Smart Share Global, better known as Energy Monster, is suffering sharply eroding margins due to stiff competition in China's powerbank rental market
Company's shares now trade near post-IPO lows, and look undervalued compared to similar shared economy companies
By Doug Young
Investors may be bullish on the sharing economy in the West, but they're far less certain about the situation in China.
That's one of the key messages coming from the world's second-largest economy, where powerbank rental specialist Smart Share Global Ltd. (EM.US), better known as Energy Monster, has just released its second quarterly report since its New York IPO in April. Investors weren't too excited by the announcement, though they weren't too scared off either.
The shares finished down by a minor 0.7% in Monday trade after the results were disclosed, but then bounced back a bit in after-hours trade. Over the longer term, the stock has lost about two-thirds of its value since its early April IPO and now trades near an all-time low. That mirrors a broader trend for many China stocks that have been rattled by Beijing's data security concerns for its overseas-listed companies.
Honestly speaking, Energy Monster doesn't seem to fall into the category of companies with large amounts of sensitive data, unless you consider knowing when and where someone last charged their smartphone as sensitive. But investors don't seem to be making that distinction, dumping shares in just about any tech-related Chinese service company these days.
Energy Monster is one of the few sharing economy companies out there that's actually profitable, though not very profitable. But since so many of its domestic and international sharing economy peers are losing money, it's probably best to use a price-to-sales (P/S) ratio comparison to see just how dimly Western investors view Chinese companies compared with their global rivals.
Energy Monster currently trades at a P/S ratio of just 1.4, which looks extremely anemic for this kind of high-growth tech company whose money comes from renting out powerbanks to people who need a quick charge for their smartphones or other portable devices. Recently listed DiDi Global, considered the Uber of China, trades at an equally anemic 1.5. Though in this case we should point out that DiDi actually does possess huge droves of sensitive individual data and has been singled out by China's internet regulator for a data security review.
China's only standalone shared bike company, Hello Inc., got an equally chilly reception from U.S. investors that forced it to withdraw a plan to list in New York earlier this year.
By comparison, the real Uber now trades at a much higher P/S ratio of 6. The even more-recently listed homestay specialist Airbnb trades at an even loftier 21, which seems a bit high. But those figures do nicely highlight how little respect Western investors are giving China's sharing economy specialists these days.
While China-specific factors like regulatory concerns could be hurting Energy Monster's stock, a more mundane and also very Chinese factor is also probably playing a role: cut-throat competition. As with many things in China, this kind of emerging market tends to attract everyone and their mother, and that's definitely the case here.
Energy Monster was the market leader when it filed its IPO prospectus early this year, only to lose that position when two of its biggest rivals – Jiedian and Soudian – announced their merger just before Energy Monster's listing. The company also faces competition from another major player called Xiaodian, as well as the massive online-to-offline (O2O) services specialist Meituan.
Shrinking Margins
The fierce competition ultimately sullies what otherwise would be a relatively upbeat quarterly report from Energy Monster, which has lost its "unicorn" status due to post-IPO share erosion that has dragged its market value below the $1 billion threshold.
The competition shows up most clearly in the company's sales and marketing expenses, which rose 64.6% year-on-year to 771 million yuan ($119 million) during the three months through June. To put that in perspective, the growth rate was faster than the company's overall revenue that rose a healthy but slower 52.9% to 972.4 million yuan over the same period.
That means the company spends about 80% of all the money it brings in on marketing its service – a very high rate that's probably unsustainable over the longterm. As a result of that heavy spending, the company's operating margin plunged to just 1.9% in the latest reporting quarter from 6.2% a year earlier, as operating income fell by about half to 18.8 million yuan.
Despite those broadly negative trends, the company managed to report a small net profit of 8.2 million yuan for the quarter, reversing a massive 641 million loss from the year-ago period.
Reflecting the difficulties the company is facing attracting investor attention, no major U.S. investor sites were providing a transcript of Energy Monster's investor earnings call more than 12 hours after the call took place. But the company did sound a slightly ominous note in its earnings press release, with CFO Maria Yi Xin quoted as saying: "Looking into the third quarter, we continue to see headwinds that will impact what traditionally has been the peak quarter of the year."
That may refer to China's recent Covid-19 flareup, which has prompted many local governments to conduct massive testing when new cases occur and discourage inter-city travel. Energy Monster said it expected to report third-quarter revenue of 900 million yuan to 930 million yuan, representing a quarter-on-quarter decline on what should normally be the company's strongest quarter of the year.
The bottom line is that while competition is fierce, the powerbank rental market is still quite attractive for its potential. Energy Monster's IPO prospectus cited third-party research saying China's powerbank rental market was worth about 9 billion yuan last year and is expected to mushroom to 106.3 billion yuan by 2028 – representing compound annual growth of 36.2%. While that kind of growth may sound bullish, it does seem possible due to the growing importance of smartphones and other portable gadgets in everyday life.
Of course, Energy Monster will need to survive a looming consolidation that seems almost inevitable before it can enjoy the benefits of that booming market. But it does look relatively well-positioned to survive that shakeout, meaning its shares could represent a relatively attractive longer-term investment at their currently levels.
To subscribe to Bamboo Works free weekly newsletter, click here