Ready for a Food Fight? Takeout Leader Meituan Faces Video Challenge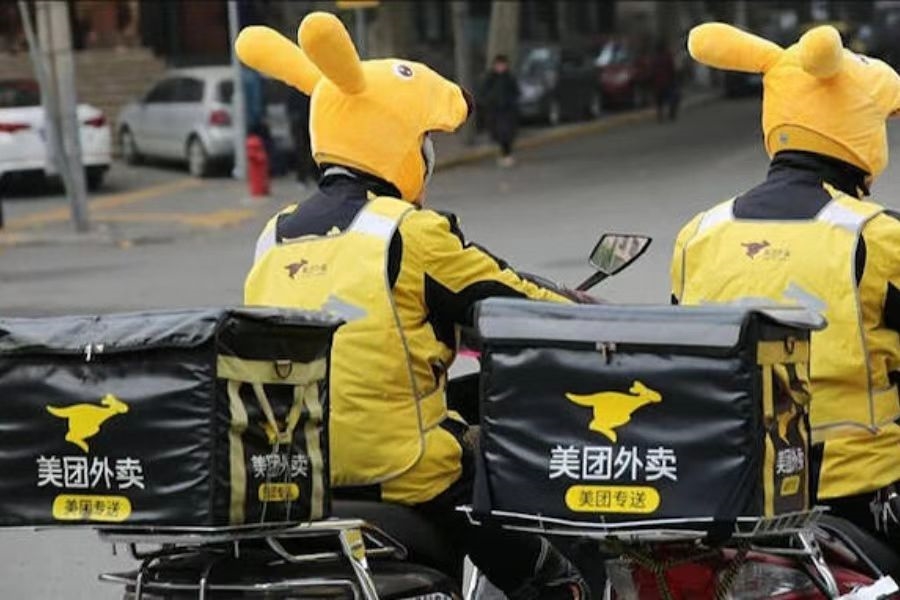 China's food delivery business could be taking a dramatic turn as TikTok parent ByteDance pilots a food delivery service over its Douyin video app
Key Takeaways:
Douyin's service allows merchants to attract food orders via short videos or livestreams, in contrast to the customer-driven ordering model used by Meituan
Meituan has achieved financial stability in recent years after curbing losses on new business initiatives
By Molly Wen
As an old saying goes, we eat first with our eyes. And China's version of TikTok is putting that adage to the test by using appetizing video clips to promote meal deliveries.
Over recent years the Douyin short-video service has been expanding into livestreaming, content creation and e-commerce. Now food delivery is on the menu. In a sign of its ambitions, the video-sharing platform has placed job ads for managers to run food delivery services on the recruitment website of parent, Beijing ByteDance Technology Co. Ltd., which also owns TikTok.
With the latest venture, Douyin would be entering a market dominated by the shopping colossus Meituan (3690.HK). Shares in Meituan fell sharply on Feb. 8 after a report that Douyin would launch its food delivery service in March. The shares plunged 9% at one point and ended with a loss of 6.5%, wiping HK$65.6 billion ($8.4 billion) off Meituan's market value in a single day.
An executive in charge of Douyin's local life services unit later played down the talk of a March launch for food delivery services. However, Douyin has indeed been testing a feature in large cities such as Beijing, Shanghai and Chengdu that enables restaurants to sell its users "group packages", set meals consisting of several dishes on a standardized menu. If the pilot scheme goes well, it could be expanded to more cities.
Meituan, Ele.me and other companies developed independent platforms for takeout orders, but Douyin simply allows food merchants to promote meals in their short videos or livestreams. The audience can place orders through embedded links and have food delivered by third-party services such as Hangzhou SF Intra-city Industrial (9699.HK), Dada Nexus (DADA.US) and FlashEx. The whole process is similar to shopping in Douyin's livestreaming room.
Douyin has been biding its time
In the competitive world of China's mobile internet, short videos have overtaken other forms of communication, e-commerce and gaming in the popularity stakes. Data from analytical firm QuestMobile shows that short videos were the biggest online draw in 2021, accounting for nearly 26% of the time users spent on the Internet.
Propelled by the huge traffic in short videos, Douyin branched out into e-commerce in recent years. Last year Douyin's total sales exceeded one trillion yuan, making it the fourth biggest e-commerce platform in China, according to the Chinese business news outlet LatePost. Now, the video-sharing platform is migrating from online to offline, expanding its local life and city retail businesses, thus encroaching on Meituan's territory. A battle could be brewing.
In March 2020, Douyin launched a group-buying function in its app, establishing a system of influencer-oriented food marketing. The function allows the use of group-buying coupons at restaurants or for takeout orders, but the food was actually delivered by Ele.me and Meituan at the time. In July 2021, Douyin tested a "Heartbeat Delivery" applet, but the service never made it to the launch stage due to logistical challenges and company restructuring.
By 2022, as Covid disrupted dine-in services, some restaurants spontaneously flocked to Douyin to livestream their food for delivery. Douyin then worked with third-party delivery agents such as Ele.me and Dada to meet the demand.
Meituan's on-demand food delivery service depends on users' active searches for desired food providers, while Douyin's model uses merchants' self-made promo videos that can be channeled to interested customers, requiring a more sophisticated algorithm.
Meituan, as a traditional local life app, has long ranked first in usage for in-store consumption, such as dining, entertainment and education, with a relatively high rate of actual transactions, according to research from China's Sealand Securities.
Meanwhile, Douyin has been less good at turning online traffic into transactions in its local life business, as users may scroll through videos merely for pleasure. But the greater volume of Douyin's users and the longer time spent online compared to Meituan offer benefits for new businesses looking to break into the market.
Meituan's road to "self-sufficiency"
Local commerce remains Meituan's core business. In the third quarter of last year, the company reported revenue of 62.62 billion yuan, up 28% year on year, and non-IFRS adjusted EBITDA of 4.8 billion yuan. The local commerce business, which includes food delivery and "Meituan Instashopping", brought in revenue of 46.33 billion yuan, up nearly 25%, while its profit more than doubled to 9.32 billion yuan.
In addition, Meituan has been actively branching out into new businesses, including groceries, car hailing services and bike sharing, bringing in 16.29 billion yuan in the third quarter of last year, a rise of nearly 40%, while losses from new businesses narrowed around 33% to 6.77 billion yuan.
It was Meituan's first overall profit after seven consecutive quarters of losses. CEO Wang Xing said at the time: "We have been able to keep financing and business growth self-sufficient."
Although business is back on track, Meituan managers have warned that Covid lockdowns in many Chinese cities late last year will have dampened earnings for the fourth quarter.
But with Covid controls lifted, Meituan is expected to cash in on a surge in dining, hotel and food delivery demand. Meituan has said that average daily consumption in China rose 66% during this year's lunar new year festival, compared with the same period of 2019, while 37% more merchants offered food delivery than in the previous new year, and catering sales jumped 71%.
Despite its battered share price, Meituan still boasts a forecast price-to-earnings (P/E) ratio of 59.5 times, while counterpart JD.com (JD.US; 9618.HK) is only 17.9 times. The premium indicates investors are optimistic about Meituan's prospects.
For now, Douyin is merely testing the waters with its pilot food delivery service, posing no immediate challenge to Meituan's market dominance. The market will have to wait and see whether the short-video platform's ambitions will prove to be a game-changer.
To subscribe to Bamboo Works weekly free newsletter, click here