Ping An Health pins recovery hopes on new leadership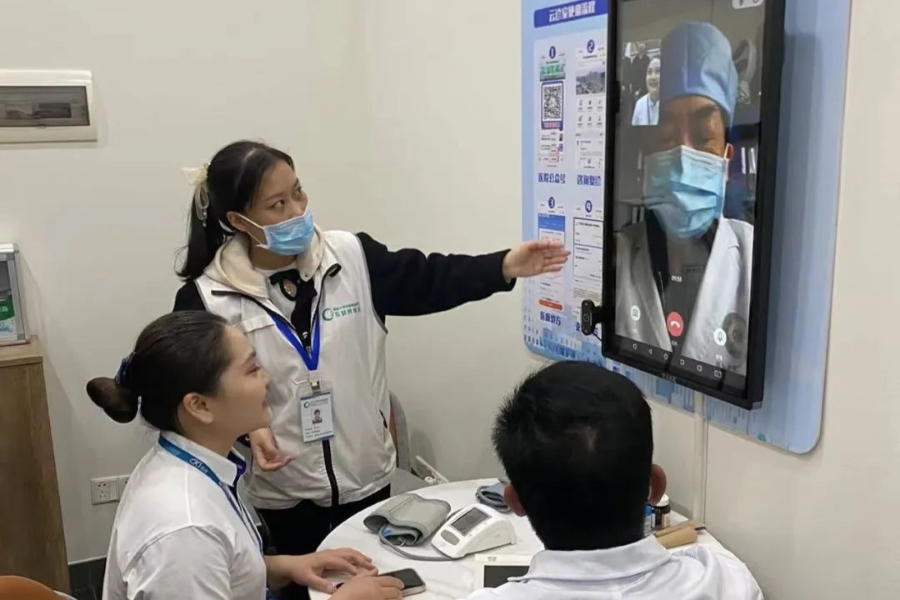 The ailing healthcare platform brought in a whole new management team three years ago to drive a business turnaround but it is changing leaders again
Key Takeaways:
The Covid pandemic boosted traffic to online medical platforms, but a strategy shift meant Ping An Healthcare could not capitalize on the opportunity, and its revenues fell
The platform has become more dependent on its parent, Ping An Insurance, with its five main customers all affiliated to the insurer and providing nearly 24% of revenue
By Molly Wen
A few years ago, Ping An Healthcare and Technology Co. Ltd. (1833.HK) was one of a golden trio of platforms with a bright future in online medical care. But since the Covid pandemic, missed opportunities and management churn have taken the shine off the company.
When patients flocked to online platforms, the other big-name providers – JD Health (6618.HK) and Alibaba Health (0241.HK) – took advantage of the "Covid dividend" to cement their leading positions in the industry. Meanwhile Ping An Healthcare, also known as Ping An Good Doctor, chose to shift its strategy towards serving corporate customers, and fell behind its competitors.
With losses mounting, a new management team was installed to get the financial performance back on track. But the boardroom is changing again, as the executive who was brought in three years ago to turn the company around is now himself heading out of the door.
Ping An Healthcare announced on Oct. 18 that Fang Weihao had resigned from all his management positions at the company, less than half a year after he was reelected as chairman of the board and executive director.
Back in May 2020, Ping An Healthcare dumped its leadership team after marketing problems and a failure to turn a profit. Chairman and CEO Wang Tao and other company founders were all removed from their posts. Fang, a management expert from the Ping An Insurance (2318.HK; 601318.SH) group, was handed the reins, having previously served as chairman and CEO of Ping An International Financial Leasing and co-chairman and CEO of Ping An HealthKonnect.
His mission was to create a Ping An online healthcare ecosystem. However, troubles continued under the new management. The company's high growth rate slowed, it missed out on the surge of pandemic demand, lost some of its standing in the industry and was still unable to turn a profit. In the three years under Fang's stewardship, Ping An Healthcare made annual losses of 950 million yuan ($131 million), 1.54 billion yuan and 610 million yuan.
More ominously, revenues have been falling. Turnover at Ping An Healthcare fell 16% to 6.16 billion yuan in 2022 from the previous year's 7.33 billion yuan. In the first half of this year the company logged a 21.5% drop in revenues to 2.22 billion yuan. Ping An Healthcare blamed the drop on the impact of restructuring and transforming some of its operations into platform businesses. However, JD Health boosted its annual revenue by around 52% in 2022 and Alibaba Health managed a 30% increase, showing that the online healthcare industry is still flourishing.
The relative weakness of Ping An Healthcare keeps depressing the share price, which is nearly 90% down from its peak and has even fallen below the $3 billion valuation after its Series A financing. The latest management changes have unsettled investors, as the company's share price tumbled 4.1% the day after the announcement.
Fang is succeeded by Li Dou, formerly of Ping An Life Insurance, who has held management roles in fields including pharmaceuticals, fast-moving consumer goods, insurance and pensions. Ping An Healthcare was upbeat about its prospects under Fang's leadership, saying the company was strategically positioned to achieve healthy and high-quality development.
Parent dependency
The other members of the original online trio are backed by China's largest e-commerce platforms, JD.com (JD.US; 9618.HK) and Alibaba Group (BABA.US; 9988.HK), which helped to drive their online pharmacy sales. Ping An Healthcare is at a disadvantage without the firepower of a big e-commerce platform. But it does have the backing of China's biggest insurance group as its parent, whose businesses range from life cover to insurance for properties, health and pensions. Over the longer term, the related businesses could drum up a lot of custom for Ping An Healthcare.
Before Fang took charge, the company's business comprised online medical services, consumer healthcare, health malls, health management and health-related interactions. The health malls sold medicines to individual consumers and were the biggest money earner. But in October 2020, the company launched a new strategy focusing on serving Ping An's internal customer base. It cancelled free consultations for individual consumers and scaled back advertising. The new emphasis was on providing online consultations for customers of Ping An Life Insurance and Ping An Property & Casualty Insurance to boost user activity.
The strategy shift has deepened the healthcare platform's dependence on its parent. First-half earnings show that Ping An Healthcare had more than 45 million paid subscribers over a 12-month period, with more than 38 million of them from Ping An group's integrated financial channels. That translates into a penetration rate of 16.6% among Ping An Group's 229 million individual financial subscribers. Moreover, the company's top five customers are all Ping An-affiliated enterprises, contributing 23.7% of revenue.
Ping An Healthcare is following an unconventional path as an online platform, forgoing the scale of a large user base to focus on corporate custom as a way of improving its finances. The strategy limits the company's room for growth, although it may pay dividends in the longer run.
Ping An Healthcare has a price-to-sales (P/S) ratio of about four times compared with two times for both JD Health and Alibaba Health, a disparity stemming from their differing business models. The rival platforms derive most of their revenue from sales of pharmaceutical products, generating an overall gross margin of about 20%. Ping An Healthcare mainly provides services to corporate customers at a higher gross margin of 32%. Under its current strategy and with a new leader, Ping An Healthcare will need to deliver more impressive financial results to win back investor confidence.
Have a great investment idea but don't know how to spread the word? We can help! Contact us for more details.
The Bamboo Works offers a wide-ranging mix of coverage on U.S.- and Hong Kong-listed Chinese companies, including some sponsored content. For additional queries, including questions on individual articles, please contact us by clicking here.
To subscribe to Bamboo Works free weekly newsletter, click here