Kanzhun cranks up spending, even as others tighten belts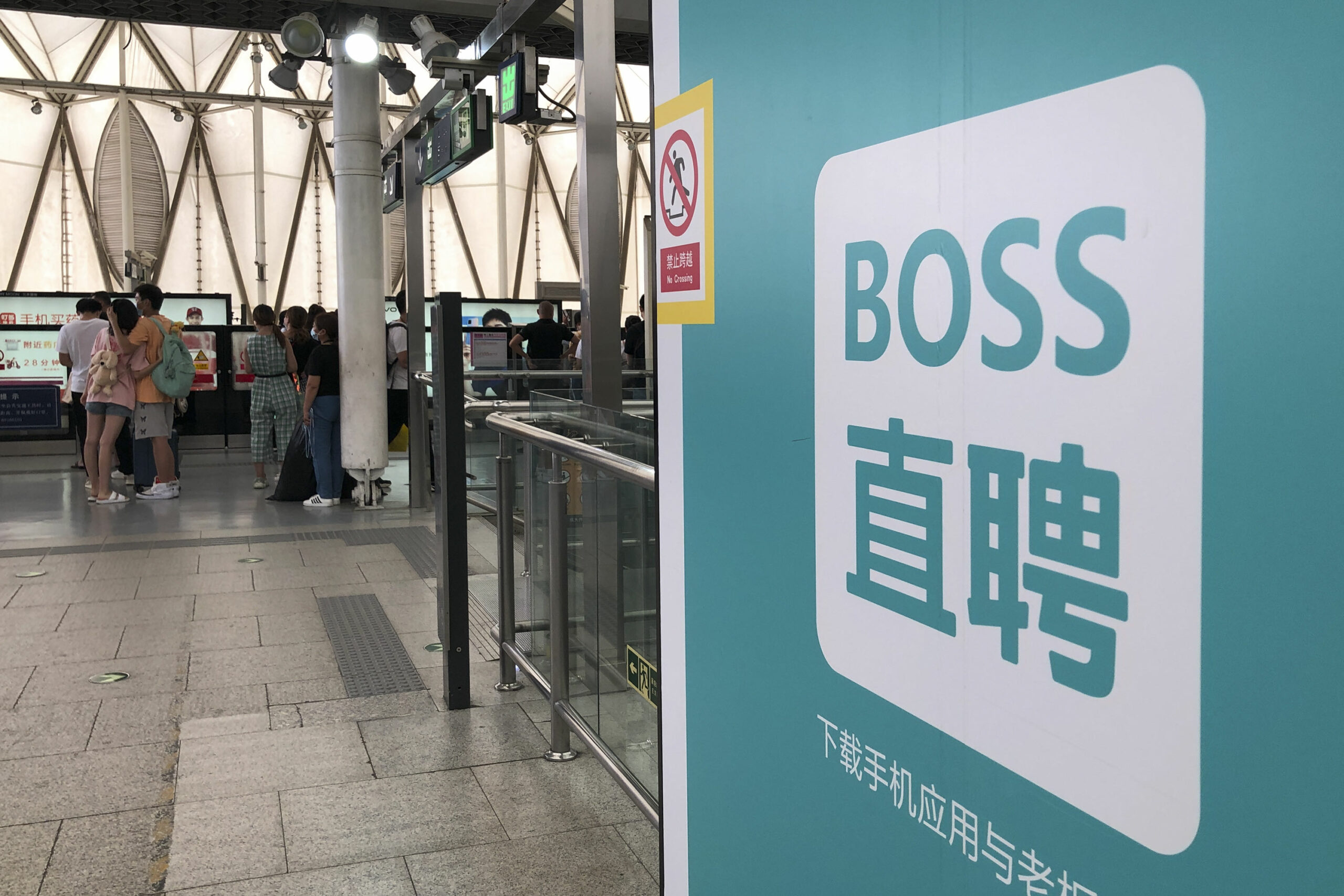 China's leading online recruitment platform's operating costs soared 70% in last year's fourth quarter, pushing the company into the red
Key Takeaways:
Kanzhun's revenue was flat in the fourth quarter, but the company fell into the red as it spent heavily on World Cup promotions and a secondary listing in Hong Kong
The company said demand for its recruitment services spiked sharply in the first two months of this year, as companies began rehiring after massive layoffs during late-year Covid disruptions
By Doug Young
Everyone loves a contrarian. That's one of the key takeaways in the latest results from leading online recruitment company Kanzhun Ltd. (BZ.US; 2076.HK), which was revving up its spending big time in last year's fourth quarter, even as nearly everyone else was doing just the opposite.
That company's operating costs soared 70% during the last three months of the year, according to its latest quarterly report released earlier this week. That pushed the operator of the popular Boss Zhipin service into the red and sent its net cash inflow down 70%.
But investors didn't seem to mind, bidding up the company's shares 6% the day after the results came out. After the modest rally, Kanzhun's shares now trade at $18.95, nearly identical to the $19 price of its IPO nearly two years ago. That wouldn't normally sound like a big accomplishment. But it looks relatively impressive in the current environment where most Chinese companies that listed in the U.S. around that time now trade 80% or more below their IPO prices.
Kanzhun is distinguished from most of its money-losing internet peers by its profitability, operating mostly in the black before the fourth-quarter dip into red. The company is also the clear leader in China's lucrative online recruitment market, known for its efficient use of technology to connect employers and job seekers.
Its premium position is reflected in its price-to-earnings (P/E) ratio, which stands at about 26 on a forward basis. That's more than twice as much as U.S. giant Manpower Group's (MAN.US) ratio of 11, and also well ahead of the 12 for domestic peer Tongdao Liepin (6100.HK).
Like most companies in China, Kanzhun suffered in the fourth quarter as China rolled out some of its strictest-ever measures to try and control the spread of Covid in October and November. Businesses were some of the biggest victims during that period, since many were forced to close or reduce hours for extended periods, making them less likely to look for new employees.
The company continued to suffer in December as Covid infections soared after China suddenly scrapped most of its Covid control measures. That led to a major drop in people looking for jobs, since many were confined to home for several weeks after becoming sick.
Despite all that, Kanzhun continued to spend big time in the fourth quarter. Its sales and marketing expenses shot up 82.6% year-on-year during the quarter, while its administrative expenses more than doubled. Even its R&D spending rose 48%, despite the fact that the company's revenue was flat year-on-year during the quarter at about 1.1 billion yuan ($161 million).
Kanzhun explained that much of the big spending owed to two major factors. The big jump in marketing costs stemmed from the timing of the World Cup in Qatar, which Kanzhun used as a major promotional event. Meantime, the company also made a second listing in Hong Kong in December to complement its older New York listing, incurring not only costs related to the listing but also related to the granting of stock-based compensation at that time.
Better times ahead
The heavy spending pushed Kanzhun into the red with a 184.8 million yuan loss, reversing a 233.1 million yuan profit in the year-ago period. Even on an adjusted basis, which excludes stock-based compensation costs, the company's profit fell sharply to just 59.5 million yuan from 348.5 million yuan in the year-ago period.
We said at the start of this review that investors seemed to like Kanzhun's contrarian approach of heavy spending during a difficult period when everyone else was reining in costs, at least based on the positive stock reaction after the results were announced.
But the bigger reason for the positive reception was guidance that was quite upbeat on the company's earnings conference call. The end of all the Covid disruptions and infections was clearly the main driver for the brighter outlook. But some might also argue that Kanzhun's heavy spending positioned it to capture the opportunity when China's economy finally started to rebound around the Lunar New Year in January.
"We have witnessed robust user growth and engagement since the beginning of 2023 as a result of our enhanced brand recognition and strengthened competitive advantages," said Kanzhun founder and Chairman Zhao Peng, who also uses the name Jonathan, in remarks accompanying the latest results. "With the revival in recruitment demand, we are confident in delivering strong returns for our shareholders in the years to come."
The biggest indicator of the coming turnaround was Kanzhun's forecast for revenue of between 1.25 billion yuan and 1.27 billion yuan in the first quarter, which would represent roughly 10% growth year-on-year. That would mark a return to growth after three consecutive quarters when revenue was either flat or declined.
Zhao said Kanzhun's number of new users rose sharply in the first two months of this year, and the number of average monthly users on its app rose more than 50% during that period. That's not too surprising, as workers who were laid off en masse during the fourth-quarter disruptions, and the companies that laid them off, were both busy resuming work in the first two months of the year. Here we should note that such a boom is likely to be temporary, and we'll probably need to wait until the second quarter to see if the positive trends continue.
Meantime, Zhao also pointed out that new sign-ups by blue collar workers and employers, and activity in China's smaller cities, are two areas where activity is growing as the company broadens its base beyond its traditional strength among white collar workers in top-tier cities.
We generally like Kanzhun due to its industry-leading position and strong brand recognition in a huge job market like China. But we should also note that others like 51job.com, Zhaopin and 58.com all tried to parlay similar strength into successful overseas listings, only to eventually privatize after they failed to generate much interest from foreign investors. Kanzhun is still relatively popular, at least for now. But it will need to start posting some stronger growth as business returns to more normal levels if it wants to stay in the investor spotlight.
To subscribe to Bamboo Works weekly free newsletter, click here