Kanzhun chronicles China's job rebound, as investors frown on company's high costs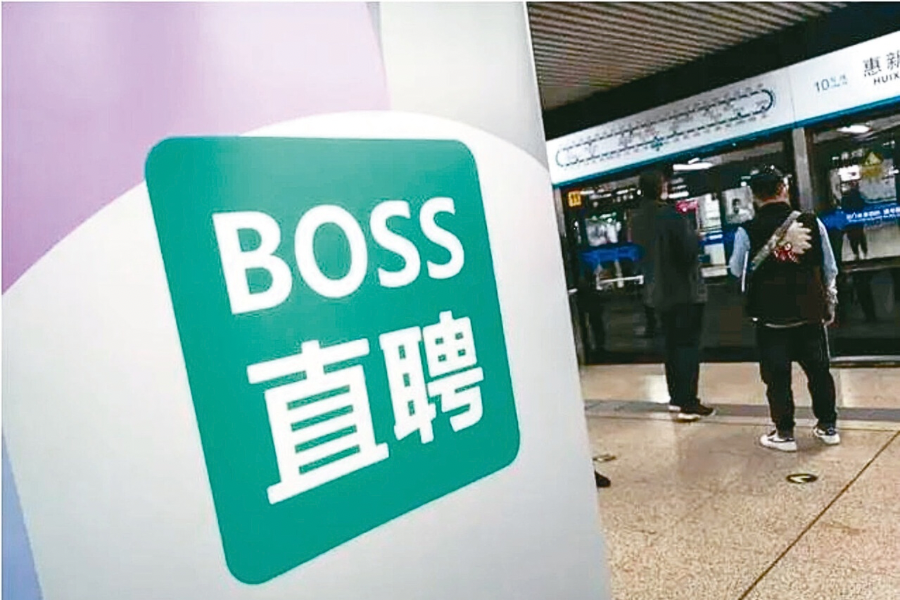 The country's leading recruitment services company returned to revenue growth in the first quarter, but its spending rose at an even faster rate
Key Takeaways:
Kanzhun reported its revenue rose 12.3% in the first quarter, picking up from the previous three quarters when the figure was flat or contracted
The company's operating loss rose sharply during the quarter as its costs grew nearly twice as fast as its revenue
By Doug Young
Three months ago, we wrote about how leading online recruitment company Kanzhun Ltd. (BZ.US; 2076.HK) was playing the contrarian by ramping up spending in last year's fourth quarter, even as most other companies were trying to rein in costs. Investors didn't seem to care too much at that time, rewarding the operator of the popular Boss Zhipin app with big stock gains.
But fast forward three months to the company's latest quarterly report, when investors have hammered Kanzhun's stock after it once again reported rising costs that outpaced the company's revenue growth.
The company actually returned to revenue growth in this year's first quarter, ending three consecutive quarters when revenue was either flat or contracted year-on-year. During its earnings call three months ago it indicated demand picked up strongly in the first two months of this year, as both employers and workers rushed to get back to work with the end of the country's "zero Covid" policy in December.
But Kanzhun's costs grew even faster in the first quarter, perhaps raising a red flag for investors used to seeing companies working overtime to reduce their spending in the current weak economic environment. As a result, Kanzhun's latest results show its loss from operations ballooned in the first quarter from a year earlier, even as the company was able to remain profitable on a net basis due to a big jump in non-operational income from investments and other financial activity.
Investors were hoping for better operating results, and punished Kanzhun's U.S.-listed stock with a 15.5% decline in the three trading days after the results announcement last week. That means the stock is now down by about a third so far this year, and its U.S. close last Friday of $14.27 is down by about a quarter from its IPO price of $19 in 2021.
Even after those declines, Kanzhun still trades at a healthy price-to-earnings (P/E) ratio of 30, which is about twice the figure for domestic rival Tongdao Liepin's (6100.HK) 14. It's also nearly triple the P/E ratio of 11 for U.S. giant ManpowerGroup (MAN.US), showing investors still look quite favorably on Kanzhun due to its leading status in the huge China labor market.
The latest employment trends in China have varied widely, as Beijing implemented strict Covid controls for much of last year that forced many companies to close or scale back business, only to suddenly end to those controls in December. That volatility is further complicated by a Chinese economy that was already slowing sharply after years of breakneck growth.
Kanzhun is well situation to document all the latest job-seeking trends due to its status as China's biggest provider of recruitment services, and we encourage anyone interested in those trends to check out detailed comments during the company's latest earnings call. But for our purposes, the most important thing is that recruitment and job activity have picked up steadily since the end of last year. That's crucial for a company like Kanzhun, which makes much of its money off the number of ads it posts and transactions it facilitates.
Return to growth
All that said, we'll return to look at some of Kanzhun's latest numbers, which seem to show a company that knows how to give customers what they want, but also has a little difficulty keeping its costs under control.
The company's revenue grew 12.3% year-on-year in the first quarter to 1.28 billion yuan ($180 million), slightly beating its previous guidance. What's more, it forecast the growth would accelerate to about 30% in the second quarter, saying it expects to report revenue of between 1.43 billion yuan and 1.46 billion yuan for that period.
The company's average monthly users rose by a healthy 57.5% to 39.7 million during the first quarter, as many people resumed job hunting with the end of Covid restrictions. But many of those users don't pay for the services, which is why the company's revenue growth was much slower.
More worrisome, Kanzhun's base of corporate customers stood at 4 million in the 12 months through March 2023, unchanged from the previous 12-month period. That was actually a slight improvement from declines in the previous two quarters, though down sharply from the strong double-digit gains the company recorded in 2021.
As we've mentioned previously, Kanzhun also demonstrated less ability to control its costs than most of its Chinese peers. Its operating costs rose about 20% during the period, or well above the its overall revenue growth. The company blamed seasonal promotions and other marketing activity in the period directly after the Lunar New Year for the strong spending. It had a similar excuse in the previous fourth quarter, blaming one-time spending surrounding the World Cup for a 70% rise in its operating costs during that quarter.
While all those reasons may be valid, the heavy spending certainly isn't helping Kanzhun's margins or profits. The company's loss from operations ballooned to 77.3 million yuan from 3.3 million yuan a year earlier, though the latest figure was an improvement from a much bigger loss in the fourth quarter during the heavy World Cup spending.
Despite the big operating loss, Kanzhun managed to post a net profit of 32.7 million yuan for the period, thanks to nearly 130 million yuan in non-operational income related to its investment and other financial activities.
Chairman Zhao Peng, who also uses the English name Jonathan, sounded the predictably positive tone in discussing the results. "Our MAU, revenues, calculated cash billings and multiple other key metrics hit record highs in the quarter," he said. "We are confident to maintain this growth momentum and continue delivering solid results in the coming quarters."
We would tend to agree that Kanzhun is a solid bet for investors due to its market leading position and effective use of technology that is a strong selling point for the corporate users that are its most important customers. Now, China's economy just needs to return to a more stable growth track to make those customers want to spend more on Kanzhun's recruitment services. And it also wouldn't hurt if Kanzhun could learn to control its spending.
To subscribe to Bamboo Works free weekly newsletter, click here