JL Mag Steps Up R&D Spending as Growth Slows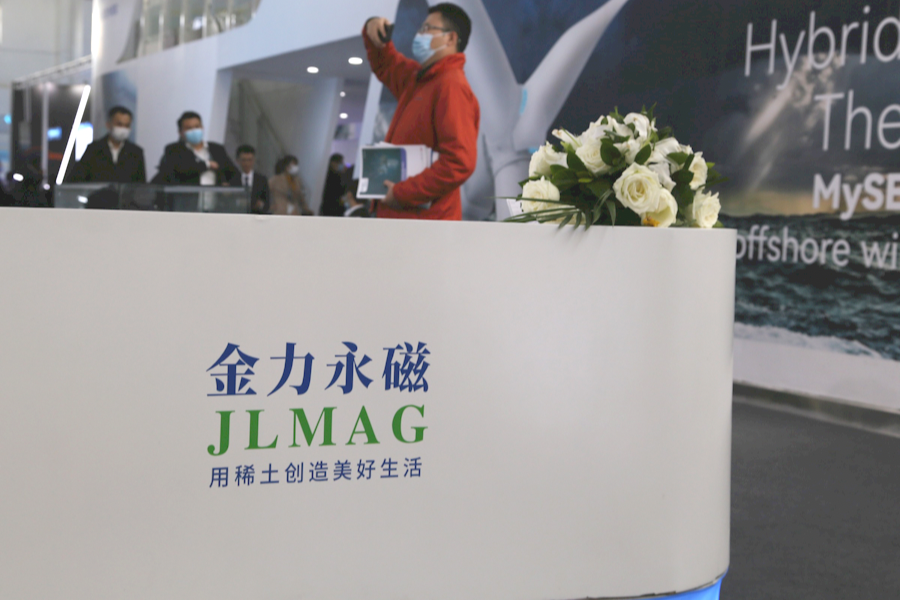 The world's top producer of rare earth magnetic materials said its revenue and profit growth slowed in the second half of last year, as sales to one of its key customer groups also slowed
Key Takeaways:
JL Mag said it expects to report its revenue grew 60% to 96% in the second half of last year, likely slowing from 83% growth in the first half
The company is stepping up its R&D spending as it faces headwinds of slowing growth from a key customer group and the likely arrival of new competitors from the west
By Doug Young
Some new data from JL Mag Rare-Earth Co. Ltd. (6680.HK; 300748.SZ) is showing that both revenue and profit growth are slowing for the world's leading maker of rare earth magnetic materials used in new energy vehicles (NEVs), wind turbines and some air conditioners. That isn't a huge surprise, since the booming NEV market that has fueled JL Mag's meteoric growth over the last year is also showing increasing signs of slowing sharply this year.
In an encouraging sign, the company is sharply boosting its R&D spending in a bid to stay ahead of the competition. It's likely to need that boost in the years ahead, as the U.S. puts its own foot on the accelerator in a bid to wean western companies from reliance on Chinese rare earths products that are a key component in NEVs and other high-tech goods.
Investor reaction was relatively muted to JL Mag's latest announcement, which contained estimates for its profit, revenue and some other key metrics for all 2022. The company's Hong Kong-listed shares dipped 2.5% the day after the announcement, while its Shenzhen-listed stock rose by a slight 0.4% But the Hong Kong stock rebounded Wednesday, up around 4% in morning trade. Meantime, the Shenzhen shares also extended their gains by about 3% early Wednesday.
The Hong Kong shares have been on a roller coaster ride over the last year. They currently trade about 10% below where they were 52 weeks ago, but are up more than 20% from a low in late December. That seems to show investors are a bit undecided on JL Mag, which is essentially a commodity company, albeit one in an area that is very hot but expected to cool this year.
After all that movement, the company now trades at a price-to-earnings (P/E) ratio of 24, which lies between the higher 29 for Yantai Zhenghai Magnetic Material (300224.SZ), and the lower 16 for China Northern Rare Earth (600111.SH). All of those ratios are relatively high compared with traditional mining companies, indicating investors are still relatively bullish on this group.
JL Mag's home China market has been the big driver of the global NEV sector, as Beijing promotes the clean technology as part of its goal of going carbon neutral by 2060. But some of the country's key incentives for NEV buyers expired at the end of last year, leading many to forecast sales growth will slow sharply this year.
NEV sales in China last year totaled 5.67 million units, up 90% from 2021, according to the China Passenger Car Association. The group forecast the figure will climb to 8.5 million units this year, representing a sharply slowdown to 31% growth,
At the same time, the latest move from Washington saw the administration of U.S. President Joe Biden announce last September it would make $156 million in funding available for a U.S.-based rare earths processing facility. While JL Mag is a buyer of rare earths and not an actual processor, it's probably also safe to bet the U.S. will encourage the formation of local rare earth product makers that will eventually compete with JL Mag, though probably not for at least a few more years.
Slowing growth
With all that background in mind, we'll take a deeper dive into JL Mag's new announcement that shows slowing growth on both its top and bottom lines. Analysts appear to think the slowdown will moderate this year as the NEV sector enters a more stable growth phase. At the same time, growth is actually accelerating for JL Mag's sales to the robotics sector.
We'll begin with top-line revenue, with JL Mag saying it expects to report revenue of 6.94 billion yuan ($1.03 billion) to 7.75 billion yuan for 2022. Our own calculations using the company's data for the first half of 2022 show JL Mag's revenue grew between 60% and 96% in the second half of the year, which will likely represent a slowdown from 83% growth in the first half.
Analysts see the growth slowing more this year, rising by about 50%, according to the average forecast of four polled by Yahoo Finance.
The trends are similar for the company's profit, which the company said will total between 702 million yuan and 838 million yuan last year. Some similar calculations show those figures translate to profit growth of as little as just 2% to up to 61% in the second half of the year. Both figures are well below the 110% profit growth the company reported in the first half of the year.
The profit growth is actually expected to stabilize and even possibly rebound this year, with analysts forecasting it will grow by about 65%. That seems to indicate they are confident the company is controlling costs, which will help to improve its margins.
JL Mag said that revenue from its NEV business grew 170% for all of last year. While that looks strong on the surface, it's down sharply from the 234% revenue growth in the first half of the year, showing that growth for that part of the business – which accounted for about a third of total revenue – slowed sharply in the second half of the year.
While that part of the business slowed, the opposite was true for the company's sales to makers of robotics and industrial energy-saving motors. Revenue from that part of the business grew 140% last year, accelerating sharply from 68% growth in the first half. Unfortunately, that part of the business is still quite small, generating only 100 million yuan in the first half of the year.
Last but not least, the company said its R&D spending grew 110% last year, double the rate in 2021. That seems to show JL Mag realizes it will need to innovate to maintain its industry-leading position and high P/E margin as the NEV sector enters a slower growth phase and new competitors emerge from outside China.
To subscribe to Bamboo Works free weekly newsletter, click here