IPO-Bound Soulgate Sells Itself as Service for the Lonely, Not Lusty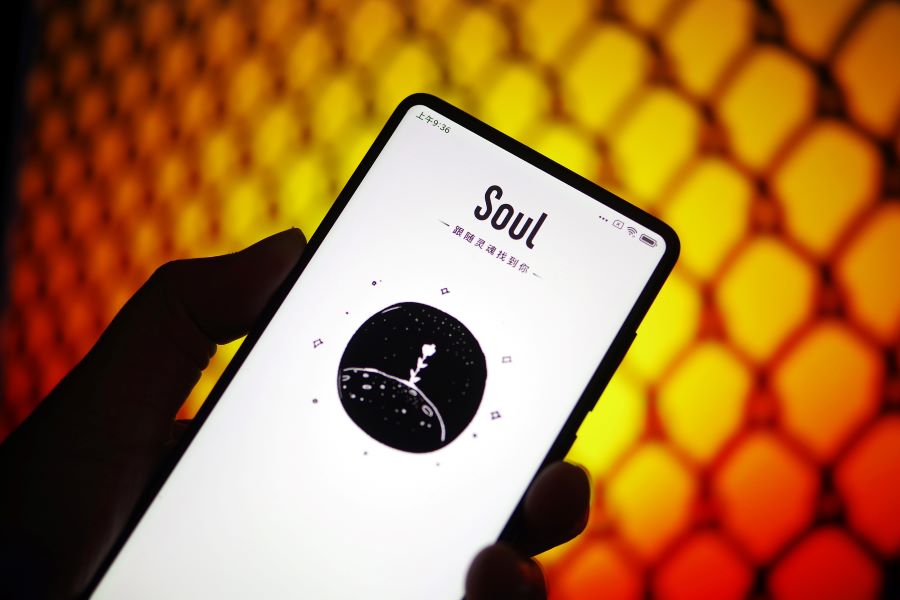 Operator of the app called Soul says it's seeking internet natives who 'experience the loneliness technologies bring'
Key takeaways:
Soul's no real-names and no-pictures policy may help it stand out as a new kind of non-dating app for people looking to socialize
Massive promotional spending raises questions about sustainability of the company's growth
By Georgina Prodhan
Soulgate Inc., the Tencent-backed operator of a social networking app planning a $100 million Nasdaq listing, isn't your average dating app. In fact, the operator of the app that goes simply by the name of Soul is at pains to say that it's not really a dating app at all.
Aimed at Generation Z, the app displays neither images nor real names of its young users, aiming to create a safe space where teens can express themselves freely without worry of being preyed upon or judged by their appearance or social status.
Users take a personality test when they sign up, and on that basis are sent to a virtual "planet" such as "Pragmatist," "Artist" or "Thinker." Upon arrival, they can meet like-minded people, or "Soulers," as they are called, for chats via video, audio or text, games or study sessions. What's more, users need not formally add others as friends to interact with them – a feature that Soulgate says promotes everyone's equal right to be heard, regardless of the strength of their network.
Soulgate bared its own soul to the world when it published its IPO prospectus last week. "We have especially attracted young generations in China, who are native to mobile internet and who therefore more palpably experience the loneliness technologies bring," it said of a generation largely brought up as only children.
Perhaps to stress its nurturing side, Soulgate underlines the fact that it has a female founder and CEO. Zhang Lu, a former management consultant with experience at Innext China and Nielsen, will continue to hold more than 50% of Soulgate's voting rights after the IPO, which will see only class A shares with one-fifth of the voting rights of class B shares offered.
The Shanghai-based company, which was founded in 2015 and launched its app in 2016, is growing at a brisk pace. Its monthly active user (MAUs) base roughly doubled to 33.2 million in March from a year earlier, with 9.1 million daily active users. That's still a tiny fraction of China's 890 million users of mobile social networks, according to a report that Soulgate commissioned from iResearch. But it's not light years behind market leader Momo's (Nasdaq:MOMO) 114 million MAUs.
Soulgate's rapid growth has come at a high price. In the last quarter, the money-losing company spent 471 million yuan ($71.9 million) on sales and marketing, or nearly double its total revenue of 238 million yuan. That's a huge expense even when one considers that it's normal for young tech companies to spend heavily on land grabs.
Soulgate said it intends to keep spending heavily on such promotion, with 40% of its IPO proceeds earmarked for marketing and another 40% for research and development. It says its proprietary artificial-intelligence and data-analytics technology enables it to stand out in finding content and connections that its users actually desire.
Watch Out, Momo?
Compared to Soulgate, Momo's spending on marketing looks relatively modest. When it listed in 2014 three years after its launch, Momo had spent $9.1 million on marketing in the previous six months, out of revenues of $13.9 million.
Momo has a more transactional business model than Soul's, offering personalized matches with nearby strangers on the basis of their interests, and without the anonymity that Soul gives. Momo cemented its position as the undisputed leader in China's online dating market with its $760 million purchase of Tantan, often described as the Tinder of China, in 2018.
So, is Soulgate a good bet for investors?
With its IPO pricing and other details yet to be announced, it's hard to say. But it's worth noting that Soulgate's net loss ballooned to 383 million yuan in this year's first quarter from 52.8 million yuan a year earlier. The company's operations also posted 153 million yuan in negative cash flow in the first three months of 2021, compared with 25 million yuan a year earlier.
The proportion of its users who pay for services such as VIP membership or buy virtual currency is rising but still just 4.8%. The app itself is free. And without knowing how long those paying users stay around – there are no churn figures in the IPO prospectus – it's impossible to tell the true cost of customer acquisition or the sustainability of user spending.
With no profits and no close peers for this unusual social network, valuation is tricky. A figure as high as $1 billion has been mooted, Bloomberg reported in March, at which time it said an IPO of $300 million was being considered.
Momo now trades at 126% of its 2020 sales. On that basis, Soulgate would be worth a modest $122 million – just slightly more than it aims to raise in its IPO. Bumble (Nasdaq: BMBL), a female-friendly U.S. social media company that, like Soul, promotes casual platonic relationships as well as dating, trades at roughly 9 times its 2020 sales. On that basis, Soulgate could be worth nearly $700 million.
As Soulgate itself notes, Chinese companies could experience valuation pushback at a time when the U.S. is trying to limit market access to firms it sees as a security threat. Some companies seem willing to take their chances while they can, with podcast startup Ximalaya and shared bike specialist Hello also announcing plans for U.S. listings in recent weeks.
The current political risk means Soulgate's valuation may be more influenced by its Chinese origin rather than its inherent value, judging by other recent Chinese tech IPOs in New York. Quora-like question-and-answer website Zhihu debuted at $9.50 in late March but closed on Wednesday at $7.82. Tuya, a cloud platform for smart-home products, jumped 26% to $26.30 when its shares began trading on March 18 but closed at $22.62 on Wednesday.
Still, Soulgate may have found a niche where it can keep growing and even become profitable in the longer term. Its distinctive emphasis on self-expression rather than hook-ups may help it to flourish in a sea of dating apps, even when lonely teenagers and twenty-somethings eventually emerge from their lonely bedrooms post-Covid to seek more traditional real-world romantic relationships.
To subscribe to Bamboo Works weekly newsletter, click here