China's Quora Files for New York IPO, Details Where to Find Profits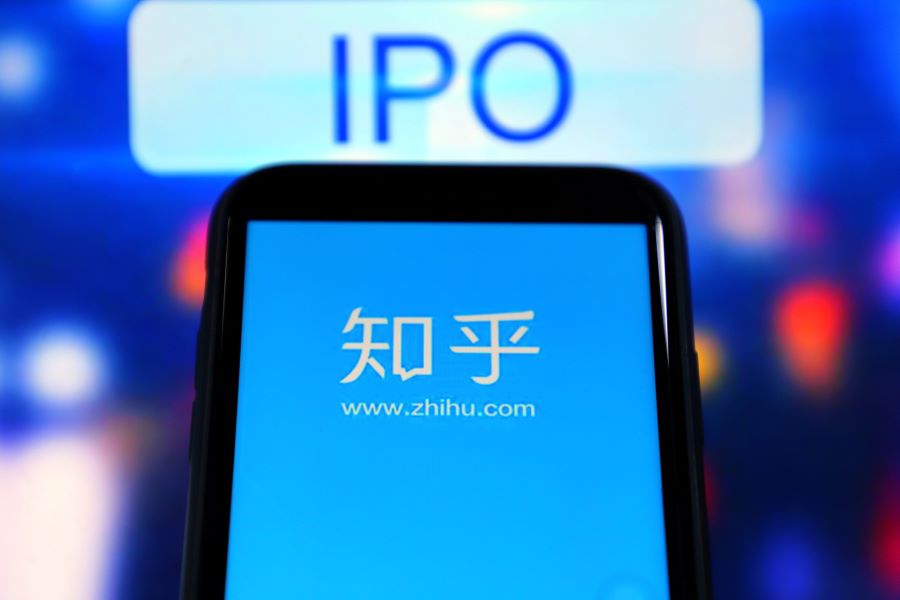 Apart from advertising, Zhihu hopes to find riches in services like paid memberships and e-commerce
By Doug Young
What do you do when you're one of China's best-known internet names but no one wants to pay for your service?
In the West, that would be a good question for popular services like Quora or Wikipedia. In China, you would put that question to Zhihu Inc., a widely recognized name in its home market, a company which has just filed for a $100 million IPO in New York.
Of course, it's a slight exaggeration to say that Zhihu and Quora don't earn any money, as Zhihu's IPO prospectus is quick to point out. The company earned relatively sizable revenue of 1.4 billion yuan ($216 million) last year, which roughly doubled from a year earlier. It boasts about 43 million content creators and 76 million active users, with nearly 700 million average monthly interactions in last year's fourth quarter, the prospectus says.
This particular IPO would make Zhihu a global leader, as it would become the first significant member from its class of "how to" and "how come" content creators to try and convince investors that it's a viable commercial entity. While most people in China liken the company to Quora, it also acts in some ways like a Wikipedia, which is also hugely popular and highly respected.
But Wikipedia has largely resigned itself to staying non-profit over the longer term and relies heavily on donations for its survival. Others in the category are also private, including Reddit. Probably the closest thing to publicly traded rivals would be former newspapers that have migrated online. All of those are famously struggling to find revenue from readers who don't like to pay and advertisers who increasingly prefer more-diversified and flexible platforms like Google and Facebook.
So what has Zhihu done to differentiate itself from Quora, Wikipedia and the hundreds of struggling similar content providers outside China? The company addresses that question in its prospectus:
"Compared with the U.S. market, where monetization is primarily through advertising, China's online content community market features more diversified monetization channels, including online advertising, paid membership, content-commerce solutions, content e-commerce, virtual gifting in live streaming, online games, IP-based monetization, and online education," the prospectus says.
A more-detailed look at the company's revenue breakdown shows that advertising accounted for the majority of about 60% of Zhihu's revenue in last year's fourth quarter. Paid memberships was second, at about 20%, followed by e-commerce-related services at 15%.
Among these top three, e-commerce may offer some of the biggest potential due to China's love of online shopping. Zhihu points out it only launched its e-commerce services at the end of 2019, and since then, that part of its business has grown quickly. The 76 million yuan in e-commerce services generated in last year's fourth quarter is up about 40% from the 46 million it generated the third quarter and nearly six times the figure from the quarter before that.
Late to the Game?
The problem with e-commerce-based revenue is that everyone in China is doing it now. Short video app Kuaishou, which raised $5.3 billion in its blockbuster Hong Kong IPO last month, gets a significant portion of its revenue from the source. A bumper crop of livestreaming platforms which have thrived during the global pandemic also cite e-commerce as one of their main revenue sources, fueled by online celebrities who peddle their products to adoring fans.
Another company that famously tried to convince investors that e-commerce was the answer to its profit-challenged ways was Meitu, the app that allows people to beautify their selfies. Skeptics about the company's ability to find revenue and profits abounded before the listing, but then were somewhat placated and even excited when the company explained that e-commerce-related services would solve that challenge at the time of its 2016 IPO.
Fast forward to the present, when Meitu is still losing money, and its shares now trade at about a third of their IPO price. In a slightly amusing footnote to that story, the company has just announced it invested $40 million in bitcoin and another virtual currency called Ether – a move that smells slightly of desperation.
In terms of losses, Zhihu's net loss totaled 518 million yuan in 2020, which was about half the level from the previous year. It lowered the figure through strict cost controls, with spending on sales and marketing, as well as R&D, all down slightly in 2020 from 2019 levels. But if the company truly wants to maintain its position as a leading content site and develop new services like e-commerce and education, it will almost certainly have to turn up those kinds of spending in the years ahead.
The $100 million Zhihu has given in its IPO prospectus is just a placeholder, and could grow or shrink based on actual investor demand for its shares. But the figure implies that Zhihu and its investment banks, in this case the reputable trio of Goldman Sachs, Credit Suisse and JPMorgan, believe the company should probably have a market value in the relatively modest range of $1 billion to $2 billion.
At the end of the day, Zhihu really is a household name in China, much like Wikipedia and Quora are in the U.S. But a name and reputation, like anything else, require constant maintenance and reinvention. That means Zhihu will almost certainly have to sharply boost its marketing and R&D spending in the years ahead to keep its competitive edge.
Whether or not it can grow its e-commerce and other new revenues in step with that spending, allowing it to achieve profitability, is the million-dollar question. That will determine whether the company will follow down the path of respected but profit-challenged names like Wikipedia, or perhaps become the next Google or Facebook.
Two key takeaways:
Zhihu's success or failure as a listed company will lie in its ability to monetize its well-known name and big user base
The company will need to step up marketing and R&D spending if it wants to maintain its position as one of China's premier user-generated content providers.
To subscribe to Bamboo Works weekly newsletter, click here