Expansion or Retreat? Vocational Training Specialist China East Education Looks to Provinces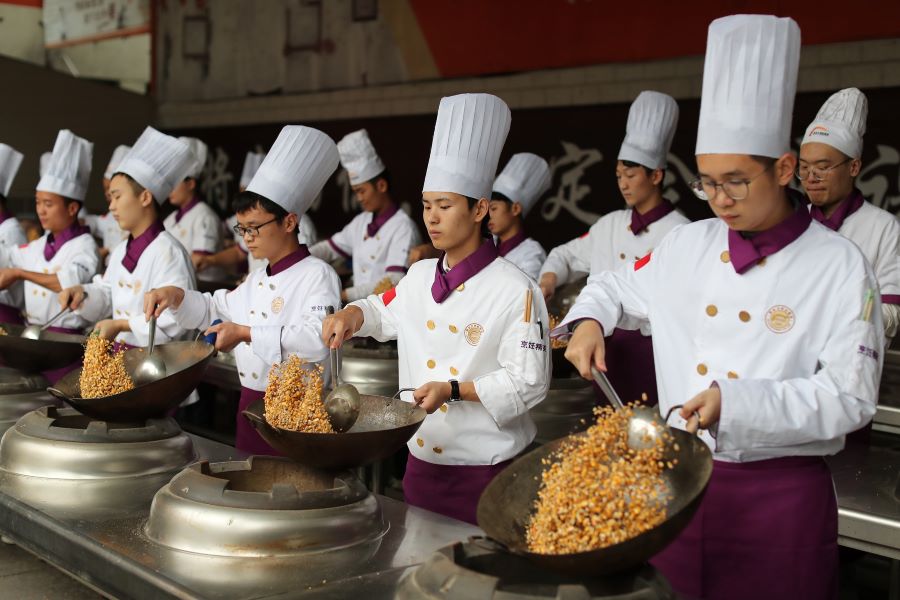 Privately owned traditional education pioneer shifts plans for IPO funds to focus on less-competitive non-Tier 1 cities
Key Takeaways
China East Education is shifting its strategy to focus on campuses in provincial capitals rather than Tier-1 centers
Shift could boost revenue from long-term courses but undercut tuitions
By Eric Auchard 欧加德
Vocational education company China East Education Holdings Ltd (0667.HK) is undergoing a mid-course correction, freeing up funds from its 2019 IPO to focus on a provincial-level expansion beyond the five Tier 1 cities where it previously focused its efforts.
Based in the Anhui capital of Hefei, the operator of 206 training schools for cooks, IT technicians and auto maintenance workers said it aims to expand its presence in "smaller" Chinese cities in a shift from the biggest ones where it has traditionally operated. Specifically, it's targeting urban centers with more than 5 million people in densely populated provinces.
"Evolving market conditions make the land acquisition costs to establish our regional centers in Beijing, Shanghai and Guangzhou much higher than that of the original plan … , and it has become harder to locate suitable land parcel with sufficient area for the group's development," the company said in a filing to the Hong Kong Stock Exchange last week.
Under an amended plan in the filing, 45% of the IPO funds originally earmarked for building facilities in Beijing, Shanghai, Guangzhou, Chengdu and Xi'an will now also be used to "establish provincial education bases in cities located at our major student recruitment provinces," the filing said.
Expansion markets will include Guangdong, Zhejiang, Jiangsu, Hunan, Hebei, Sichuan, Inner Mongolia and Heilongjiang, "which we believe have significant unmet demand for skilled workers" in the company's core areas as well as emerging ones like fashion and beauty training, it said earlier in its annual report.
China East raised HK$4.8 billion ($620 million) from its 2019 Hong Kong IPO that was the city's biggest-ever for a Chinese education company at the time. It had 3.45 billion yuan ($532 million) in remaining cash from the listing at the end of last year, according to its latest annual report.
China East's extensive network covers most provincial capitals in China, including 29 new schools opened last year. But the latest investment shift promises deeper penetration of secondary markets.
A similar localization shift is in the works at 17 Education & Technology Group Inc., which operates in-school and after-school tutoring services for K-12 students, reflecting the intense competition such companies are feeling in the most affluent urban areas.
Investors will need to decide whether such shifts represent confident moves into promising provincial capitals or a retreat from China's wealthiest cities in the face of growing competition. China East was a pioneer in China's booming private vocational training market when it was founded as an IT training school in 1988.
The best measure of the company's progress could be its ability to keep expanding the proportion of students signed up for long-term, three-year courses, which provide a more stable revenue source than shorter-term ones. The company also needs to show it can charge profitable tuition rates in less pricey cities, a trend that may take several years to demonstrate.
The company's 2020 average tuition rates of 18,800 yuan ($2,900) for IT, 27,100 yuan for auto services and 33,700 yuan for cooking courses were down by modest single-digit percentages from 2019. Short-term courses performed the worst, with tuitions flat to falling. Longer-term courses showed modest increases, the company's latest annual results showed.
China East averaged 133,310 enrolled students and registered customers during 2020, nearly 50% in culinary training, with another 31% in IT and internet disciplines and 16% in auto maintenance courses. The company is studying expansion into new vocational subjects, including artificial intelligence and healthcare.
Initial Thumbs-Up
Investors are giving the strategy shift a passing grade, at least initially, with China East's shares up around 18% from a mid-April trough in anticipation of the new approach.
Following a two-month suspension of classes at the height of the pandemic early last year, China East's revenue last year dropped 6.6% to 3.65 billion yuan compared 2019. Its net profit for the year plunged by more than half to 258 million yuan from 848 million yuan in 2019, with gross profit margins dropping to 54.0% from 58.4% over that period.
Vocational stocks like China East have emerged as a safer, more stable segment of the country's burgeoning education market that is better known for online service providers. The online group thrived during the country's pandemic lockdowns in early 2020 as most people studied from home for several months. But that group has struggled more recently as students returned to classrooms and the government takes steps to limit pressure on students from extracurricular classes.
By comparison, private higher education providers like China East and language learning companies have been less subject to regulation of young student activities. That difference shows up on the bottom line. Whereas China East and many other traditional education companies are solidly profitable, nearly all the online-based specialists are losing money.
Online education users in China nearly doubled between June 2019 and March 2020, hitting a peak of 423 million last spring during the pandemic, before falling back to 341.7 million in December, according to data published in February by the China Internet Network Information Center.
In the crowded field of Chinese education stocks, China East is a contrarian bet due to its traditional classroom model. Its shares lost half their value during lockdown between January and March 2020, before rebounding to record levels in the second half of 2020 as instruction resumed. The stock is now up 77% in the nearly two years since its Hong Kong IPO.
Even after the recent rally, China East's stock is relatively undervalued compared to its peers, with price-to-sales (P/S) ratio of about 11. Professional education training provider China Kepei Education Group trades at around 14, while civil service-focused Offcn Education Technology trades at 15 and China Education Group at 16.
To subscribe to Bamboo Works weekly newsletter, click here