East Buy turns Douyin setback into publicity coup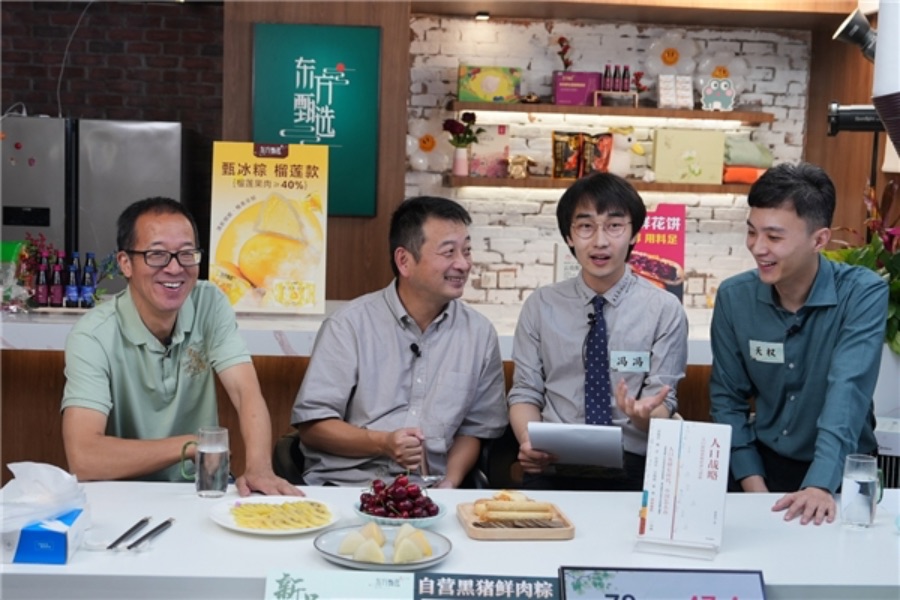 The livestreaming company found itself in the spotlight when one of its Douyin channels was blocked, and seized the chance to promote its own e-commerce platform
Key Takeaways:
East Buy swiftly launched a 15% discount on its own app after the Douyin livestreaming account was blocked
More than 330,000 users downloaded its app in a single day, triggering a share price rally
By Molly Wen
E-commercenewcomer East Buy Holding Ltd. (1797.HK) is making a habit of turning adversity into opportunity.
Formerly an online tutoring firm, the company reinvented itself as a livestreaming enterprise, changing its name from Koolearn to East Buy after a government crackdown two years ago wiped out its after-school coaching business.
After surviving the existential crisis, East Buy was transformed into an e-commerce venture with livestreaming channels on the video platform Douyin as well as its own app. The reinvigorated company was for a time a darling of the Hong Kong stock market.
But misfortune struck again on July 26 when one of its Douyin accounts was suddenly suspended for three days, along with related East Buy online stores. For a livestreaming room with a monthly gross merchandise volume (GMV) of about 40 million yuan ($5.54 million), one day offline means more than a million yuan of lost revenue. The news triggered a share price plunge of 6.5% the following day.
But there was a silver lining, in the form of free publicity for the company's independent platform, which had been trying to strengthen its presence since launching last August. On the same night that the live broadcasts via Douyin were blocked, East Buy announced a 15% discount on its own app, attracting an influx of loyal fans.
On July 28, East Buy climbed to No.1 among Chinese shopping apps in the Apple store, even surpassing PDD Holdings (PDD.US), with more than 330,000 downloads.
From July 26 to 29, daily sales through the East Buy app kept climbing, from 17.5 million yuan to 30 million yuan, then 32 million yuan and 35 million yuan. The daily sales total on the platform came close to matching a whole month of its business on Douyin. Investors cheered the unexpected windfall, as the share price shot up nearly 29% on July 28.
Neither Douyin nor East Buy provided specific reasons for the channel suspension. East Buy CEO Sun Dongxu was cryptic when quizzed during a livestreaming session on the company's own app, saying carelessness triggered the action. "We will actively rectify the situation, so please don't worry about it," he said.
Chinese media filled in some of the potential details. "The Paper" said it was a breach of rules about diverting traffic to a third-party platform, after a QR code for the East Buy app was revealed when a livestreaming host was explaining some product ingredients. Other media reports said the three-day suspension was linked to East Buy and Douyin using the same livestreaming source.
East Buy resumed its livestreaming on the Douyin channel on the afternoon of Aug. 1. That evening, viewing numbers reached only around 3,000, and Douyin's data monitor showed sales of about 2 million yuan. In fact, East Buy has six accounts on Douyin. "East Buy", its most popular branded channel, was the first of its accounts to go viral with bilingual livestreaming of goods, building a fan base of about 30 million. The other five accounts, including the one that was suspended, have about 10 million fans in total.
The appeal of East Buy livestreaming has started to fade this year, with declining sales. From January to March 2023, the average daily GMV of all the East Buy livestreaming rooms fell below 20 million yuan, Haitong Securities research shows. The average monthly viewers fell below 10 million, according to Haitong data. Douyin's data monitor, Cicada Mom, shows the sales of East Buy livestreaming rooms in the first half of this year fell every month except May compared with the same month a year earlier. By contrast, in the second half of 2022 the average daily GMV of East Buy held above 20 million yuan, and the number of viewers never fell below 10 million.
Weaning off Douyin
As a "super live streamer", East Buy has a delicate relationship with Douyin. On the one hand, Douyin depends on famous live streamers such as East Buy to attract viewers and boost sales, and any troubles they face could hurt platform traffic. On the other hand, Douyin relies heavily on algorithms and big data to track trends in user interests and drive traffic distribution. It would not be easy for East Buy to remain a top destination on the platform forever.
At the beginning of July this year, East Buy launched independent livestreaming on its own app, which could also be viewed on the WeChat applet and WeChat channels. After the trauma of the tutoring crackdown, East Buy is trying to establish a stable business in its new commercial arena with a fully self-owned platform.
Under the Koolearn brand, the company was spun off as a subsidiary of New Oriental Education & Technology Group Inc. (EDU.US; 9901.HK) and listed separately in 2019. Competition was growing fierce in the education sector before the 2021 crackdown that took away its business.
After experiencing upheaval, East Buy is cautious about going it alone without Douyin. On July 9, founder Yu Minhong told a livestreaming audience that East Buy and Douyin are collaborators for mutual benefit in one ecosystem. He said it was normal for an enterprising company to create its own platform, adding: "We hope that people will not over-interpret our action."
Some industry insiders believe the account block was a blessing in disguise for the East Buy app, attracting a flood of customers in a short space of time, although expanding users over the longer term may be challenging. Moreover, the company must invest heavily to maintain enough active users.
East Buy's reach is dwarfed by Douyin's fan base, with the bigger platform boasting more than 800 million daily active users. Indeed, e-commerce customers tend not to be loyal. After the 15% discount ended, livestreaming figures for the East Buy app fell off dramatically, to less than 10,000 peak online visitors on the night of Aug. 1.
However, the market still has a soft spot for East Buy, judging from the company's price-to-sales (P/S) ratio of about 9 times, compared with just 3 times for fellow livestreaming platform Kuaishou Technology (1024.HK). With falling traffic on Douyin, it remains to be seen whether East Buy can stay in favor with investors.
Have a great investment idea but don't know how to spread the word? We can help! Contact us for more details.
To subscribe to Bamboo Works weekly free newsletter, click here