Delivery Specialist Dada Nexus Finds Growing Comfort in JD Ties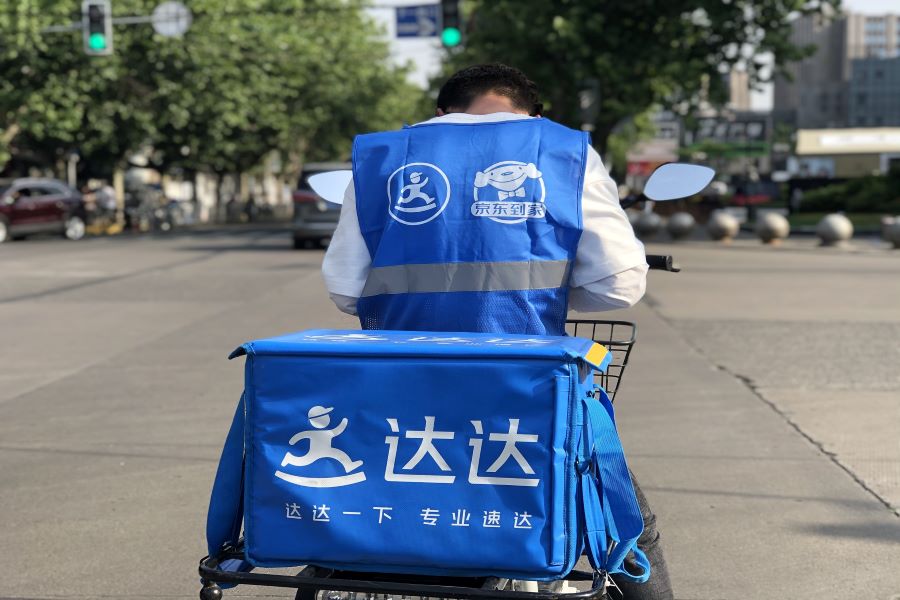 Company's latest results reflect its growing reliance on local grocery delivery business with its majority shareholder
Key takeaways:
The latest signals from Dada Nexus show it's tying its fortunes more tightly to its majority shareholder JD.com
The company is emerging as the delivery arm for JD.com's grocery business, and could even be acquired eventually by JD or one of its units
By Doug Young
In China's increasingly bloody world of delivery services, Dada Nexus Ltd. (Nasdaq: DADA) is increasingly hitching itself to its parent, e-commerce giant JD.com.
That's the biggest message coming from this local delivery specialist in the last few months, including from its latest quarterly results released Monday. In those results, Dada Nexus founder and Chairman Philip Kuai mentions JD.com, China's second largest e-commerce company, three times in a single sentence – and once more after that.
"Leveraging JD's devoted strategic support, we will better fulfill demands for local on-demand retail and its delivery on JD, covering various scenarios and categories, and expand our omni-channel cooperation with JD," he said. "Together with JD, we will continue to provide consumers with superior experience, empower retail and brand partners and achieve a win-win cooperation for all."
Kuai has good reason to hitch his wagon to JD.com, which boosted its stake in Dada Nexus to a majority 51% in March with its purchase of an additional $800 million of Dada Nexus shares. That move was the biggest indicator to date that Dada Nexus was pinning its future on its new majority owner, since it means JD's financials will now include Dada Nexus' results going forward.
We previously described Dada Nexus as the "orphan" among JD.com's many children due to its origins outside the JD.com family. But JD.com's new status as majority owner indicates Dada Nexus may now be becoming more equal to JD's other offspring, including its JD Logistics unit, which just made an IPO in Hong Kong late last month.
Dada Nexus' growing closeness with JD is being driven by its relatively unique position in China's extremely competitive market for e-commerce delivery services, which has recently pushed even the largest players into the red.
The company is focused exclusively on local delivery services within individual cities rather than more complete local and intercity offerings by most major rivals. That difference also limits the size of its business, which is reflected in its relatively small market value of about $6 billion. By comparison, JD Logistics, which offers a more traditional range of services, has a much larger market value of HK$280 billion ($36 billion) following its recent IPO.
Needless to say, both companies are losing money due to the stiff competition.
That leads us to Dada Nexus' latest quarterly report, which reflects its unique and somewhat difficult position. The company's revenue grew 52% year-on-year to 1.7 billion yuan ($266 million) for the quarter, representing a slowdown from its 70% growth in last year's fourth quarter. Despite that slowdown, its costs and expenses grew 70% year-on-year to 2.4 billion yuan, led by a tripling of selling and marketing expenses that accounted for a third of total costs.
All those added expenses caused Dada Nexus' quarterly loss to widen to 710 million yuan, which was more than double the 279 million yuan loss a year earlier. That was a setback from last year's fourth quarter when the loss was roughly the same as a year earlier.
Preemptive Steps
Together with its latest results, Dada Nexus took several preemptive steps that look designed to calm potentially worried investors. The biggest was its announcement of a new $150 million share-buyback program, a step companies usually take to support their stock in times of uncertainty.
The company also gave relatively rosy guidance for the second quarter, forecasting revenue growth would accelerate to the 72-78% range year-on-year.
The buyback announcement and upbeat guidance seemed to have the desired effect, with Dada Nexus shares up 5% in Monday after-hours trading after the results were announced. Still, the stock has lost nearly half of its value from a peak in February before the unusually cutthroat state of competition in the delivery market became apparent.
Despite the recent selloff of its shares, Dada Nexus is still valued relatively high compared with its peers, at least on a price-to-sales (P/S) ratio basis. It currently trades at a relatively strong multiple of 7 based on last year's sales, compared with just 3 for JD Logistics. Even New York-traded ZTO Express, another traditional delivery company that was profitable in last year's fourth quarter, trades at a slightly lower P/S ratio of 6.
Investors may like Dada Nexus partly for its more niche-focus on local deliveries and also its growing emphasis on the fast-growing grocery delivery business. Of course, its ties with JD.com don't hurt either, including the potential for an eventual buyout by JD or one of JD's other "children," the most obvious one being JD Logistics.
Dada Nexus was formed by the 2016 merger between JD.com's own JD Daojia and outsider Dada Nexus. The two remain as distinct units in Dada Nexus' results, with the faster-growing JD Daojia focused on the grocery delivery business that's all the rage in China right now.
In the latest quarter, JD Daojia, referred to as JDDJ in the results report, accounted for 47% of the company's total sales, with Dada Nexus accounting for the remaining 53%. Despite JDDJ posting relatively modest 53% year-on-year revenue growth in the first quarter, the company forecast the unit would return to its earlier stronger growth with an 80% rise expected in the second quarter and even higher numbers for the rest of the year.
That forecast was yet another signal of the company's intent to tie itself more closely with JD.com, which is locked in an intense battle with rivals Alibaba and Pinduoduo for dominance of China's huge online grocery market.
At the end of the day, Dada Nexus is clearly becoming more integrated with JD.com's other pieces. That's probably a good thing for its longer-term survival, as it's really too small to compete on its own with much-larger rivals. The company's local delivery focus also looks like a good fit for JD.com's grocery delivery business, since most such deliveries are from local warehouses due to the need to delivery such goods as quickly as possible.
To subscribe to Bamboo Works weekly newsletter, click here