JD's Dada Puts More Stock in Grocery Basket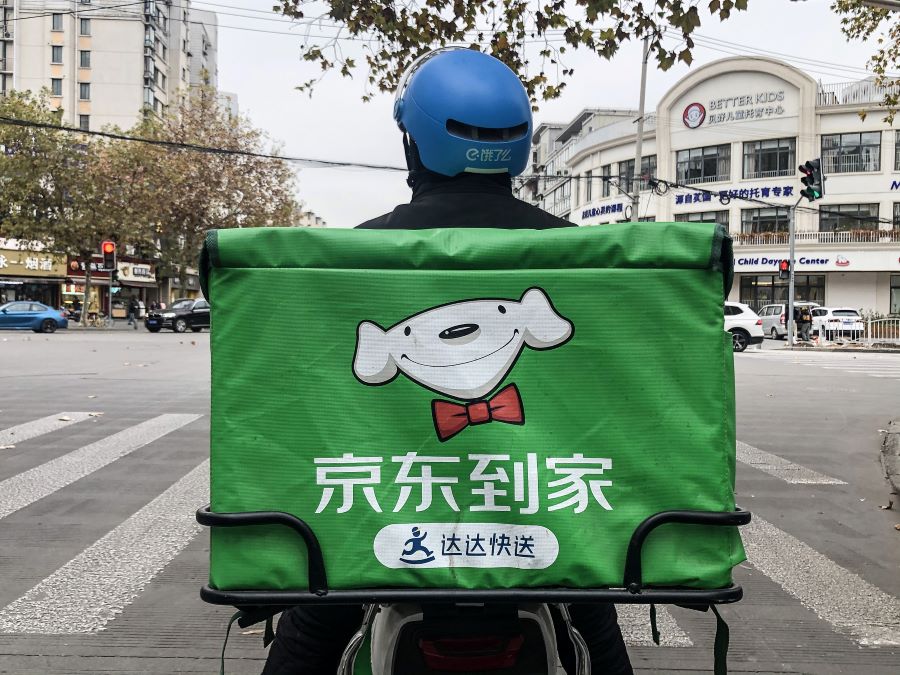 Company's JDDJ e-commerce delivery service grows at twice the rate of its Dada Now general delivery service in fourth quarter
By Doug Young
E-commerce giant JD.com (Nasdaq: JD) has no shortage of publicly traded units for investors these days. One of the quieter members, local delivery specialist Dada Group (Nasdaq: DADA), has just released its latest quarterly earnings report, which is worth a further look before deciding whether its shares could be worth a try.
In addition to its own New York- and Hong Kong-listed main units, JD has a bagful of listed spinoffs and units. The company's JD Health (HKEx: 6618) trades in Hong Kong, and its JD Logistics arm has also filed for a Hong Kong listing. Its fintech arm, JD Digits, has also filed for a Shanghai STAR Market IPO, though that plan is on hold after the high-profile derailment of Ant Financial's IPO last year.
Dada Group's relatively lower-profile status owes to its relationship with JD. It's more like an adopted child than a direct offspring. By comparison, all of JD's other units are homegrown, and thus have far more-intimate connections with the company's charismatic, and sometimes controversial, founder Liu Qiangdong, who also goes by Richard Liu.
That doesn't mean Dada Group's story isn't interesting, even if the company's current market value of $7 billion makes it far smaller than JD and its other JD siblings. Dada's latest report shows the company still has a slight identity crisis as it seeks focus after being formed by the 2016 merger between JD.com's own JD Daojia and outsider Dada Nexus.
Prior to the merger, Dada Nexus provided city-based delivery services, catering to local businesses and others for crosstown deliveries. JD Daojia was JD's own city-based local delivery arm, acting as a bridge between local e-commerce merchants and their customers. The old Dada Nexus goes by Dada Now in the company's reports since the merger, while JD Daojia goes by JDDJ.
Lately JDDJ has been finding a comfortable niche in the e-commerce grocery-delivery business, which is the latest online shopping craze in China. That's where the previously mentioned identity crisis comes into play. In a nutshell, Dada Group appears to be shifting more focus to the JDDJ part of the business, which is having a notably positive impact on its performance.
Before delving into the breakdown between Dada Now and JDDJ, we'll look at the overall numbers for Dada Group. The company reported fourth quarter revenue of about 2 billion yuan ($307 million), which was up a healthy 70% year-on-year. Its bottom line was firmly in the red, with the company reporting a net loss of 534 million yuan.
Despite being in the red, it's worth noting the company's net and operating losses narrowed slightly over year-ago levels. That implies the company is doing something right, since it was able to reduce its losses while still maintaining strong double-digit revenue growth. That divergence shows up in the company's operating margins, which improved significantly to -27.3% in last year's fourth quarter from -47.1% a year earlier.
Getting Into Groceries
With those big-picture numbers in mind, we'll look next at the performance of the company's two core units. Dada Now's revenue grew 54% to about 1.3 billion yuan. By comparison, JDDJ's revenue more than doubled to 729 million yuan. That growth is reflected in JDDJ's gross merchandise value (GMV), the total value of all goods sold over the platform, which doubled for all of last year to 25.3 billion yuan.
Put differently, Dada Now's contribution to the listed company's overall revenue shrank from 70% in the last quarter of 2019 to about 64% in the most recent quarter. That means JDDJ's share of the pie grew to 36% from 30% over the same period.
So, what can we take away from all those numbers?
Wall Street investors appeared to be braced for the worst. The company's shares fell nearly 10% on Monday during the regular trading session before the results were announced. Investors didn't seem all that impressed when the final figures came out, with the shares basically unchanged in after-hours trade.
In this case, we really need to consider the company's broader stock performance in the nine months since its IPO. The company sold American depositary shares (ADSs) for $16 each for that listing, and then saw the stock briefly triple above its IPO price last November. The stock has settled down a bit as initial euphoria wore off. But even at its latest close of $29.44, investors who brought shares at the IPO price still have some healthy gains to show for their investment.
At the same time, China's online grocery market is definitely booming, with other e-commerce giants Alibaba (NYSE: BABA; HKEx: 9988) and Pinduoduo (Nasdaq: PDD) making aggressive pushes into the space over the last year.
Dada Group appears to have benefitted from its relatively early entry and strong position in the online grocery space, which could help it continue to build up that part of the business and perhaps even turn a profit over the next year. But the picture could become cloudier over the longer term as Alibaba and Pinduoduo pump big resources into a market that looks set to become an important piece of China's e-commerce landscape in the years ahead.
Two key takeaways:
1) Dada Group is boosting its grocery delivery business as it seeks to tap into China's latest e-commerce craze.
2) The company should benefit over the next year from its early arrival to e-commerce grocery delivery, but could face longer-term challenges from Alibaba and Pinduoduo.
To subscribe to Bamboo Works weekly newsletter, click here