Debt pressures cast cloud over Fosun Pharma results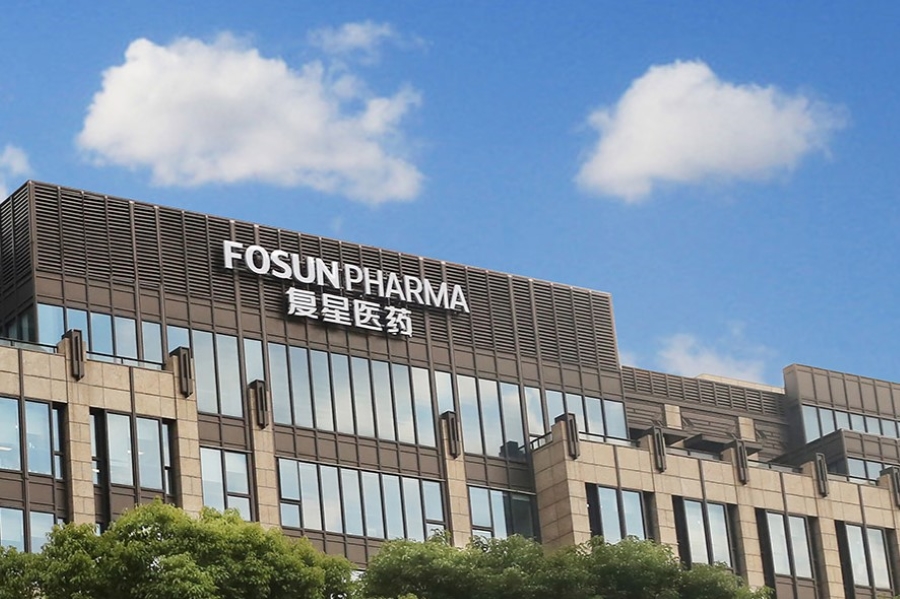 The drugmaker eked out a 0.16% rise in first-half revenue, but underlying net profit slipped 26% as waning sales of Covid treatments and foreign exchange losses squeezed earnings
Key Takeaways:
Income from new and innovative drugs boosted the company's core pharmaceutical business, where revenues rose nearly 12% to 15.92 billion yuan
But Fosun Pharma carries a heavy debt burden with 27.53 billion yuan of external guarantees
By Molly Wen
Covid-related revenue streams are running dry at Fosun Pharmaceutical (Group) Co. Ltd (2196.HK; 600196.SH), but the company is shoring up its financial health with sales of other innovative drugs and medical services.
The latest earnings figures show Fosun Pharma is feeling some pain without a big "Covid dividend" from its sales of the comirnaty vaccine and the anti-viral drug azvudine. The company turned in a mixed bag of results last Tuesday, as first-half revenues rose just 0.16% to about 21.3 billion yuan ($2.92 billion) from the same period a year earlier, while income from products unrelated to Covid jumped around 15%.
Net profit rose 15.7% to 1.78 billion yuan, but after deducting non-recurring items from the bottom line the underlying profit actually fell around 26% to 1.37 billion yuan.
Investors took a negative view, sending the stock tumbling for two straight days. On Aug. 30, the company's A shares fell 1.4% and the Hong Kong price tumbled 2.7%, followed by a further 2% slide in mainland trading and another 2.3% in Hong Kong. Although turnover was virtually flat for the six months, revenue fell 4% in the second quarter from the same period a year earlier, souring the market mood. Net profit for the quarter after non-recurring gains or losses halved to 453 million yuan.
Fosun Pharma blamed the slippage on various factors including declining revenues from Covid vaccines, virus tests and anti-viral drugs, as well as medical and marketing expenses. The company also cited issues at its subsidiary Gland Pharma, which faced fierce competition in the U.S. market and grappled with production line disruptions. U.S. interest rate hikes and a strengthening dollar also translated into financial costs and foreign exchange losses.
But there were brighter spots amid the gloom, including figures from Fosun Pharma's subsidiary Shanghai Henlius Biotech (2696.HK). Revenue from new and innovative drugs grew rapidly, with the biotech raking in 556 million yuan from its serplulimab Injection, a cancer antibody treatment approved for marketing in March last year. Revenues from the targeted cancer drug trastuzumab rose 57%, while income from avatrombopag, used to treat patients with liver cancer, rose nearly 33%.
Moreover, Fosun Pharma's pharmaceutical manufacturing business brought in revenues of 15.92 billion yuan during the reporting period, including the Covid drug azvudine. That marked a rise of nearly 12% from the year-earlier period, with the share of total revenue from drug manufacturing increasing to nearly 75% from 67% in the first half of 2022.
Fosun Pharma is also ramping up its R&D spending, seeking to drive growth by developing novel drugs rather than relying on mergers and acquisitions. The company's R&D investment rose nearly 20% to 2.88 billion yuan in the six months, accounting for 13.5% of operating revenue. The company has filed for approval for four new indications for innovative drugs or biosimilars and has 34 filings for generic drug treatments, with a further seven approvals already received for Chinese clinical trials.
Debt concerns
Aside from performance fundamentals, investors have been paying close attention to the debt risks associated with companies in the sprawling Fosun conglomerate, including substantial guarantees for many of Fosun Pharma's subsidiaries.
In the corporate structure, the Fosun pharmaceutical business sits under Fosun Hi-Tech (Group), owned by Fosun International (0656.HK), which is headed by Guo Guangchang, the leader of the Fosun family of companies. China's weak bond market last year and high debt levels have strained the cash flow of the group, which operates in diverse industries such as real estate, jewelry, restaurants, culture and tourism, as well as pharmaceuticals.
The Fosun group has been actively selling off non-core assets since the second half of last year and pledging large numbers of Fosun Pharma shares. As of Aug. 11, Fosun Hi-Tech and related parties held about 36% of Fosun Pharma shares, of which just over two thirds had been pledged.
Aside from parent company obligations, Fosun Pharma is grappling with its own debt burden. The company was planning to issue 8 billion yuan of corporate bonds, of which 4.5 billion yuan would go to repay interest-bearing debt and 3.5 billion yuan to replenish working capital, according to an inquiry letter issued by Chinese securities regulators on Aug. 14. However, the company only completed a 4.48 billion yuan private placement in July last year. The latest earnings report found that Fosun Pharma's gearing ratio was 29.05% at the end of June 2023. Current liabilities stood at 36.82 billion yuan, including short-term borrowings of 20.89 billion yuan, with cash and bank balances of 14.88 billion yuan, implying considerable short-term debt pressure.
Fosun Pharma has also made large-scale guarantees for its own subsidiaries. As of Aug. 24, the company's external guarantees amounted to 27.53 billion yuan, equivalent to nearly 62% of net assets attributable to shareholders at the end of last year. It is common practice for listed companies to provide financing guarantees for subsidiaries to cut loan costs, but the total amount does not typically exceed 30% of net assets. Fosun Pharma does not have any overdue guarantees as yet, but it could face a cascade effect if the capital chain breaks.
Fosun Pharma has an unusually broad business range in the biomedical industry, encompassing pharmaceuticals, medical devices, medical diagnostics and healthcare services. However, the complicated business model weights on the company's market valuation. Fosun Pharma's current price-to-earnings (P/E) ratio is only 11 times for its Hong Kong shares and 19 times for its A shares, much lower than the 65 times for Chinese pharmaceutical giant Jiangsu Heng Rui Medicine (600276.SH). With a complex financial picture and falling underlying profit, the integrated drug maker may need to produce new business highlights to appeal to investors in the future.
Have a great investment idea but don't know how to spread the word? We can help! Contact us for more details.
The Bamboo Works offers a wide-ranging mix of coverage on U.S.- and Hong Kong-listed Chinese companies, including some sponsored content. For additional queries, including questions on individual articles, please contact us by clicking here
To subscribe to Bamboo Works free weekly newsletter, click here