Fosun Pharma, CanSino take different paths as Covid lift fade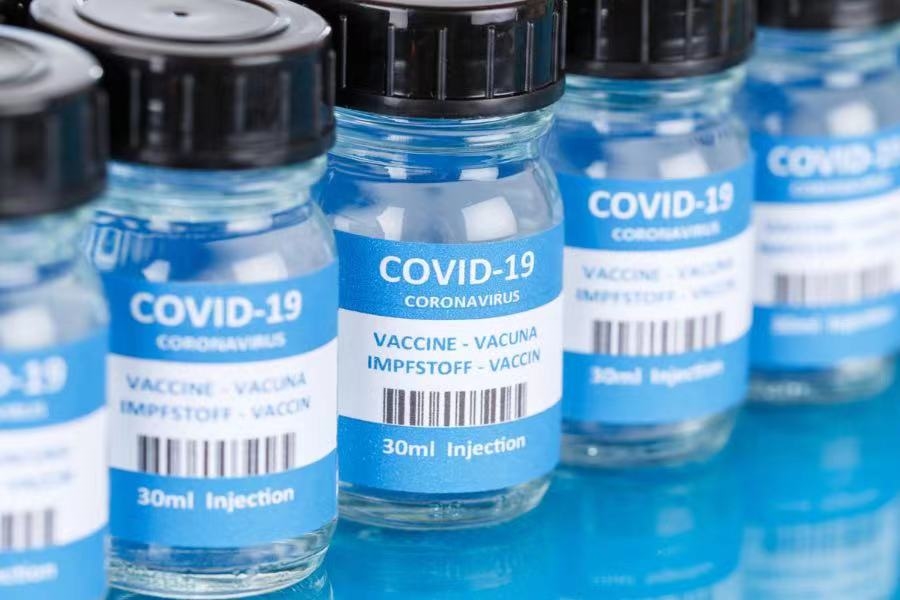 The pair of companies that got strong shots from different Covid vaccines are telling different stories in their latest quarterly results as the pandemic draws down
Key Takeaways:
Fosun Pharma's revenue grew slightly in the first-quarter on its diverse product portfolio, while its net profit soared by 116%
CanSino's revenue plunged 80% in the same three-month period, and it swung to the red on heavy marketing and R&D costs
By Molly Wen
As the pandemic winds down, some drug makers that raked in big bucks from vaccine sales over the last two years are quickly losing their vigor. For Shanghai Fosun Pharmaceutical (Group) Co. Ltd. (2196.HK; 600196.SH), the loss of the "Covid dividend" is having relatively muted side effects. But the opposite is true for CanSino Biologics Inc. (6185.HK; 688185.SH), which is feeling serious shrinking pains after once emerging as a vaccine giant during the pandemic.
Both Fosun Pharma and CanSino benefited from selling Covid vaccines. In 2020, Fosun Pharma obtained Greater China rights for the mRNA-based comirnaty vaccine from its developer, German biopharmaceutical company BioNTech (BNTX.US). Although the vaccine ultimately never made it to the Chinese mainland, its sales in Hong Kong and Macau were enough to strongly bolster Fosun Pharma's revenue, adding more than 1 billion yuan ($145 million) in 2021 alone.
CanSino got an even bigger boost from its own injectable and inhaled adenovirus vector Covid-19 vaccines, which turbocharged its path back to the black with a 1.91 billion yuan profit in 2021, ending five consecutive annual losses.
With the pandemic rapidly fading since the start of this year both inside and outside China, domestic demand for vaccines has dropped sharply worldwide. Still, demand for related vaccines and drugs could rise in the short term as sporadic outbreaks continue and China and other places prepare for new waves of infection, Founder Securities wrote in a research report.
That said, competition in the vaccine market has become quite fierce since the early days when Fosun Pharma and CanSino were among a handful of companies with globally approved products. Some 15 Covid vaccines are now approved for China alone, including several multivalent products able to prevent the Omicron variant. That suggests that CanSino and other vaccine companies are unlikely to experience the same type of big business that early vaccine developers saw in 2021.
Rich drug pipeline
Fosun Pharma is feeling relatively little post-Covid hangover due to its diverse drug portfolio even before the pandemic. Its revenue increased by 4.7% year-on-year to 10.87 billion yuan in the first quarter, with its net profit soaring by 116% to 987 million yuan, according to its latest quarterly financial report. Its adjusted net profit increased by a milder 14.8% to 919 million yuan.
That performance was far stronger than that for CanSino, whose first-quarter revenue of about 100 million yuan was down about 80% from 499 million yuan in the same period a year earlier. The company also fell into the red with a 140 million yuan net loss, reversing a 120 million yuan profit a year earlier.
Fosun Pharma attributed its big profit growth to an increase in revenue from its self-developed drugs. One of those, Han Qu You (trastuzumab injections), raked in 539 million yuan in the first quarter, up 66.7% year-on-year, following its approval for sale in 2021. Its Han Si Zhuang (serplulimab) anti-cancer PD-1 drug, which went on sale in China in March 2022, generated revenue of 250 million yuan in the latest period. The drug was also approved for treatment of extensive-stage small cell lung cancer during the period, making it the world's first PD-1 drug approved for the indication.
Fosun Pharma also has other vaccines, as well as oncology and aesthetic medicines, in its pipeline that are moving towards commercialization. A 13-valent pneumococcal conjugate vaccine developed by one of its subsidiaries enrolled patients in a domestic phase 3 clinical trial in February this year, while its ADC drug FS-1502 started a phase 3 clinical trial for treatment of breast cancer in China. The company's marketing application for its wrinkle-reducing botulinum toxin was also accepted.
CanSino's heavy spending
The outlook for CanSino was far less upbeat, as management blamed its sharp revenue and profit declines on obvious shrinking demand and prices for its Covid vaccines. In addition to its two Covid vaccines, CanSino's other approved products include two meningococcal polysaccharide conjugate vaccines launched in November 2021 and June 2022, and adenovirus vector Ebola virus vaccines. But none of those other vaccines have been for sale very long, making it hard to compensate for the huge decline in Covid-related sales.
Even as revenue was plummeting, CanSino continued spending heavily on R&D and sales, taking its operating costs to 338 million yuan for the quarter. Its R&D expenses actually came down slightly by 5% to 150 million yuan, which was higher than its total revenue of 100 million yuan. Meantime, its sales expenses soared by 60% to 54.98 million yuan.
Perhaps CanSino's management realizes it can't keep spending at its current rate. A notice recently circulating on the internet claims the company's CanSino SPH Biologics Covid vaccine production base suspended production for about 180 days from April 4 due to changes in the external market. CanSino SPH is 49.8% owned by CanSino Biologics, and was established to produce the company's two Covid vaccines.
With no new products set for imminent launch, vaccine sales struggling, and 3.97 billion yuan in its coffers, CanSino may be looking for development opportunities elsewhere. On April 21, the company announced it would participate in a private equity fund to invest in upstream industry chains and innovative technology platforms for biomedical fields such as vaccines. The fund was aiming to raise up to 500 million yuan, with CanSino providing 140 million yuan for about a 28% stake.
Such participation in private equity funds is not new for pharmaceutical companies, with Fosun Pharma also participating in similar initiatives on many occasions. Startups backed by such funds can not only provide potential new drugs for their investors, but also the technologies for more efficient drug development.
In terms of valuation, Fosun Pharma's price-to-sales (P/S) ratio currently stands at just 1.2 times, while CanSino's is far higher at 9.3 times. Jiangsu Hengrui Pharmaceuticals (600276.SH), a leading pharmaceutical enterprise, is even higher at 14 times. Investors may value Fosun Pharma lower due to its heavy reliance on subsidiaries and licensing deals with foreign companies for many of its drugs, which is certainly the case for its Covid vaccine.
To subscribe to Bamboo Works weekly free newsletter, click here