Baozun Aims to Ease Its Alibaba Addiction With New Growth Plan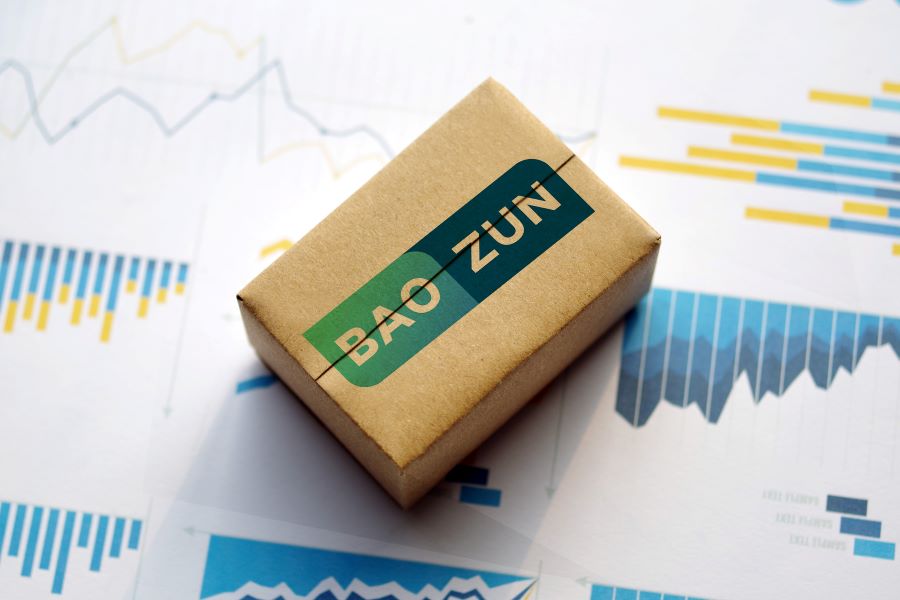 Company aims to triple revenue and boost operating profit sixfold in next three to five years
Key Takeaways
Baozun's new three- to five-year "profitable growth" strategy is designed to respond to rapid shifts in e-commerce buying habits
Company's diversification bid risks unsettling close ties with Alibaba and Tmall, which account for 75% of its business
By Eric Auchard
Alibaba may be a good business partner, but it's nice to work with others as well – especially as Beijing cracks down on the e-commerce giant for its monopolistic practices.
That's the latest message come from e-commerce software and services provider Baozun Inc. (Nasdaq: BZUN; 9991.HK), which is looking to diversify beyond its mainstay business helping brands sell apparel, electronics and consumer goods on Alibaba's Tmall, where it generates three-quarters of its merchandising volume.
The Shanghai-based company has detailed a new strategic plan in dribs and drabs over the past month, starting in press releases, conference calls and, most recently, in an annual letter to investors last week from Qiu Wenbin, co-founder and chairman of the 14-year-old company.
Shares of Baozun, which have traded on Nasdaq since 2015 and made a second listing in Hong Kong last September, haven't fared well since it first mentioned the three- to five-year strategic plan in its 2020 results early last month. The stock enjoyed a huge 60% run-up this year through early February, but has erased nearly all those gains and now trades almost exactly where it began the year as investors contemplate its future.
Once you cut through the jargony chairman's letter, Baozun's story is one of trying to expand its business of helping brands to sell their wares online to new platforms beyond Tmall. Those efforts include working with another long-time partner JD.com, as well as social commerce sites like WeChat's mini programs and Xiaohongshu, and video streaming sites such as ByteDance's Douyin.
Baozun claims to being the largest e-commerce player in its class in terms of gross merchandise volume (GMV) that passes through its channels, with 7.9% share in what is a clearly fragmented marketplace across China, according to 2019 data from iResearch.
From its founding in 2007, Baozun has been strongly tied to Tmall and Alibaba. Tmall first launched in 2008, with Baozun as an early e-commerce software provider and strategic partner. To date Alibaba still holds 11.3% of Baozun's ordinary shares and a 7.5% voting stake in the company, according to Baozun's latest annual report.
But e-commerce is evolving quickly in China as consumer buying habits shift to new types of platforms like social commerce and livestreaming. The 13-year-old Tmall looks cluttered compared to cleaner, more integrated platforms like WeChat mini programs.
Tmall accounted for 74.5% of GMV sold using Baozun's software and services last year, according to the company's latest annual report. Before that disclosure, Baozun had never put an exact figure on its heavy Alibaba addiction, saying only that "a substantial majority of our GMV is derived from … Tmall" in earlier regulatory filings.
As a second leg to its three- to five-year plan, Baozun wants to increase new business from both existing and new brand partners. To that end, it is investing in high-growth parts of the apparel market, especially categories like luxury, aiming to become No. 1 in such sub-categories. It already counts 15 top global brands, including Nike, Microsoft and Philips, among its brands, and wants to expand that part of the business.
Thirdly, Baozun is looking to drive down costs through heavy investments in technology that can improve efficiencies over time. It's also looking to open remote customer service centers in lower-cost cities in Eastern China.
High Hopes
Not surprisingly, the company has high hopes for the program, which CFO Arthur Yu detailed on its 2020 results call in March.
Yu said Baozun is looking to become a business with GMV of 150 billion yuan in three to five years. That would represent a near tripling of the company's 55.7 billion yuan in GMV last year, which was up 25% from 2019. Yu added Baozun is aiming for an operating profit of 2 billion yuan over that period, which would be more than six times its 300 million yuan operating profit last year.
But he may have spooked investors with a cautionary note about the impact of its upcoming new investments, implying a hit to near-term profitability by calling 2021 "a year of investment" into new channels and business models. "But we believe this investment will lead us to higher top-line growth in 2021 and also in the next three to five years," he said.
A useful comparison for Baozun is rival Weimob (2013.HK), another third-party supplier of e-commerce software. Similar to Baozun's relationship with Alibaba, Weimob maintains close ties to China's other internet titan Tencent (0700.HK). But Weimob has been much more successful weaning itself from its big patron and now only gets 21% of its revenue from Tencent.
Weimob's better success at diversification may be reflected in its market value, which, at $5.2 billion, is far bigger than Baozun's $2.8 billion, even though Weimob generates one-quarter the revenue of Baozun.
The difference can also be partly explained because Weimob is expected to grow two or three times faster than Baozun in 2021. Baozun also keeps customer inventory on its books to speed delivery times for its big brand customers, which could result in some inflation to its revenue.
Baozun trades at a relatively high price-to-earnings ratio of 35, while Weimob's erratic bottom line was in the red last year, reversing a small profit from 2019, meaning it had no PE for 2020.
Both Baozun and Weimob equip top brands to reach customers across a growing range of platforms. Baozun is far more focused on a full range of e-commerce services from front-end sites to back-end warehousing and delivery. By comparison, Weimob is more marketing oriented but expanding its service offerings and also moving into newer product areas like apparel, beauty, maternity and convenience stores.
Founded in 2013, or six years after Baozun, Weimob grew up serving newer e-commerce models emerging in China by the time of its inception.
Baozun's Qiu acknowledged that the company is in the early stages of breaking into new e-commerce formats. But he said his company's long experience in the business, as well as its three-years of investments in digital marketing, fulfilment and delivery cannot be ignored. "I think we are very strong in facilitating brands in the e-commerce business on any of the new emerging channels," he said on the March conference call.
To subscribe to Bamboo Works weekly newsletter, click here