WeChat Software Star Weimob Hit by More Loses, Big-Tech Scrutiny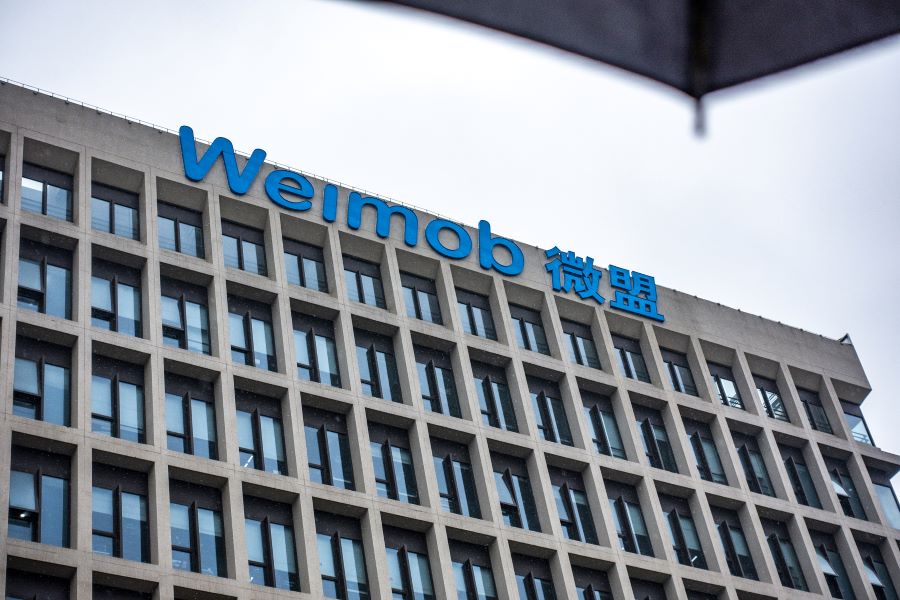 Software as a service (SaaS) specialist's latest results show it's still suffering from a pandemic hit, as investors also worry about regulatory crackdown on WeChat parent Tencent
Key Takeaways:
Weimob's 50% stock drop over the past month owes to concerns about its continued losses, as well as regulatory scrutiny of big tech
Its intrinsic growth story remains intact as the company expands its customer base and partners
By Eric Auchard
Shares of Weimob Inc. (HKEx: 2013), the top supplier of cloud-based commerce and marketing software for merchants in China's vast WeChat ecosystem, have tanked over the past month for two reasons: fears that pandemic-induced store closings last year might continue weighing on its profits, and concerns over widening regulatory scrutiny of the country's big tech firms.
What was until recently China's hottest new economy software stock has seen its shares fall to as low as HK$16.50 ($2.12) in recent trading, or half of where it was in mid-February, as fears of a general tech crackdown have rippled across the sector. That ended a remarkable two-year run that saw the stock rise more than tenfold since its January 2019 IPO.
This week, Tencent, whose WeChat messaging and payment app boasts 1.2 billion active users, was revealed to be facing sharper antitrust inquiries under a broader Beijing campaign to rein in China's internet giants, Reuters reported, citing people with direct knowledge of the matter.
Such moves pose major business risks to the many small fish that feed off business they find in the vast WeChat pond. Shanghai-based Weimob is one of the larger fish in that pond, having found its niche as the biggest third-party software supplier to WeChat-based e-commerce merchants.
Shares of its closest rival Youzan (HKEx: 8083) have fallen by a similar amount of nearly 50% in the past month, suggesting both companies are subject to similar concerns. The 30-component Hang Seng Tech Index, which includes Weimob, has fallen 26.5% in the same timeframe.
Adding to these larger concerns were Weimob's less-than-attractive latest financial results released last week, which showed its loss widened in the second half of the year to 618 million yuan ($95 million) from a 546 million yuan loss in the first half. Equally gloomy, revenue growth also slowed to just 30% in the second half from a brisker 47% in the first half. Such weak numbers, even as people were shopping more than ever online during the pandemic, owed to two entirely predictable factors.
One of those was two large one-time charges. The first was a write-down of more than 1 billion yuan related to the change in value of some of the company's convertible bonds. The second was a 94 million yuan charge to compensate its customers for a rogue employee's action to sabotage Weimob's operations, leading to a temporary software blackout a year ago.
Weimob was also plagued by customer attrition during the first half of 2020, when many merchants were forced to shut their brick-and-mortar stores during local lockdowns. Customer churn rose to 26% last year from 22% in 2019, reversing years of improving customer retention. This too was unsurprising given last year's pandemic turmoil.
Weimob management said winning over larger merchants and integrating its software more deeply into their selling systems will safeguard it against these issues in the future.
Fundamentals Intact
Recent blows to investor confidence have interrupted what was previously a classic story of a tech company in hyper-growth mode.
Analysts who follow the company broadly believe that Weimob is working through its company-specific issues and is set to resume solid double- and even triple-digit growth in the coming years. Of the 23 who rate the stock, all are relatively bullish: 12 call it a "strong buy" and 11 recommend it as a "buy", according to Thomson Reuters.
Looking ahead, analysts forecast revenue will return to a stronger growth track. They see its revenue rising by 58% to 3.12 billion yuan this year, with 2022 revenue forecast to grow 35%, according to Thomson Reuters data. The company is also expected to return to the black this year, with analysts forecasting a small net profit of 159.4 million yuan for 2021. Profits are set to take off after that, forecast to grow 157% next year and by another 68% in 2023.
Weimob was founded in 2013, just as WeChat was starting its meteoric rise. It started out selling customer relationship management (CRM) software to small and medium-sized merchants using WeChat to reach their customers. In 2016, it added digital marketing tools to help merchants acquire and retain customers.
Weimob has diversified more recently by cross-selling its commerce and marketing tools beyond WeChat to a growing number of other platforms, including leading short video apps Douyin and Kuaishou, as well as Ant Group's Alipay and search leader Baidu. It is also winning more business among the largest merchants on WeChat by selling them integrated systems instead of just individual software products.
Over the past year Weimob has also stepped up its buying of companies with vertical market expertise, allowing it to offer more services not only to its early base of fashion and household goods merchants but increasingly to others like convenience stores, restaurants and hotels, shopping malls and beauty shops – territory where it is challenging Youzan.
It's also expanding into at least 10 countries to serve WeChat merchants' growing international customer base. Discussing its outlook for 2021 on its results conference call last week, it said it had lined up Google, Facebook and TikTok as partners to help it sell advertising services into this base.
While Weimob has no meaningful price-to-earnings (PE) ratio due to its money-losing status, the figure based on its 2021 estimated profit is a hefty 184. The number starts coming down to a more reasonable 42 based on 2023 profit forecasts.
In Western terms, Weimob is most often compared to Shopify, Canada's most valuable company. It also bears some comparisons with cloud services management provider ServiceNow or payments provider Square. Such companies, often called software as a service (SaaS) providers, currently have a composite price-to-sales ratio of around 22, compared with Weimob's much higher 125 and Youzan's 156. 
To subscribe to Bamboo Works weekly newsletter, click here