Alibaba International revenues jump, losses narrow on growing synergies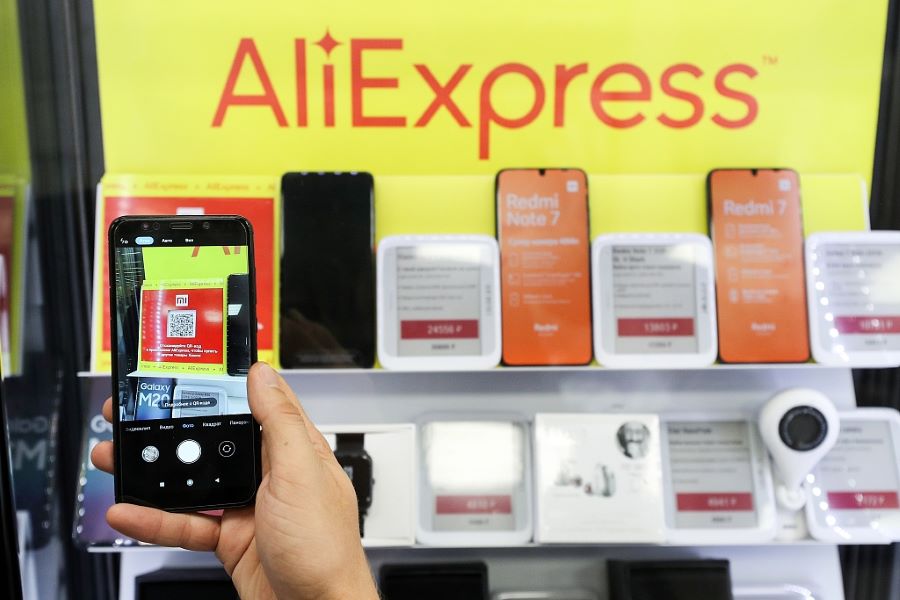 Alibaba Group's international unit continued to post improving performance in its latest quarter ahead of a planned fundraising
Key Takeaways:
Alibaba International's revenue jumped and its EBITA loss narrowed in the September quarter, which CEO Jiang Fan attributed to improving performance for its global network of sites
The operator of several global e-commerce sites is "in preparation for external fundraising," its parent, Alibaba Group, said in its latest earnings report
By Teri Yu
When China's e-commerce leader Alibaba Group (BABA.US; 9988.HK) announced its latest financial results last Thursday, its first dividend payout since its 2014 listing and the halt of a planned spinoff for its cloud division captured most of the headlines.
But behind those attention grabbers, the company's international e-commerce arm, Alibaba International Digital Commerce Group, or Alibaba International, delivered some of the best results among its businesses since its March announcement of a plan to break itself up to unlock shareholder value. Such a strategy seems to be yielding results for Alibaba International, which, like its siblings, is now operating independently and trying to become nimbler in navigating a fast-moving global e-commerce landscape where it competes with both global conglomerates, as well as regional and local players.
While its positioning puts it in direct competition with international players, Alibaba International is also set apart from its siblings by its purely international focus – an element that could work in its favor as both consumers and businesses in China become more cautious.
Alibaba International operates e-commerce services in both developed and emerging markets. Its main assets include: Lazada, a Southeast Asia B2C platform; AliExpress, a global B2C marketplace where customers buy directly from Chinese manufacturers; Turkey-based European flagship Trendyol, along with Miravia in Spain; and Daraz, with a South Asia focus. Its assets also include global B2B marketplace Alibaba.com.
Alibaba International recorded revenue of $3.36 billion for the three months through September, up 53% from a year earlier, according to information included in Alibaba Group's latest quarterly report. Its retail business once again powered the big gains, with revenue up 73% to $2.6 billion, accounting for three-quarters of the company's total. It did not break out revenue figures for its individual platforms. Its B2B business recorded 9% growth to $758 million, partly driven by the launch of its first AI tools to help merchants enhance their global commerce management.
"During the quarter, Alibaba International continued to record rapid growth amid a relatively unstable operating environment globally, thanks to our strategic focus on a user-centric value proposition. Technology-driven innovation, operating model upgrade and enhanced supply chain efficiency are behind our success to better serve our consumers," said Jiang Fan, Alibaba International's CEO and also one of a core group of Alibaba partners who set major strategy for the parent company's various businesses.
Combined orders across Alibaba International's retail platforms grew approximately 28% year-on-year. Lazada recorded double-digit order growth over the same period last year. Trendyol saw strong order growth as well, while it further expanded its footprint outside Turkey by leveraging its product sourcing capabilities and supply chain advantages. AliExpress has also established a strong presence in new emerging markets such as South Korea, where it recorded significant growth.
A key growth driver for the quarter came from AliExpress' new cross-border service called "Choice." AliExpress launched the program in early 2023, and since then the service has significantly lifted the platform's overall competitiveness. Customers buying products with a "Choice" tag enjoy free shipping from China for most of the 100 countries AliExpress covers, and no membership is required. The service also provides free returns and delivery guarantees in over 15 countries as well as higher discounts on goods.
"AliExpress has upgraded from a pure platform model to a model that offers more supply chain services, drastically facilitating merchants going global and at the same time allowing more diverse merchandise to be available on AliExpress. With us handling end-to-end consumer services, we manage to shorten delivery time and achieve better consumer experience," said Jiang.
Finding synergies
While Alibaba intends to let each business stand on its own, it remains to be seen how those various "siblings" might continue working with each other. As highlighted by Alibaba Chairman Joe Tsai on the company's latest earnings call, there are many places where its different units' "businesses are very symbiotic with each other, and their relationships are highly strategic." One such case is Alibaba International's strong partnership with Cainiao, Alibaba's logistics unit that is also being spun off.
The Choice program also started working closely with Cainiao in September to roll out a five-day cross-border delivery guarantee program in selected European countries, which it said would be 30% faster than the industry standard. Such speed is possible by streamlining different parts of the delivery chain, including pick-up, line haul, overseas distribution, and last-mile delivery. The improved delivery times were a major driver behind a big ramp-up in order volume on AliExpress during the quarter.
Alibaba International is also exporting its parent's "Double Eleven" shopping festival that falls on Nov. 11 and has become a major catalyst for online activity. Alibaba International said that speedier delivery services across different regions, including Europe and the U.S., helped to entice customers to use AliExpress during this year's festival, which runs from Nov. 11 to 17.
On its bottom line, Alibaba International's quarterly adjusted EDITA narrowed sharply to a $53 million loss, about half the $103 million loss on that basis a year earlier, as a result of improved margins at Lazada and Trendyol. Lazada made notable progress by reducing its loss-per-order through improved monetization, while Trendyol continued to be profitable due to improvements in monetization and operating efficiency.
Alibaba has always said globalization is one of its key strategies, and Alibaba International will continue to spearhead that effort. Alibaba Group CEO Eddie Wu gave more details on how Alibaba International will develop on the company's latest earnings call, pointing to the huge growth potential in international markets as the company scales up its penetration.
Wu said that building a highly efficient, world-leading digitalized supply chain network and investing in core AI capabilities to drive user experience and empower small merchants to "truly make the leap from local to global" will be Alibaba International's core strategy going forward.
As part of its strategic focus, Alibaba International earlier this month announced the pilot launch of its first suite of AI-powered application programming interfaces (APIs) to sharpen its appeal for its merchants doing cross-border business. The toolkit "Aidge" offers functions including multi-lingual content localization, search engine optimization and assistance with customer service. The new tools could eventually help the company to reduce operating costs and create more potential for further growth.
Realization of such growth opportunities could require huge investment, and Alibaba International "is in preparation for external fundraising," according to the parent company's latest earnings announcement. No timeline or other details were given. But Alibaba International is undoubtedly hoping its strong results will be just the tonic to lure in new investors when the right time comes, even as the broader funding environment remains tough.
Have a great investment idea but don't know how to spread the word? We can help! Contact us for more details.
The Bamboo Works offers a wide-ranging mix of coverage on U.S.- and Hong Kong-listed Chinese companies, including some sponsored content. For additional queries, including questions on individual articles, please contact us by clicking here.
To subscribe to Bamboo Works free weekly newsletter, click here