Alibaba International sharpens its merchant appeal with new AI tools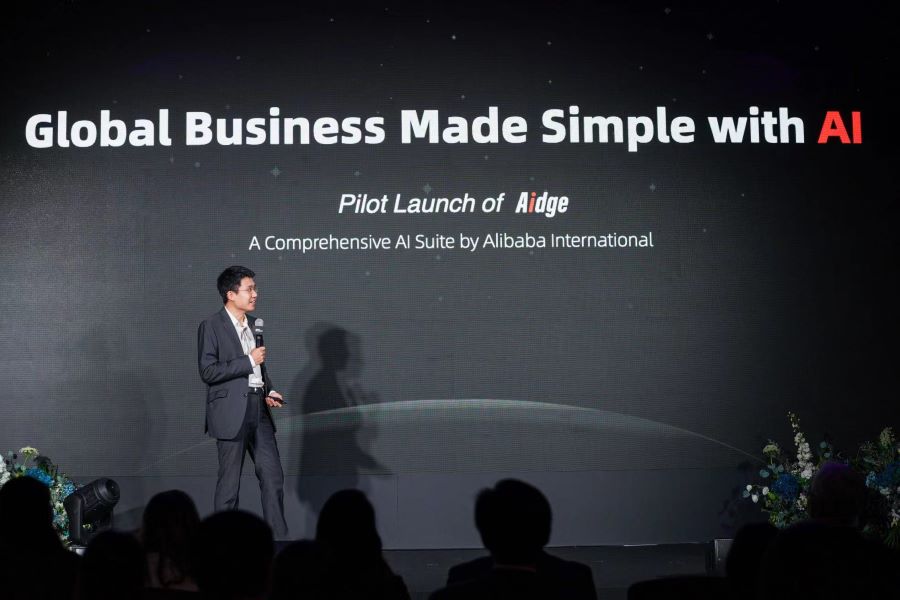 The internationally focused unit of Alibaba announced the pilot launch of its first suite of AI-powered APIs, drawing on its experience in commerce and troves of industry knowledge
Key Takeaways:
Alibaba International has pilot launched its first suite of AI-powered tools for global commerce merchants, covering functions like multilingual content localization and search engine optimization
The new tools could eventually help the company to diversify its business model and create more potential for additional revenue growth
By Teri Yu
With Alibaba's (BABA.US; 9988.HK) signature "Double Eleven" shopping extravaganza just days away, Alibaba International Digital Commerce Group, which operates most of the company's global e-commerce services, sought to steal some of the spotlight with the unveiling of its first suite of AI-powered application programming interfaces (APIs) called "Aidge." Underscoring its global credentials, it made the announcement on Monday in Singapore, which is home to some of Southeast Asia's largest e-commerce companies, including Alibaba International's own Lazada.
Alibaba International called Aidge the first commerce-focused and AI-enabled toolkit for online merchants looking to boost their efficiency and streamline global operations.
Alibaba International said Aidge, which stands for "AI for digital and global entrepreneurship," initially includes more than 15 APIs and supports 18 languages. That will come in handy as the company targets merchants using a wide range of languages worldwide, from the Southeast Asian languages on Lazada, to its European flagship Trendyol, based in Turkey.
The company said the product has been trained using its proprietary large language models (LLMs) and computer vision models that draw on Alibaba International's vast trove of industry knowledge and accompanying insight from its extensive international e-commerce expertise.
With its strong multilingual, content localization, marketing and customer service functions, Alibaba International believes Aidge will help small and medium-sized enterprises (SMEs) to overcome language and cultural barriers when setting up or expanding on different e-commerce platforms across different markets.
"SMEs engaged in global commerce continue to face numerous challenges, such as language and cultural barriers, high marketing and user acquisition costs, and talent shortages," said Zhang Kaifu, vice president of Alibaba International, who leads its AI initiatives.
A recent poll of over 500 global retailers by consultancy Bain showed that over 65% believed early adopters of AI will have a substantial advantage over their rivals. But self-development of such technology is prohibitively expensive, especially for small shops that populate most major e-commerce platforms. That places the task of harnessing the power of AI to enable SMEs on experienced operators like Alibaba International.
Alibaba International is Alibaba's business unit containing its various global assets under a single leadership team. It was one of the e-commerce giant's six major businesses set to be spun off and operated independently when the company announced a major restructuring earlier this year. In addition to Lazada and Trendyol, Alibaba International also operates AliExpress and Daraz, which is focused on South Asia. It also operates the Alibaba.com B2B marketplace. The company is led by Alibaba partner Jiang Fan.
Alibaba International's parent Alibaba previously said that its international offspring was likely to use any new funds to expand geographically and invest in new technologies to enhance its products and services, which seems to be the case for the new Aidge.
The company reported some limited financial results in August as it prepares to stand on its own. Those included an adjusted EBITA loss of $58 million in the three months through June, marking a big improvement from a $190 million loss on a similar basis a year earlier, as margins improved for Trendyol and Lazada. Total revenue from its retail business grew 60% to $2.36 billion year-on-year for the quarter.
Ahead of rivals
At first glance, Aidge looks quite similar to other products already in the market from names like Shopify (SHOP.US) and BigCommerce (BIGC.US). Alibaba International says its edge lies in the use of AI-driven technology, combined with its strong experience and track record working with merchants across its various platforms in a wide range of geographies. That gives it deep insights and understanding of retailers' needs that can set it apart from the crowd.
At the Singapore event, Alibaba International showcased a number of Aidge AI applications that can be customized for everything from supporting sales conversion, to handling multi-lingual customer enquiries, funneled through live chatbots, and search engine optimization.
Alibaba International said it plans to roll out the services to merchants across its various e-commerce services. It added it will closely collaborate with e-commerce software as a service (SaaS) vendors and independent software vendors (ISVs) in pilot initiatives, with a series of staged launches planned through the end of this year.
The company's strong Asia and European presence through its Lazada, Daraz, Trendyol and AliExpress operations is likely to make Asia and Europe key focuses for the rollout. It is possible that helping its merchants do more business will ultimately filter down to its own top line revenue by expanding its footprint to serve more diversified customers across different industries.
"We are excited to integrate Aidge technology into our pipeline to enhance our overall platform experience. By empowering sellers to optimize their operations and online stores through AI, we can help them free up their time and spend time on what truly matters: growing their business," said Daraz Chief Product Officer Tatiana Palhares.
Daraz has been conducting pilot testing of the new services and will soon launch an enhancement to its instant messaging feature allowing real-time dialogue between buyers and sellers using AI-generated prompts.
While Aidge has yet to prove itself as a revenue generator, this type of move seems like a logical way for Alibaba International to monetize its e-commerce insights and technology, making it a potential additional income source to differentiate itself in its various markets.
We should get some more financials from Alibaba International when its parent, Alibaba Group, reports its third quarter earnings on Nov. 16. While that's far too soon for Aidge to show any tangible results, Alibaba International may still talk up the product alongside the release of its latest earnings. Meantime, investors will be watching the unit's latest report closely to gauge the success of its leadership team and Alibaba's broader breakup plan.
Have a great investment idea but don't know how to spread the word? We can help! Contact us for more details.
The Bamboo Works offers a wide-ranging mix of coverage on U.S.- and Hong Kong-listed Chinese companies, including some sponsored content. For additional queries, including questions on individual articles, please contact us by clicking here.
To subscribe to Bamboo Works free weekly newsletter, click here