Xiaohongshu's Soaring Valuation: a Final Tango Before Listing?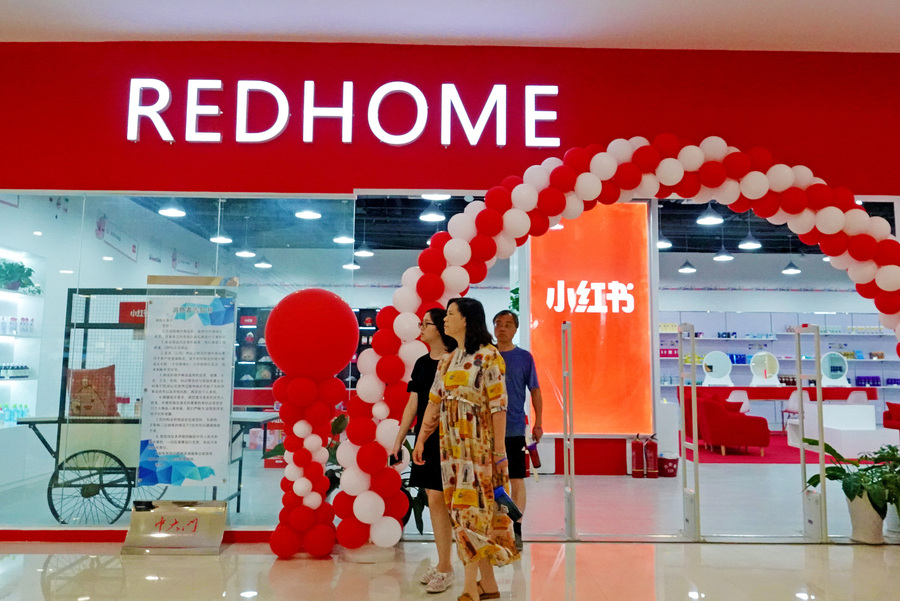 A new funding for the company sometimes called 'China's Instagram' has valued it at $20 billion
Key takeaways:
Xiaohongshu has completed a new funding round that has doubled its value from just 3 months earlier
Some analysts believe such aggressive valuation increases often come ahead of IPOs, though the company has yet to announce any such plans
By Jony Ho
Chinese online social and shopping platform Xiaohongshu has completed a new financing round, providing a major boost to its valuation. The funding announced last week has lifted the company's market value to $20 billion – double the $10 billion it was worth in a previous round reported just three months ago.
Behind the big hopes and valuation for a company sometimes called "China's Instagram," however, Xiaohongshu also faces some hidden challenges as it competes with other social media companies for advertising and e-commerce dollars.
Xiaohongshu, whose Chinese name means "little red book," has emerged as a major new mobile app in recent years, attracting users with its combination of social and e-commerce functions. It allows e-commerce companies to post articles recommending products, and ordinary users can also write notes to share "good stuff," similar to Instagram posts.
Xiaohongshu's style is similar to Instagram's "more pictures, less words" interface. Like its U.S. peer, it also provides a "stories with limited time" function, and allows users to comment, like and share posts, with most content covering beauty, food, baby care, home furnishing and lifestyle topics.
Supported by old shareholders
According to media reports, Xiaohongshu's latest funding round was worth $500 million and came mainly from existing shareholders, led by Singaporean sovereign wealth fund Temasek, as well as internet giants Tencent (0700.HK) and Alibaba (9988.HK; BABA.US). Based on the $20 billion valuation, the investors would have received about 2.5% of Xiaohongshu's shares.
Since its founding in 2013, Xiaohongshu has completed at least six funding rounds over eight years, with its valuation soaring especially in the past two years. The company's valuation reached $5 billion after a private equity funding round in the first half of last year. It was back at the trough in August this year, when it reportedly raised fresh funds that valued it at more than $10 billion. Now that valuation has doubled just three months later.
The company is reportedly eyeing a public listing. Reuters reported in April that Xiaohongshu was aiming for a U.S. IPO to raise up to $1 billion. But following China's increased scrutiny of its U.S.-listed internet companies for data and other security risks, some media have reported the company is turning its eyes to Hong Kong for a listing as soon as this year. Xiaohongshu has responded to recent reports by saying it will stay in touch with capital markets but does not have a specific plan.
Many large tech companies often try to pump up their values using pre-IPO financing before they launch their actual IPOs, hoping to raise funds at higher P/E ratios and bring bigger profits for their early investors, said Michael Wong, director and chief investment officer of PC Securities. But he added that investor sentiment has weakened due to all the recent regulatory clampdowns.  
Accordingly, Xiaohongshu ability to successfully float shares at the latest high valuation could face difficulty due to weak market sentiment.
Xiaohongshu's revenue model isn't too diversified either, consisting of two parts: advertising and e-commerce. The company's advertising business last year contributed between $600 million and $800 million, accounting for 80% of the company's total revenue, according to media reports that were not confirmed by Xiaohongshu. E-commerce accounted for the rest, providing $150 million to $200 million.
Xiaohongshu's profitability isn't known due to its private status, making P/E comparisons with its peers impossible. But it can be compared with other domestic social platforms in terms of its price-to-sales ratio (P/S). Its latest $20 billion market value and roughly $1 billion in annual revenue gives the company a P/S ratio of about 20 times.
By comparison, popular video sharing platform Bilibili Inc. (9626.HK; BILI. US) has a market value of about $33 billion and 2020 revenue of about 12 billion yuan ($1.88 billion), giving it a P/S ratio of 17.5 times. Audio-visual mobile app Kuaishou Technology (1024.HK) posted revenue last year of 58.8 billion yuan and has a market value is about $53.2 billion, giving it the lowest P/S ratio of just 5.76 times. Those comparisons reflect the high valuation premium Xiaohongshu is seeking.
Despite its high P/S ratio, Xiaohongshu is still well behind Bilibili and Kuaishou in terms of monthly active users (MAUs). As of June, Bilibili had 237 million MAUs, while Kuaishou had 506 million, according to Qianfan Analysys.
By comparison, Xiaohongshu had about 150 million MAUs as of September, or roughly 60% of Bilibili's base, and only a small fraction of that for major platforms like WeChat and Douyin that boast more than 1 billion active users. With so many larger names ahead of it, Xiaohongshu doesn't even make it into the top 30 domestic apps for China.
Stimulating E-commerce
Xiaohongshu has taken a number of recent steps on the e-commerce front in hopes of boosting the revenue contribution from that part of the business.
On July 26, it cracked down on soft-advertising notes, requiring bloggers to declare their interests in posts. On Aug. 1, its "good stuff recommendation" function was turned off, and links to Alibaba's popular Taobao marketplace could no longer be attached with notes.
And on Aug. 2, Xiaohongshu introduced a mechanism to combine personal and merchant accounts. That meant user accounts were no longer divided into personal or corporate accounts, with only two categories: professional and non-professional accounts.
In addition, professional accounts could open shops unconditionally. That move was aimed at attracting more individuals, small and medium businesses to work together with Xiaohongshu, which hoped to increase its e-commerce revenue by drawing commissions from those accounts.
One merchant who has operated an online Xiaohongshu shop for many years admitted it only accounts for about 1% of his income, with the vast majority coming from other e-commerce platforms. In addition to requiring verification for all of its e-commerce merchants, Xiaohongshu also strictly monitors the content of notes on the site, hitting the income of bloggers who obtain advertising fees by promoting products. Such actions could lead to the loss of well-known bloggers, with a ripple effect that could ultimately affect the company's traditional advertising businesses.
Last but certainly not least, the company faces the prospect of increased official supervision being seen by most social platforms in China. In early November, Xiaohongshu was among 38 mobile apps cited for collecting too much user information and told to rectify the problem by the Ministry of Industry and Information Technology (MIIT).
Back in July 2019, Xiaohongshu was removed from multiple app stores in China for suspected violation of the country's strict content rules and was only to return after an investigation and rectification. That kind of changeable regulatory environment shows the difficulties that Xiaohongshu may have to face in the future.
To subscribe to Bamboo Works free weekly newsletter, click here