Xiabuxiabu serves up bold expansion plan for post-Covid comeback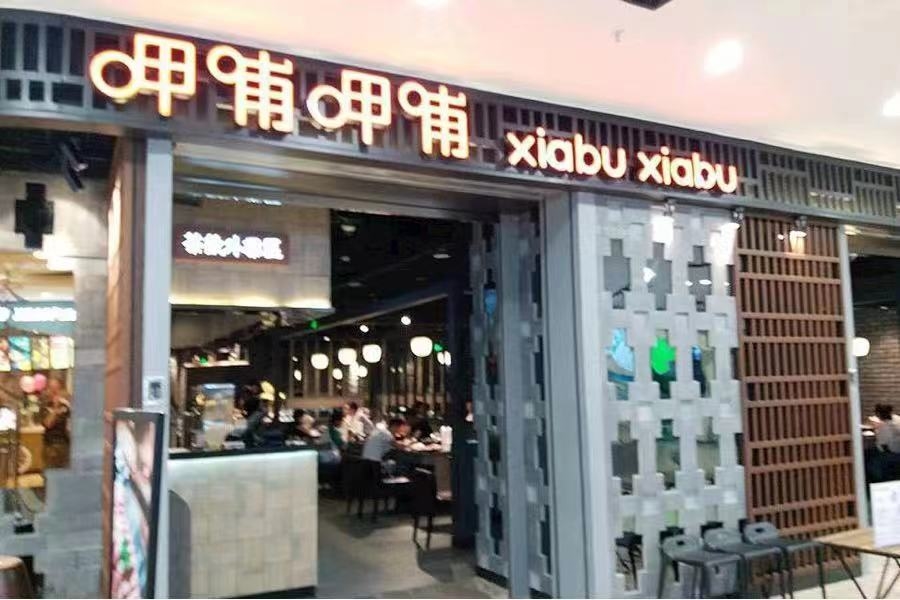 The Taiwanese-style hotpot chain was still mired in losses last year, but its revenues are picking up as China's economy recovers
Key Takeaways:
Xiabuxiabu has projected falling revenue and a bigger net loss for last year, but business was already rebounding in the second half
The company is planning to open new Chinese outlets and expand more aggressively overseas, working with platforms such as Douyin to cash in on a post-Covid dining recovery
By Tina Yip
If any investors were hoping that a juicy profit was already on the menu for embattled hotpot chain Xiabuxiabu Catering Management (China) Holdings Co. Ltd. (0520.HK), they were left with a sour taste.
Xiabuxiabu's share price tumbled last week after the company said last year's earnings would still land deep in the red. But business has been picking up since Covid controls were relaxed, sending diners swarming back into restaurants. And the company is cooking up big expansion plans for China and beyond.
It's been a tough few years for the Taiwanese-style hotpot chain, with boardroom bust-ups and the chilling effects of anti-Covid policies on the restaurant industry.
The pandemic cost the company more than 600 million yuan ($87.2 million) in the past two years. Its market capitalization has plummeted from nearly HK$30 billion ($3.84 billion) at its peak to just over HK$7 billion.
The company issued a profit warning last Tuesday, alerting investors to a predicted 23% fall in 2022 revenue to 4.72 billion yuan. It expects its annual net loss to have widened to between 320 million and 340 million yuan, 13% to 20% bigger than the 2021 shortfall. It would mark only the second annual loss since the hotpot brand went public in 2014.
Along with many dine-in brands, the chain had to close businesses or restrict opening hours during the pandemic. But the need to keep paying rents and salaries pushed it deep into the red. To trim the losses, the company adjusted its operations and negotiated rent freezes or rent relief. As China's zero-Covid policies were relaxed late last year, the firm's projected net loss in the second half was 42 million to 62 million yuan, far smaller than the 278 million yuan in the first six months.
But nervous investors were unimpressed. Xiabuxiabu shares fell 20% in the three trading days after the warning, with the price slipping at one point to a three-month low of HK$6.8. The red ink stains contrast with the more pristine earnings report from fellow hotpot chain Haidilao (6862.HK), which managed to swing from a loss to a net profit of 1.3 billion yuan last year by trimming back underperforming stores. Investors hoping for a similar bounce-back from Xiabuxiabu were disappointed.
Kenny Wen, the head of investment strategy at KGI Asia, thinks a lackluster performance was clearly on the cards given the heavy pandemic toll last year.
He also cited risk aversion in the overall Hong Kong market, with some investors cashing out after the company's price had rallied from HK$2.84 last year to more than HK$10 early this year. "They sold the stock to lock in profits when the price started to soften, which led to the downward spiral," Wen said.
Expanding abroad
Xiabuxiabu's chairman, Ho KuangChi, has laid out an ambitious expansion and brand promotion strategy to seize the opportunity of an economic upswing after years of Covid woes.
In China, the company plans to add more than 230 stores this year, reversing the shrinkage during Covid, according to media reports. Of the new stores, 120 will carry the Xiabuxiabu brand and more than 70 will be Coucou hotpot eateries, with 20 meat barbecue outlets also due to be opened. By the end of June last year, the chain had been left with just 810 stores, down 267 from the previous year.
In fact, its operating revenue during the Lunar New Year holiday rose 126% and the table turnover rate nearly tripled from last December, as noted in our story about its competitor Haidilao. Xiabuxiabu's performance in the second-tier cities and leading tourist cities was especially strong. Thus, it makes sense to expand on the back of China's economic recovery drive.
A second strand of its Covid recovery strategy is overseas expansion, following in the footsteps of hotpot leader Haidilao whose business outside China is thriving. Xiabuxiabu has already set up a department to manage its overseas push, mainly into major Asia-Pacific cities. Its Coucou hotpot brand has opened three dining outlets in Singapore since entering the market last year, and the first Xiabuxiabu store opened there in January. It will open a trial outlet in Taipei from Mar. 18. The company is also targeting other Southeast Asian markets such as Malaysia.
On the marketing front, it has partnered with Douyin, China's version of TikTok, Xpeng (9868.HK) and Baidu (BIDU.US; 9888. HK) to diversify its promotional efforts. Last week it announced it would join hands with Douyin, a short-video platform that just entered the online takeout arena, to market its business via video clips and brand or influencer broadcasting, with special applets and takeout products. The firms' membership platforms will be connected by May and the takeout service will go online in the third quarter.
Last year, the company's brands got hundreds of millions of exposures through Xiabuxiabu's official Douyin account, realizing a transaction value of over 100 million yuan. Its takeout initiative with Douyin this year is expected to double that to 200 million yuan.
Management infighting
Taiwan-born founder Ho set up the first Xiabuxiabu restaurant in Beijing in 1998, serving hotpot in the style of his homeland. Diners in northern China like to enjoy hotpot in big groups, using coal or gas to cook the food, but the traditional Taiwanese version uses smaller individual pots powered by electricity. At first the business concept was strange for Chinese consumers and it failed to take off.
But the SARS epidemic outbreak in 2003 was a game changer. A lot of customers wanted to enjoy a personal hotpot without sharing food with others, given the infection risk. The company made its name and investors came knocking on the door.
In 2014, the company became the first listed hotpot chain in China, with an IPO on the Hong Kong Stock Exchange. In 2016, it announced plans to open a thousand stores and reach 10 billion yuan in operating revenue and 1 billion yuan in net profit in four years. But by the end of 2019, despite having 1,124 stores, its profit still fell short of the target, which sowed the seeds of management conflict.
In August 2021, the company ousted Zhao Yi, the CEO who had steered the IPO success, and passed the reins to Chairman Ho. The announcement at the time was critical of Zhao's record, listing failures to achieve brand targets on her watch and describing disagreements with board members on management style and strategy.
The rancor has left a bitter taste for some investors, weighing on Xiabuxiabu's market value. The company's price-to-sales (P/S) ratio stands at just 1.63 times, well below the 2.83 times and 6.38 times of peers Haidilao and Jiumaojiu (9922.HK).
"Xiabuxiabu's flagging stock has something to do with the management reshuffles in recent years. Whether it can repair the valuation after the dust settles depends on Ho's ability to deliver on the new company strategy," said analyst Wen.
To subscribe to Bamboo Works weekly free newsletter, click here