UP Fintech Steps Up Diversification Drive in Face of Regulatory Uncertainty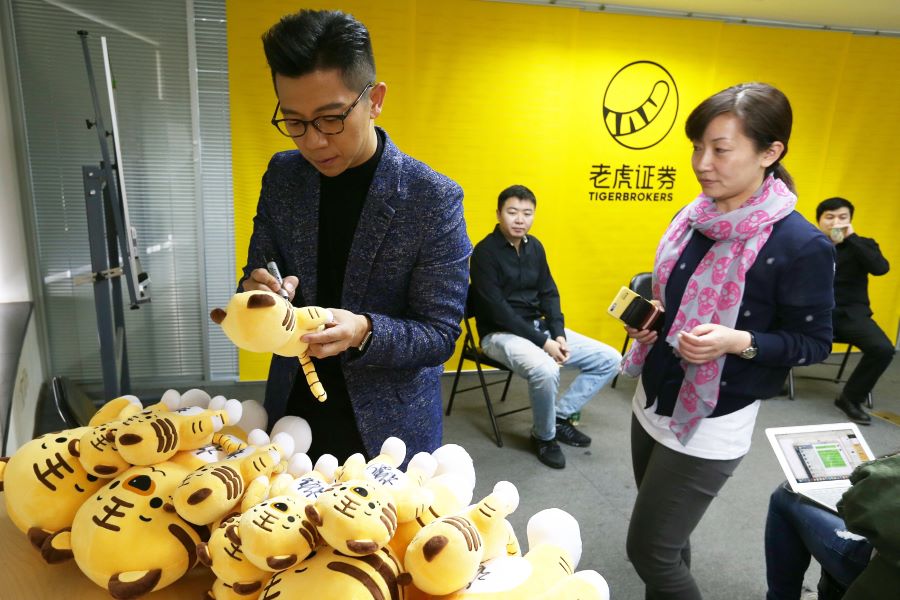 Company also known as Tiger Brokers announces major new developments in Hong Kong and Singapore as its stock takes a beating on official reports questioning its operations
Key Takeaways:
UP Fintech's shares have lost a third of their value following a series of official comments expressing concerns about the company's operations
Company's latest moves in Hong Kong and Singapore are part of a drive to diversify its business beyond selling overseas-listed stocks to Chinese investors
By Shirley Lau
Crouching may be a good defensive posture to assess the landscape when danger lurks. But moving away is probably better.
Beijing-based online brokerage UP Fintech Holding Ltd. (TGF.US), better known as Tiger Brokers, appears to be using both approaches as a cloud of regulatory uncertainty builds in its home China market.
Last week, the company announced two moves in line with its recent strategy of expanding abroad. Those may be at least partly defensive, aimed at dodging any bullets that might soon come its way as Beijing aims the cannon of its recent sweeping regulatory crackdowns at privately owned brokerages.
On Oct. 26, the Nasdaq-listed Chinese firm, which has thrived by helping Chinese investors trade in other markets, especially the U.S. and Hong Kong, announced receiving regulatory approval for its acquisition of Ocean Joy Securities Ltd., a Hong Kong-based securities company. Upon completion, the deal will allow Tiger to directly operate a brokerage in the semiautonomous Chinese city.
A second similar announcement came just two days later, this time saying Tiger's Singapore subsidiary had been approved as a Central Depository (CDP) Agent in the city state. That allows Tiger to directly hold shares purchased by its customers in Singapore, rather than the previous arrangement that required such shares to be held by a third-party custodial agent.
Those announcements came as a storm was brewing in Tiger's home China market.
On Oct. 14, a little less than two weeks before the first announcement, People.cn, the website of the Chinese Communist Party's official People's Daily, published an article saying cross-border online brokers focusing on the U.S. and Hong Kong stock markets had "found themselves where the wind and the waves are at their fiercest."
It singled out Tiger and its Shenzhen-based, U.S.-listed rival Futu Holding (FUTU.US), indicating that a new personal data privacy law coming into effect in China on Nov. 1 could put both firms in a position of violating user data privacy rules.
Shares of both companies lost nearly a quarter of their value in the two trading days after the report's publication. Tiger's shares staged a minor comeback around the new announcements in Singapore and Hong Kong. But that was short-lived.
Sun Tianqi, director of the financial stability bureau at China's central bank, warned that online brokers offering cross-border trades to mainland investors without a Chinese brokerage license were "driving without a license" and engaging in "illegal financial activities," according to a transcript of the speech published on Oct. 27.
Without citing names, Sun said 80% of the accounts held by a "company A" registered in the Cayman Islands and 55% by a "company B" registered in Hong Kong were opened by mainland Chinese investors. Many saw that as a thinly-veiled reference to Tiger and Futu, respectively.
Those words sent Tiger and Futu shares into another tailspin, with both tanking more than 20% over the next two trading days.
In absolute term, Tiger is significantly smaller than Futu, and has fewer mainland customers. Tiger has about 1.65 million total users, or about a sixth of Futu's 8.25 million. That means 1.3 million of Tiger's clients are mainland Chinese, compared with more than 4.5 million for Futu, based on the ratios given by Sun. A source close to Tiger told Bamboo Works that foreign customers currently make up nearly 50% of the company's total.
Nothing New
Beijing's concerns about Tiger and its peers aren't really new – something the brokerages are fully aware of. As early as a 2018 fintech summit in Beijing, Sun was already highlighting the "illegal" practice of unnamed Chinese companies that were establishing online platforms abroad to conduct foreign exchange margin trading in China.
The following year, an official working group focusing on unlawful online data collection identified malpractice issues at Tiger and Futu and asked them to make amends.
Meanwhile, the Chinese government appears to be crafting its own plan on how to allow cross-border securities trading.
In February this year, Ye Haisheng, an official at the foreign exchange authority, said the government was contemplating relaxing rules to allow Chinese residents to invest in overseas securities and insurance policies with a per capita limit of $50,000. Mainland Chinese nationals are now allowed to purchase up to $50,000 worth of foreign currencies a year, but currently have no options for investing that money overseas via state-sponsored plans.
By enabling Chinese investors to circumvent the official routes, Tiger and its peers have been operating in a gray area. Such practice, which counts the U.S. as a major investment destination, can be particularly problematic when Sino-American relations are strained. It could also undermine the forex authority's future official offshore investment plans for mainlanders.
Thus while the data privacy issue voiced by People.cn could reflect real concerns, some might also see it as a pretext for reining in the online brokerages.
In that type of environment, diversification looks like the way to go for Tiger – and the company has been doing just that. In this year's second quarter, over 60% of its newly funded accounts came from international markets, many from Singapore. Tiger said the number of account openings that quarter by young Singaporeans aged 18 to 24 surged more than 90% year-on-year. Last year, the growth rate was an even higher 100% for three quarters in a row.
Meanwhile, the company is also strengthening a non-brokerage business, its employee stock ownership plan (ESOP) business, launched two years ago. In the second quarter of 2021, it added 51 ESOP clients, bringing the total to 216. It's also expanding its underwriting business, noting it took part in 17 IPOs in Hong Kong and U.S. in the second quarter.
In another diversification move, Tiger unveiled a new plan a few months ago to expand into cryptocurrency trading. Futu announced a similar plan around the same time. Both companies said they will not accept clients from mainland China, where cryptocurrency trading is now banned.
Those diversification efforts have contributed to results that look encouraging so far. For the second quarter, Tiger's total revenue nearly doubled year-on-year to $60.2 million. Commissions from its core brokerage services accounted for about half of that. But "other revenues," which excludes commissions, financing service fees and interest income, quadrupled to $10.2 million from $2.5 million a year earlier, thanks mainly to growth of Tiger's underwriting business and currency exchange service.
The company posted a second-quarter net loss of $21.5 million, due in part to increased spending to drive growth.
Despite its diversification efforts, Tiger still looks decidedly undervalued compared to Futu and its global peers, perhaps due to its loss-making status. It now trades at a price-to-sales (P/S) ratio of just 4, compared to 12.5 for Futu, which is profitable. U.S. giant Charles Schwab (SCHW.US) also trades higher with a P/S of 8.6, while the recently listed Robinhood Markets (HOOD.US) is highest at 17.
To subscribe to Bamboo Works free weekly newsletter, click here