Tuya Seeks Hong Kong IPO to Hedge U.S. Delisting Risk, But Investors Are Wary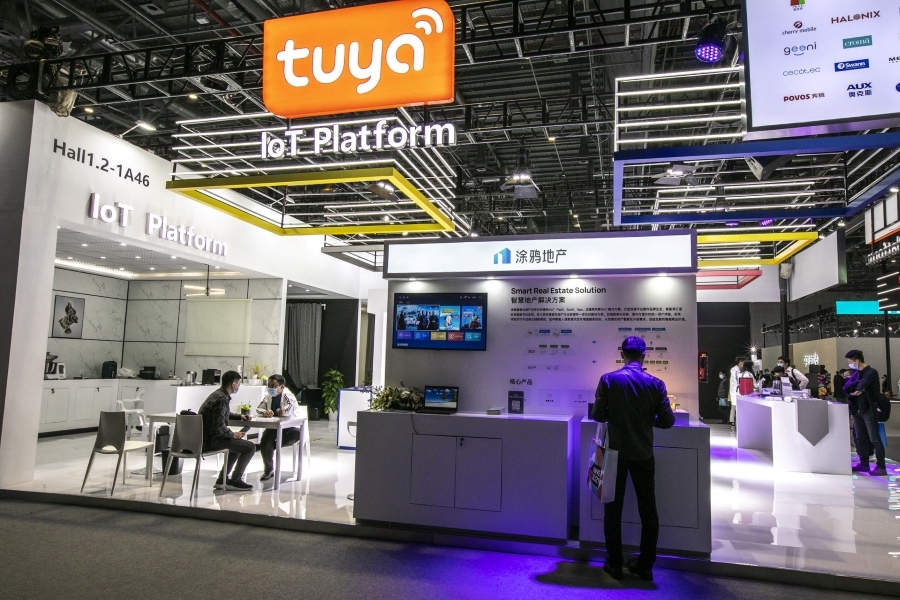 With the possibility of being forced to delist from the U.S. market by the SEC, Tuya is primarily seeking a safe harbor and only aims to raise a conservative HK$140 million
Key takeaways:
Tuya's failure to turn a profit and a lackluster performance of the overall share market in Hong Kong has dampened investor interest
The first-quarter loss of the internet of things company widened by 35.6% year-on-year as a result of rising R&D and operational costs
By Fai Pui
As the diplomatic and economic showdown between Beijing and Washington shows little sign abating, U.S.-listed Chinese companies continue to seek refuge on the Hong Kong Stock Exchange as a hedge against the possibility of being forced off U.S. bourses.
The latest to do so is internet of things (IoT) platform Tuya Inc. (TUYA.US; 2391.HK), which is seeking to leverage the dual listing model with an IPO slated for July 5. But investor appetite has thus far been tepid, with shares offered for brokerage-financed bids just 3.45-times oversubscribed and cash investors failing to add much more enthusiasm.
Kenny Wen, the head of investment strategy at KGI Asia, ascribed the lackluster response to the overall weak performance of the Hong Kong market where many previous IPOs have seen stocks fall below their listing prices. This negative sentiment has been compounded by Tuya's failure to turn a profit.
Tuya focuses on the platform as a service (PaaS) segment, which was very much under the spotlight early last year with companies like Ming Yuan Cloud (0909.HK), Weimob (2013.HK) and China Youzan (8083.HK) active players. They caught the eye of investors, who vaulted their share prices to new records in the first quarter of last year.
Tuya took advantage of the optimism and momentum to go public on the New York Stock Exchange at an IPO price of $21 per share. The market was optimistic about its prospects and sent its price up to $26.65 per share at one point.
However, it wasn't to last. With China and the U.S. remaining stuck in a stalemate over U.S. inspections of Chinese auditing companies, Tuya, like many other Chinese tech companies, was put on a preliminary list by the SEC and subject to potential delisting in the U.S. market.
This has since been compounded by interest rate hikes and tightening financial conditions around the world, with tech companies that fail to impress with their valuations, profitability or growth becoming the new pariahs.
Tuya is no exception. Despite announcing its intention at the end of last August to buy back $200 million worth of shares, its valuation has tumbled nearly 90% from its peak to $1.55 billion now.
In light of its weak post-IPO performance in the U.S., Tuya's management has chosen a more cautious approach, pricing its Hong Kong IPO at HK$19.3 ($2.47), a discount of about 11% to the U.S. closing price of US$2.77 on Monday.
The outlook wasn't always so pessimistic. In fact investors had been bullish about Tuya's rapid growth right up until the first quarter this year when it reported $55.3 million in operating revenue, representing a year-on-year decline of 2.7%. Its PaaS-related revenue shrunk by 16.1% to $41.77 million, which the company attributed to clients becoming more cautious amid an inflationary global environment.
Its software as a service (SaaS) and smart-device distribution operations, however, grew strongly by 147% to $5.75 million and by 63.9% to $7.8 million, respectively. But they only accounted for 24.5% of total revenue and thus far less significant than PaaS, making them unable to offset the drastic decline in revenue of its core business.
Losses mount in the first quarter
Rising inflation worldwide can't be reversed overnight and the company's major business operations will continue to suffer if the current inflationary pressure persists. This will be exacerbated by rising R&D costs, making it difficult for Tuya to turn a profit in the near term.
The company racked up a total loss of $312 million in the past three years. And in the first quarter of this year, its operational and R&D expenses and administrative costs rose by 12.3% to 37.1% year-on-year, leading to 35.6% expansion of its net loss to $54.95 million. The company has to find a way to rein in costs if it is to become profitable.
Amidst all the gloom, there is some good news. The continual expansion of the overall IoT market will provide Tuya with opportunities for growth. According to Groupe Speciale Mobile Association (GSMA) estimates, the global IoT market will grow at a compound annual rate of 44.6% from 2020 to 2025 and likely breach $1 trillion in value by 2024.
Of course, with such lofty prospects for the sector, Tuya isn't alone in looking to cash in, with some of the world's biggest Internet giants eager to jump on the bandwagon. Alibaba (BABA.US; 9988.HK), Tencent (0700.HK), Baidu (BIDU.US; 9888.HK), Lenovo Group (0992.HK) and Huawei are all well-positioned to secure big shares of the market.
In Alibaba's case, its IoT cloud platform can now provide solutions spanning various sectors including industrial manufacturing, commercial retail, and the sharing economy as well as urban management. As a result, Tuya has an uphill battle ahead of it, especially when looking at its valuation.
On the Hong Kong exchange, Tuya is valued at around HK$11.2 billion based on its IPO price of HK$19.3. This puts its price-to-sales (P/S) ratio at around 4.8 using last-year's revenue as a reference compared to Ming Yuan Cloud's 9.3 and Weimob's 4.46.
Meanwhile, the ratios of two U.S.-listed companies, the data storage provider Snowflake (SNOW.US) and the Internet infrastructure and security provider Cloudflare (NET.US) are even higher, at 34 and 23, respectively. This was likely deliberate on Tuya's part, with management adopting a conservative pricing strategy with the goal of attracting more investors.
The decision to seek a second listing in Hong Kong is, in all likelihood, not prompted by the need for financing, given that it only plans to raise HK$140 million, a fraction of its $910 million IPO in the U.S. last year. Instead, it is probably motivated by a desire to secure a listing in a market with friendly regulators and where it can attract both Chinese and foreign investors, while providing an off-ramp for early institutional investors.
Several of its earliest investors, including Tencent and Hillhouse Capital, are yet to fully cash out. Tencent still holds 10.08% of the company and is still losing money based on its average purchase price of $4.47 per share. Hillhouse Capital offloaded some shares and pocketed some returns last year during the company's U.S. IPO and still held 1.69 million shares at the end of the first quarter of this year. These institutional investors will certainly closely follow the trajectory of Tuya's listing in Hong Kong.
To subscribe to Bamboo Works weekly free newsletter, click here