Transitioning Auto Specialist Cango Can't Outrace Macro Challenges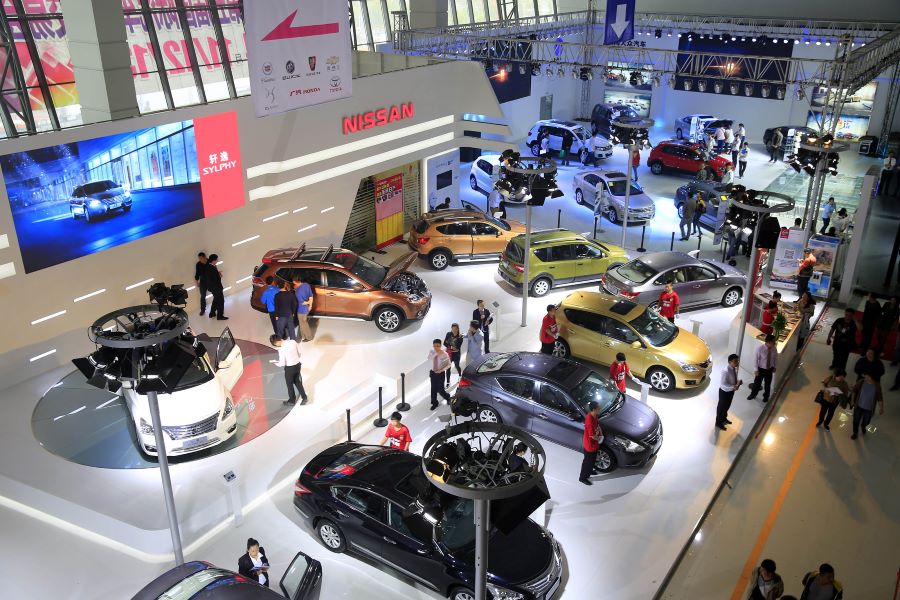 Company blames regulation, auto chip shortage for its stalling revenues, as it continues to ramp up car-trading services
Key Points:
Cango has improved its overall performance with a timely shift toward auto trading to complement its struggling auto financing business
Company blames regulatory challenges at home and global chip shortage for stalling revenue growth
By Eric Auchard
China's race to create a successful car trading and financing platform blending online and offline services has become a game of business-model bumper cars, and an auto graveyard for some. The result has been intense competition that has crushed profits for many, and also stock prices.
Cango Inc. (CANG.US) has emerged as one of the more disciplined players in the field, aiming to become a one-stop trading shop for wholesalers, car dealers and new and used retail car buyers in its latest rendition, following its founding more than a decade ago as an online auto financier. Its second-quarter results released last week show it remains a long way off from that destination, as its revenue growth shows signs of stalling with no near-term relief in sight.
Cango shares finished just a shade above their all-time low last Friday after the results came out, and at their latest close of $4 now trade at one-third of the $12 price from their 2018 IPO. A modest share buyback concurrently announced with its latest results did nothing to prop up its stock.
Cango competes in an overcrowded market with both publicly traded companies and at least one well-funded venture-backed firm. With the notable exception of consistently profitable veteran Autohome, operator of an online classified advertising car marketplace, the Chinese car dealing market is littered with business models in transition, job cuts, cash burning and little profit.
Quarterly revenue for Shanghai-based Cango more than tripled to 946.7 million yuan ($146.6 million) year-on-year in the second quarter. That sounds impressive if you were sleeping under a rock and failed to notice the plunge in car buying in the year-ago period at the height of China's Covid-19 pandemic. The reality is the latest figure represented a sudden drop in both car trading revenue and auto financing transactions compared with the previous two quarters.
Cango's latest quarterly net profit of 557.7 million yuan also looks impressive at first glance. But all of that vanishes once you back out the more than 600 million yuan in proceeds from gains on its holdings in electric vehicle startup Li Auto.
On its quarterly conference call, Cango executives blamed two macro factors for the quarter-on-quarter declines. Regulators are indirectly cutting into the company's auto financing business, they said, warning that challenge will persist into the second half of this year. Reflecting that, the company has forecast a further quarter-on-quarter drop in total revenues to between 700 million and 750 million yuan for the third quarter, which is roughly the same as the year-ago period.
In addition, a global car chip shortage has led to production cuts and falling demand for new cars. Here again, Cango cautioned that shortages are likely to linger through 2021, hurting its ability to acquire wholesale fleets of new cars for resale to local dealers.
"The chip supply shortage does have a big impact on our car trading transactions and in Q3, the shortage of car (chips is expected) to have quite a big impact," Cango CFO Zhang Yongyi told investors. Cango avoided some of the shortage-related pains by selling down its existing stock of cars in the first half of 2021. But with that reserve now largely gone, the second half looks bleak.
Transformation in Progress
While the revenue outlook is somewhat bleak, a dramatic shift in the composition of Cango's revenue is far more impressive. That shift saw auto trading revenue accelerate from close to zero a year ago to 522 million yuan in the latest quarter, overtaking auto financing to become Cango's largest revenue source making up 55% of its total.
Lonely bulls have described Cango as a massively undervalued fintech play, an apparent reference to its origins in auto finance that still accounts for about a third of its revenue. Despite the diminished role, the company insists financing will remain one of its key revenue sources, saying bluntly in its latest annual report that, "Automobile trading solutions will be the key catalyst to fuel our growth in the future."
In terms of size, Autohome remains the largest player in the Chinese car trading market, about 10 times larger than Cango's modest $580 million market cap. Autohome showed it's also vulnerable to the market's recent challenges, reporting on Wednesday that its own revenue and profit fell by 16% and 9% year-on-year, respectively, in the second quarter.
Privately held CheHaoDuo Group, owner of the Guazi.com peer-to-peer used car trading platform, has raised nearly $4 billion since its founding in 2015, but burned through much of that to gain market share in the crowded market. That hasn't stopped the flow of venture funding that has pushed its valuation up to $10 billion as of June. Its list of backers reads like a who's-who of major venture capital names, including Softbank, Sequoia Capital, Tencent, Alibaba co-founder Jack Ma, IDG Capital and classified ads firm 58.com.
Uxin is another company in the field that's seeking to transform from middleman to a direct used car buyer/refurbisher/seller, having exited car financing in recent years. It was struggling to stay afloat, but grabbed a recent lifeline from Singaporean wealth fund GIC, which in May disclosed it had increased its stake in Uxin to 17.5%. Warburg Pincus and TPG are also major stakeholders.
Meanwhile, Tencent-backed Yixin demonstrates the difficulties of relying solely on auto financing. Yixin's revenue fell 13% in the first half of the year, according to its latest quarterly report released on Wednesday, with its self-operated financing services suffering an even sharper 46% drop. Like many of its peers, its shares currently trade near all-time lows.
Reflecting the intense competition, RenRenChe, another car trading unicorn once valued at $1.4 billion and backed by Goldman Sachs, Tencent and DiDi Global, cut staff by 60% in 2019 and ran aground last year after running short of cash.
New and used car trader Kaixin Car Holdings, also known as Happy Car Group, saw its shares slump to 1/20th of their 2019 IPO value last year and is looking for a different kind of exit. This month it said it was in talks with undisclosed electric vehicle makers on a potential merger, temporarily propping up its stock.
Discounting one-off gains, all the listed companies trade in bare-bottom valuation territory. Cango has a forward 12-month price-to-earnings (PE) ratio of just 1.13, while Autohome is at 1.32. Yixin looks the richest among the group at just below 6, while Uxin is loss-making, according to Refinitiv data.
Foreign comparisons are difficult due to lack of profits. U.S.-centered Carvana commands a market cap above $60 billion despite an erratic profit history. And Europe's largest car trader, Softbank-backed Auto1, which listed in Frankfurt earlier this year, has a market value above 8 billion euros ($9.44 billion), despite increasing losses in each of the past four years.
To subscribe to Bamboo Works free weekly newsletter, click here