Testing times for diagnostics firm UGenix as Covid demand drops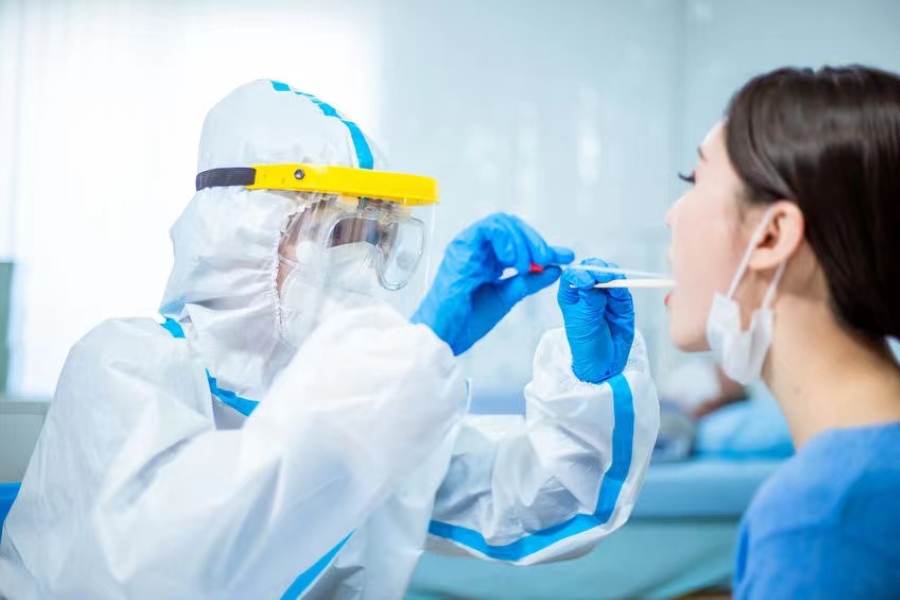 The medical technology company is looking to list in Hong Kong after a windfall from Covid testing, but its other screening services are not yet lucrative
Key Takeaways:
Covid tests have boosted revenues at UGenix Biotech in recent years, but the end of pandemic controls spells uncertainty for the business
The company's revenues from other types of diagnostics services are also falling
By Ellie Si
In the spotlight since the pandemic struck, medical testing companies are now lining up to list their shares in Hong Kong. But with a waning "Covid dividend," some will have to fight it out for other parts of the diagnostics business, such as cancer screening.
The sector's latest IPO filing comes from UGenix Biotech, a maker of clinical testing products and services, just weeks after diagnostics firm Genecast Group revived its own efforts to list on the Hong Kong Stock Exchange.
UGenix specializes in three types of medical diagnostics: prenatal testing, the molecular profiling of cancers and the detection of pathogens.
Screening for pathogens has been the big money spinner during the Covid pandemic, although the UGenix preliminary prospectus, filed last Tuesday, devotes more space to describing the company's two other kinds of testing services.
On the face of it, UGenix looks to be on a growth track with rising revenue year after year, but the numbers in the prospectus warrant closer inspection, and they paint a less positive picture.
In 2020 the company posted revenues of 247 million yuan ($35.4 million), rising to 266 million yuan the following year. The 2022 revenues through the end of September nearly doubled from the year-earlier period to 400 million yuan.
However, much of that growth stems from Covid testing. The pathogen detection business generated turnover of around 61 million yuan in 2020, or nearly 26% of total revenues. That jumped to 83 million yuan, a 31% share of overall revenue, in the second year of the pandemic. In the first nine months of 2022, pathogen screening soared to 68% of total revenue, bringing in 271 million yuan.
Gross margin falling
But the momentum has stalled after China relaxed its Covid controls in December last year. People are no longer required to present Covid test results to enter various venues. As a result, the long lines of customers at UGenix's testing kiosks around the country have disappeared. With demand for Covid testing drying up, the company's revenues are highly likely to fall this year.
Even when Covid diagnostics served as a growth engine, government-mandated price cuts for testing were weighing on gross margin.
The company's overall gross margin dropped from 74.3% in 2020 to 47% by the end of September 2022. Rising inventory and outsourcing costs, as well as expenses from hiring additional test providers, took a big bite out of earnings. The cost of sales more than quadrupled to 211 million yuan in the first nine months of last year, accounting for 53% of UGenix revenue. A fair-value loss on preferred shares of 183 million yuan pushed the company into the red, with a net loss for the nine months of 179 million yuan, nearly eight times bigger than the loss in the same period a year earlier.
With the Covid-related market shrinking, UGenix put a greater emphasis in the prospectus on its other two businesses: prenatal testing for pregnancy issues and precision oncology, the profiling of tumors to develop targeted treatments. The outlook for these parts of the vast molecular testing market could be brighter, but until now UGenix has not been a strong player, and its related revenues have been slipping.
Alternative growth engines sputtering?
The company said it had successfully commercialized services for prenatal screening and pregnancy risk assessment, as well as testing for genetic disease. In the area of precision oncology, UGenix said it had developed or is developing testing services and products for gynecological tumors, as well as launching a range of laboratory developed test (LDT) services for other tumors.
Fellow IPO hopeful Genecast is also in the business of using DNA sequencing to detect cancer risk and determine targeted treatments.
Given the competitive pressures, UGenix earnings numbers do not tell a very upbeat story. The company's prenatal testing has not benefited from overall growth in the market, with revenue dipping from 120 million yuan in the first nine months of 2021 to 113 million yuan in the same period of last year. The precision oncology business fared even worse, with revenue declining from around 34 million yuan in 2020 to around 15 million yuan in the first nine months of last year.
In a C1/C2 financing round last May, UGenix raised about 300 million yuan from investors led by Decheng Capital, Infinity Equity, Health 100 Industry Fund, Beijing Zhongguancun Science City and others, generating a valuation of 2.8 billion yuan. Using annualized revenue derived from the first nine months of last year, the UGenix price-to-sales (P/S) ratio come out at about 5.3 times, roughly comparable to the 6.34 times for Bohui Innovation Biotechnology (300318.SZ) and the 5.12 times for SEP Analytical (301228.SZ), two testing companies of similar scale.
In the prospectus, UGenix said it would use the IPO proceeds to help commercialize LDT services and in-vitro diagnostic devices, invest in products and services in development, upgrade technologies and expand production capacity. But investors should take note of the fierce rivalry in the medical diagnostics arena, where many testing services are similar and genome-sequencing is provided by only a handful of companies.
UGenix has launched its own sequencing platform and is one of the few companies in China whose DNA sequencer has been approved by medical regulators. That push was probably intended to limit exposure to expensive upstream sequencing services and to boost its revenues. But the benefits have yet to flow to the bottom line. Therefore, even if UGenix gains listing approval, it may face a battle to build a profitable brand in the highly competitive testing market.
To subscribe to Bamboo Works weekly free newsletter, click here