Tech unicorn Fourth Paradigm relaunches IPO, riding AI wave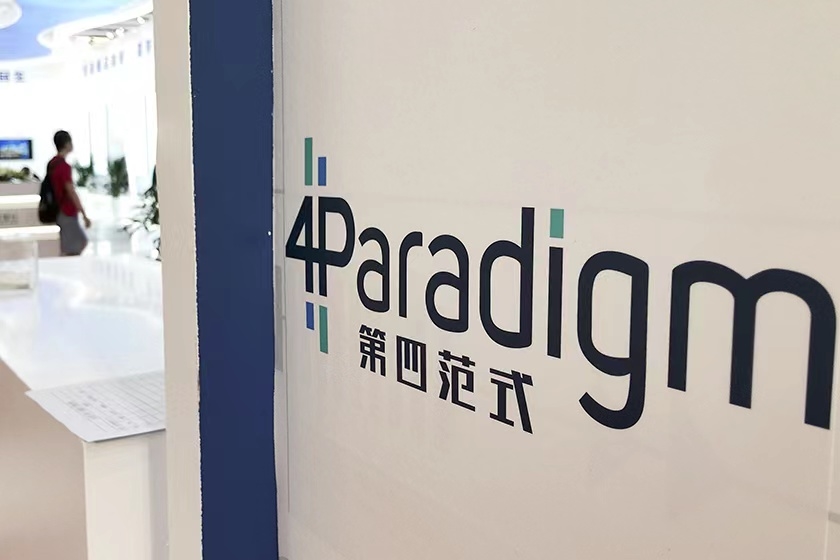 The provider of AI services for businesses is making a fourth attempt at a Hong Kong listing, propelled by the excitement about ChatGPT tools
Key Takeaways:
Beijing Fourth Paradigm, backed by big-name investors, provides platforms and services to help companies develop customized AI
The company has completed 11 rounds of fund-raising since its launch, boosting its valuation by more than 100 times to $2.95 billion in six years  
By Emily Chan
Chinese companies are racing to plug artificial intelligence into their businesses after ChatGPT burst onto the commercial scene last year. But they face daunting costs and complexities to jump on the accelerating AI bandwagon.
In fact, few firms have the capacity or expertise to develop in-house AI technologies and deploy them quickly on a large scale.
One of the AI experts offering businesses a helping hand is Beijing Fourth Paradigm Technology Co. Ltd.. Since its launch in 2014, the tech unicorn has developed platform-based tools to enable companies to incorporate AI, with supporting infrastructure, operating systems, developer kits and applications.
The AI services provider made a renewed bid to list on the Hong Kong Stock Exchange in April, riding the wave of excitement unleashed by ChatGPT, an AI authoring tool developed by OpenAI in partnership with Microsoft (MSFT.US).
Fourth Paradigm's core enterprise product is the Sage Platform, released in 2016, which is licensed to clients and deployed on their servers. The company can also provide an all-in-one package, "SageOne", with a pre-built Sage Platform and applications plus related hardware. The two product lines contributed about 19% and 29% of the company's total revenue last year respectively. The company also helps customers develop their own customized AI applications, a service that generated around 52% of revenue last year.
With long experience in the field, Fourth Paradigm possesses the underlying technology for generative AI. That capability attracts plenty of market interest although the company stumbled in its three previous applications to list in Hong Kong since 2021. The latest is its fourth attempt to get over the IPO line.
Surging valuation
The company's founder, Dai Wenyuan, is a leading AI scholar who won a prestigious international programming competition for college students. Before starting his business, he worked at Chinese tech giants including Baidu (BIDU.US; 9888.HK) and Huawei. He worked on products such as Baidu search, Baidu Brain and personalized marketing tools. His wife, Wu Ming, is a partner at Sequoia China. The pair directly or indirectly control around 41.18% of the shares in Fourth Paradigm.
The technical pedigree is attractive to investors. According to the preliminary prospectus, the company raised 11 rounds of financing from August 2015 to June 2021, securing about $1 billion in total. The implied valuation reached $1.16 billion after the Series C round in 2018, earning the company the status of AI unicorn by global standards. That sum rose to $2.95 billion after its latest financing round two years ago, more than 100 times what it was worth after the first capital-raising in 2015, when the valuation was just $26.67 million.
The company can boast an illustrious set of shareholders, including venture capitalists such as Sequoia China, Lenovo Capital, and Primavera Capital. Even China's top five state-owned banks and the National Manufacturing Transformation and Upgrade Fund rank among its investors.
In terms of financial performance, the company's revenue has surged in the past three years. Revenue was 940 million yuan ($136 million) in 2020 and more than doubled to 2.02 billion yuan in 2021, before jumping nearly 53% to 3.08 billion yuan last year. Its client base expanded from 156 in 2020 to 409 last year. Customers come from a range of sectors, predominantly finance, retail, manufacturing, energy, power, telecommunications, and medical industries.
Deeper in the red
However, business expansion has come at a high cost, leaving a trail of losses. Over the past three financial years the company has accumulated losses of 4.2 billion yuan. The red ink amounted to 750 million yuan in 2020, 1.8 billion yuan in 2021 and 1.65 billion yuan last year. The preliminary prospectus attributed the increased loss in 2021 to rising R&D and marketing expenses, general and administrative costs and expenses from redeeming liabilities. Last year, the adjusted loss narrowed 3.6% to 504 million yuan due to lower expenses from equity-based compensation.
Admittedly, losses are common in the AI business. For example, the leading AI stock SenseTime (0020.HK) has been in the red since its listing. But what jumps out from the Fourth Paradigm accounts is the scale of fees paid to third-party service providers as a proportion of R&D expenses and total sales.
For example, its cost of sales last year was nearly 1.6 billion yuan, of which 779 million yuan was technical service fees, nearly half the total. Looking at last year's R&D costs of 1.65 billion, nearly three quarters – or 1.22 billion yuan – went on technical service fees. The combined costs were equivalent to nearly two-thirds of the full-year revenue figure. Unless the company can trim those expenses, future profitability is at risk.
The company said its outsourcing costs jumped to meet demand from customers in business verticals such as wind power, telecoms and manufacturing for help with customized, industry-specific AI. The required services, though not inherently complicated, needed significant labor input for technology R&D and operations. Hence the company said it opted to outsource the work to third-party service providers, incurring hefty costs.
Along with other Chinese companies, the AI unicorn faces barriers to acquiring U.S. technology that could hinder its future development.
In March its core subsidiary, 4Paradigm Technology Co. Ltd., was placed on the U.S. Commerce Department's entity list, limiting its ability to trade with U.S. technology exporters unless they obtain government licenses.
The company launched an enterprise-level generative AI product called SageGPT in March, looking to burnish its IPO appeal with ChatGPT-like capabilities. The product can handle queries and tasks in various forms including, video, images, speech and text.. However, SageGPT is still in the early stages of commercialization, compared to similar products from giants such as Baidu, SenseTime and Alibaba (9988.HK; BABA.US) and its chances against them are unclear.
For comparative valuations, SenseTime can serve as a useful reference, having already succeeded in an IPO and being under the same cloud of U.S. sanctions. Based on SenseTime's price-to-sales (P/S) ratio of about 16 times and Beijing Fourth Paradigm's last annual revenue of 3.08 billion yuan, the IPO hopeful could expect a valuation of 49.3 billion yuan, more than double what it was worth two years ago.
However, AI stocks have been struggling amid worries about the impact of U.S. trade restrictions, and the final IPO valuation may fall short of the estimate.
To subscribe to Bamboo Works weekly free newsletter, click here