Surging Online Grocer Dingdong in Focus After Missfresh's Stale Trading Debut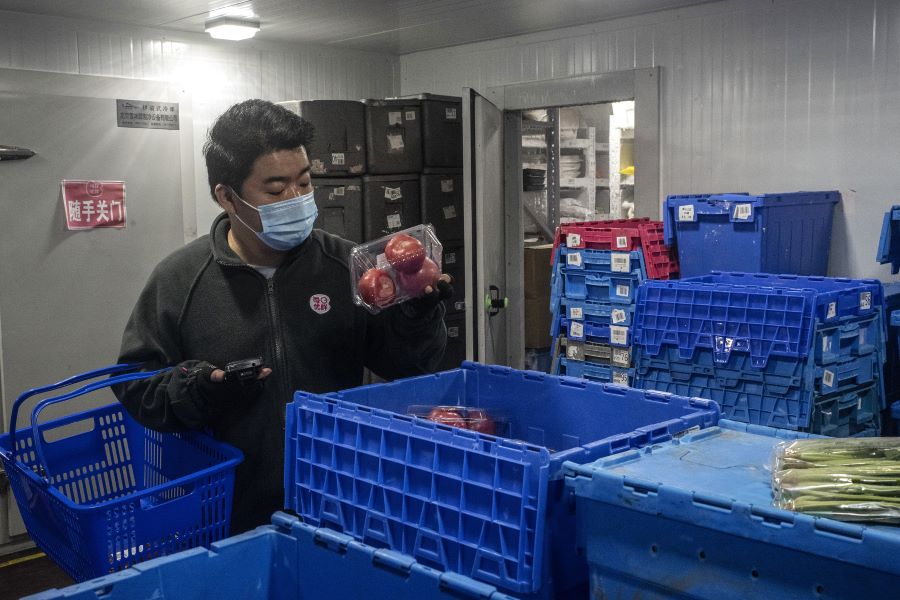 Missfresh's shares drop 26% on their first trading day, as shares of larger rival Dingdong get set to debut this week
Key points:
Online grocer Missfresh's weak trading debut could reflect investor concerns about its slowing growth and loss of its No. 1 status
A similarly weak debut this week for leader Dingdong could show market sentiment is cooling towards Chinese tech firms
By Doug Young
When it comes to just about any company in China, investors seem to like growth over almost all else – even if that growth comes with huge losses.
That's the lesson being learned by online grocer Missfresh Ltd. (Nasdaq: MF), which managed to beat its faster growing rival Dingdong Maicai to Wall Street by a couple of days in two of the speedier IPOs by China tech firms that we've seen in a while. Despite beating Dingdong to market, Missfresh didn't earn any first-to-market premium when its American depositary shares (ADSs) began trading on Friday.
To the contrary, Missfresh's shares lost about a quarter of their value on their first day, ending at $9.66 from their IPO price of $13. That price was already at the very bottom of the company's previously announced range of $13 to $16. At the end of its first trading day, China's first publicly listed online grocer had raised $273 million – far less than the upper limit of $386 million it had given in its IPO prospectus – and had a market value of about $2.5 billion.
The disappointing performance extends a series of recent negative developments for Chinese tech firms listing in New York. One of those saw Soulgate Inc., operator of an online socializing app, pull its $200 million-plus IPO at the last minute last week. The other saw shared bike operator Hello Inc. also put its own stalled IPO on ice.
We'll talk more about broader implications for offshore Chinese IPOs toward the bottom of this article, as it's not clear just yet whether sentiment is turning bearish on this group after several months of strong performance.
But first we'll zoom in on the metrics behind Missfresh, including a look at how the company stacks up against Dingdong, as well as China's larger grocery market. Dingdong's shares are set to price as soon as Monday evening in New York, and could start trading as soon as Tuesday.
As we've said already, Missfresh may have spooked investors with its slowing growth story. Or put differently, Dingdong may have impressed investors with its recent explosive growth that saw its revenues soar 46% in this year's first quarter, according to its IPO prospectus. By comparison, Missfresh's sales actually fell by 9.4% in the three months to March, perhaps partly due to a difficult comparison from the first quarter of 2020 when many people began buying groceries online at the height of China's Covid-19 outbreak.
The bottom line from a big-picture perspective was that Missfresh lost its status as China's largest online grocer in 2020 to a surging Dingdong. If first-quarter trends are any indication, Dingdong seems to be consolidating its position as the nation's clear leader in the space, even as deeper-pocketed behemoths like e-commerce giants Alibaba and Pinduoduo move aggressively into the online grocery business.
Everyone is chasing a Chinese grocery market that was worth 11.9 trillion yuan ($1.8 trillion) in 2020 and is expected to grow to 15.7 trillion yuan by 2025, according to third-party research provided in Missfresh's prospectus. The research notes that China's grocery market is highly fragmented, with the top 10 players accounting for just 6.7% of all sales. By comparison, the top 10 in the U.S. account for more than half of the market.
Growth, Growth, Growth
Against all that backdrop, Missfresh's financials do indeed look a bit stale – at least if you're looking for growth at any cost. The fact of the matter is such a strategy sometimes works out, with Alibaba as the classic case of a company that become hugely successful after posting big losses for years as it chased market share. But there are also plenty of cases where the strategy failed, with shared bike operator Ofo as a classic recent case, after taking in in hundreds of millions of investor dollars.
Missfresh's revenues grew by 2% year-on-year in 2020 to 6.13 billion yuan, which looks particularly anemic when one considers the company could have done much better as many people turned to online shopping during the pandemic. That compared with explosive growth for Dingdong, whose revenue over the same period nearly tripled to 11.3 billion yuan as it overtook its older rival. Missfresh was founded in 2014, whereas Dingdong didn't arrive to the scene until three years later.
The gross merchandise volume (GMV) handled by Dingdong last year also was roughly double Missfresh's, with the former posting 13 billion yuan compared with the latter's 7.6 billion yuan. Dingdong is targeting a market value of about $6 billion, which would also be roughly double that of Missfresh's.
GMV measures an e-commerce company's strength because e-commerce revenue often depends on fees charged based on GMV. It's often steadier and more-reliable over time and makes it easier to compare companies in the same sector. GMV, along with the other signals, would indeed point to a Dingdong that's rapidly pulling away from Missfresh to consolidate its recently-won market-leading position.
Both companies are still posting sizable losses, though Dingdong's is ballooning quite rapidly on its aggressive expansion. Missfresh's net loss roughly doubled year-on-year in the first quarter to 764 million yuan. But Dingdong's was much higher for the period, exploding by a factor of five to a 1.4 billion yuan loss.
All of that brings us back to the question raised earlier, which is whether Missfresh's disappointing IPO performance is company-specific or represents a broader cooling of market sentiment towards Chinese high-tech companies listing overseas. Both companies seem to sense that sentiment may be shifting, as each will complete its listing less than three weeks after filing a first prospectus – a very quick turnaround for such new listings.
Here we should point out that while last week saw disappointing developments for Soulgate and Hello Inc., the last couple of weeks have also seen strong trading debuts for two other companies – truck logistics specialist Full Truck Alliance and electronics recycler Aihuishou.
Accordingly, the trading debut for Dingdong could be a good indicator of whether the broader market is indeed cooling. A strong pricing and debut for Dingdong would indicate that sentiment is still strong for market leaders that can post fast growth, even if that growth comes with big losses. A disappointing debut could indicate that the months-long winning streak for China tech IPOs may finally be drawing to a close, or at least taking a pause.
To subscribe to Bamboo Works weekly newsletter, click here