Successful Test Puts TuSimple in Fully Autonomous Driver's Seat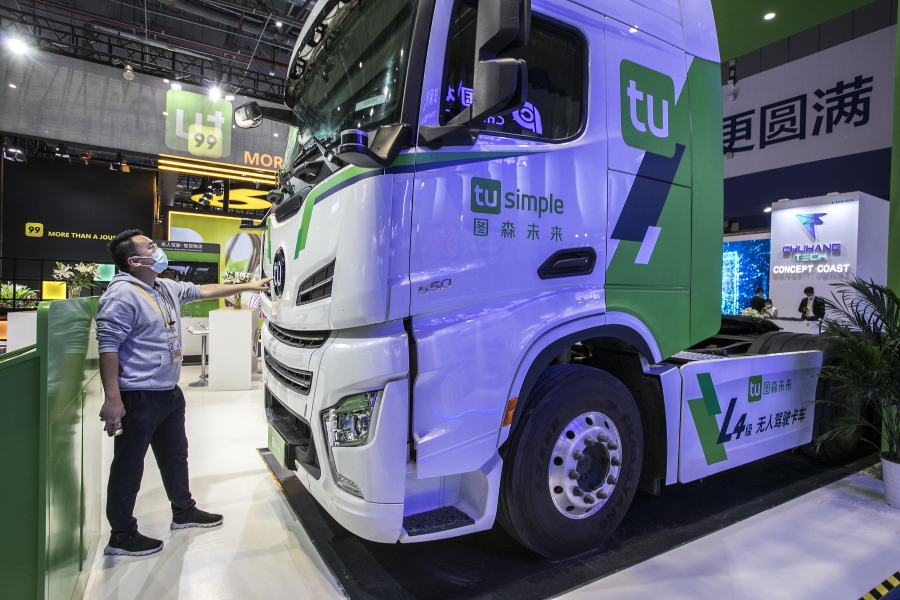 Company completes what it calls the first fully automated heavy truck driving test on real roads using self-developed system
Key takeaways:
TuSimple says it has completed the world's first fully automated test of a self-driving heavy truck
JPMorgan sees the company's success as a major milestone, but has given it a "hold" rating
By Fai Pui
Three days before the New Year, TuSimple Holdings Inc. (TSP.US) uploaded a 1-hour, 23-minute video of a heavy truck departing from a railroad near the U.S. city of Tucson, Arizona at night. The footage showed the steering wheel swinging from side to side as it navigated twists and turns. But no one was on board.
The scene isn't from a ghost movie, but rather records a fully automated driving test conducted by the Sino-U.S. company. The truck arrived safely at a logistics center near the city of Phoenix without anyone driving or remotely controlling it. The video was already viewed more than 31,000 times just two days after its posting.
After six years of uphill driving, TuSimple's founder and Chairman Chen Mo appears to finally be on the brink of success. His company said last Wednesday it completed the world's first fully automated test of a heavy truck on the open road. It reached the milestone using its own self-driving system without human intervention, allowing the truck to navigate on public roads and cope with any conditions.
Autonomous driving is divided into six levels, from L0 to L5. The lowest L0 represents traditional driving, while L1 to L3 are for autonomous driving used only to assists the driver. L4 is the first level where the vehicle is fully operated by a computer system and no longer requires a driver, but can only drive in certain areas.
The highest level, L5, is fully autonomous, where restrictions no longer apply and vehicles can travel to any location. TuSimple's latest successful drive was an important milestone in its ultimate goal to create a new generation of driverless trucks.
Other Participants
The latest milestone initially jump-started TuSimple's shares, which surged about 13% to a high of $39.89 on the day of the announcement. But they quickly went into reverse and ended the day down 9.2%, as some investors engaged in profit taking following a steady run-up for the shares from the $30 level starting Dec. 20.
Chen founded TuSimple in China in 2015, and chose to focus on heavy trucks due to their easier road to commercialization than the more competitive market for self-driving passenger cars. Compared to passenger cars, large trucks are often used to transport goods, mostly traveling on spacious highways and using logistics parks. But their trips can often require two drivers to take turns driving because of the long-distances involved.
Against that backdrop, TuSimple's technology is expected to help reduce high labor costs for the logistics industry, helping it to attract interest from both private equity and stock market investors. Before the company went public in the U.S. last April, it had already accumulated more than $800 million in financing from leading U.S. courier UPS (UPS.US), chip giant Nvidia (NVDA.US) and China's Dinghui Capital.
While raising money in North America in 2019, Chen received a buyout offer from e-commerce leader Amazon.com (AMZN.US). But he refused, arguing that Amazon would limit the company's growth.
Last April, the company went public in the U.S. at $40 per share, raising about $1.3 billion. Its price rose to nearly $80 in June before plummeting to $27.24 amid a series of crackdowns by Beijing targeting New York-listed Chinese companies. The stock has hovered in the $30-$50 range in recent months.
The company aims to have its technology in mass production by 2024. But its R&D costs aren't low, rising steadily since 2018 to reach $132 million in 2020. Its net losses have doubled almost every year to reach $178 million in 2020, and rose even faster to $502 million in the first half of last year, with another $116 million loss in the third quarter. Luckily for the company, it had about $1.5 billion in cash in its coffers at the end of the third quarter, so it is still well funded.
Policy risk
TuSimple's competitors all have major backers, including Alphabet's (GOOG.US) Waymo, Amazon– (AMZN.US) and Uber-backed (UBER.US) Aurora (AUR.US), Tesla (TSLA.US) and Embark Technology (EMBK.US). But TuSimple's latest successful trial could give it a temporary lead.
TuSimple is currently valued quite high with a price-to-sales (P/S) ratio of nearly 2,000 times, and is unlikely to turn a profit in the near future. JPMorgan gave the company a "hold" rating after it completed its latest test, saying that while other companies have demonstrated similar operations, they have used remote assistance or tested outside the U.S. with lower visibility. The bank believes the market will respond more positively to further details from TuSimple at the world's largest consumer electronics show that takes place this week.
Policy risk is also a concern. Growing tensions in U.S.-China relations may have led TuSimple to move its domicile from the more neutral Cayman Islands used by many U.S.-listed Chinese companies to the U.S. state of Delaware. TuSimple also abandoned its controversial variable interest entity (VIE) structure, which both China and U.S. regulators have expressed concern about. It also issued ordinary shares for its U.S. listing to play down its China background, eschewing the usual American Depositary Shares (ADSs) often used by Chinese companies.
Despite those efforts, the company's majority shareholder is still Sun Dream, which is owned by Charles Chao, chairman of Chinese internet veteran Sina. As U.S. scrutiny grows of Chinese-backed companies with American operations, some have speculated that Sun Dream may need to sell some of its holdings to prove TuSimple is not controlled or influenced by Chinese government entities in the future.
To subscribe to Bamboo Works free weekly newsletter, click here