Struggling Solar Farm Builder ReneSola Hopes for Dawn of New Day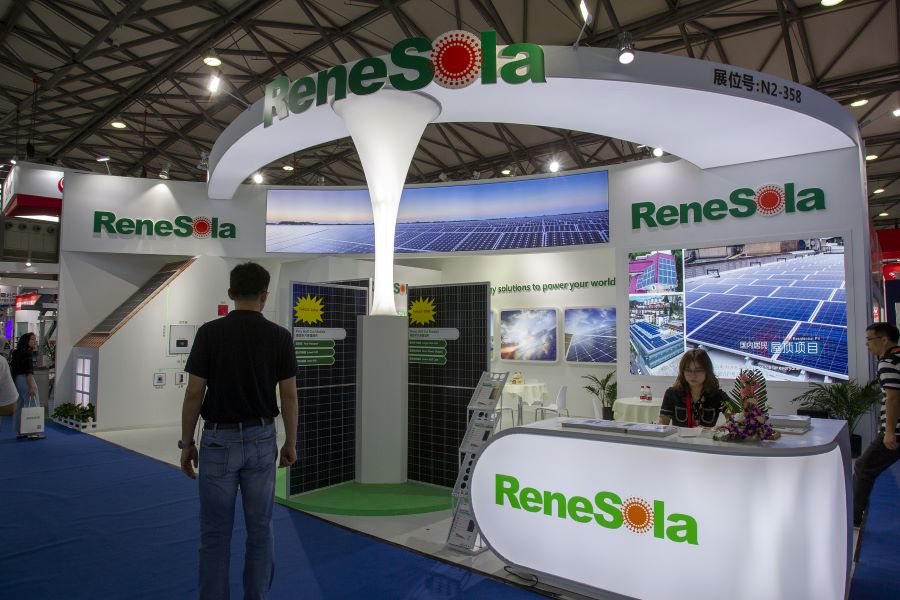 Cash-challenged company offers glimmers of hope with upward revisions to first-quarter guidance and announcement of joint venture that could ease its financial burden
Key points:
Struggling ReneSola could be at a turning point if sales of its solar farms pick up with the pandemic's easing and it can offload more of its late-stage projects to a new joint venture
Investors will be watching to see if the company's revenue returns to a growth track, as its cash remains dangerously low
By Doug Young
It may sound cliché, but the latest signals coming from solar stalwart ReneSola Ltd. (NYSE: SOL) really do seem to reflect a company at a major crossroads. The outcome is far from clear, and could just as easily see this chronic underperformer collapse – or perhaps finally start to shine.
The latest signals have been cautiously upbeat, including a positive update to its first-quarter guidance last week and announcement of a new joint venture on Wednesday.
The investor indecision surrounding this company is best-reflected in its stock price. Just a year ago ReneSola's shares were trading below the critical $1 level, putting one of China's oldest New York-listed solar companies at danger of de-listing. But then the shares embarked on a massive rally at the start of this year, cresting at $33 in mid-January.
Since then they've settled back to their latest close of $8.35 as investors try to figure out what to make of this company that made its New York IPO in 2008 by selling shares for $13.
The company is different from most of China's solar panel specialists following a key strategic shift it made about four years ago. Before that, it was like most of its peers whose main business was making and selling solar panels and modules. But then, in 2017, the company sold that business to its founder, and turned its focus to the business of building and selling solar farms.
The newer business removed the company from the constant price wars in the panel-making sector, which resulted in regular swings from profits to losses for most major players. The downcycles were often brutal, with many weaker players failing to emerge and simply shutting down.
The shift to solar farm-building should have shielded ReneSola from that vicious cycle, and even benefitted the company by allowing it to buy panels at bargain prices during the downturns. But the reality is that solar farm-building is extremely money-consuming.
That's because developers have to commit tens of millions of dollars for individual projects that often take two to three years to complete. And if no buyers emerge due to a weak market or poor design, then developers like ReneSola may be forced to sell at a loss or even get stuck owning and operating solar farms themselves.
The cash-intensive part of ReneSola's business model was in sharp focus last year when its cash reserves dipped dangerously low to just $15.6 million at the end of last year's third quarter. Since then, the company has raised some fresh funds and its business appears to be picking up. As a result, its cash reserves had rebounded to a larger but still modest $40.6 million by the end of last year.
To put that figure in perspective, the company announced that a single midsized 15.4 megawatt solar project it sold in Romania last month brought in revenue of $28 million.
That deal, combined with a steady stream of other similar-sized sales, led the company to issue updated guidance last week, saying it expected to beat its earlier forecast for first-quarter revenue of $18 million to $20 million. It added its first-quarter gross margin would exceed 15%, significantly outpacing its previous forecast of 10% to 11%.
As a result of all that, the company said it expected a profitable first quarter on a non-GAAP basis.
New Joint Venture
Trying to build on the positive momentum, the company on Wednesday announced a new joint venture with Eiffel Investment Group to boost its solar farm development efforts in Europe. ReneSola said it will control the venture with a 51% stake and noted the venture will take over responsibility for a sizable 340 megawatts of its European projects now in late-stage development.
It added the joint venture intends to fund 700 megawatts in projects in total over the next three years, meaning it should take on another 360 megawatts in new projects after the 340 megawatts to which it has already committed.
This kind of deal should provide some much-needed financial relief to ReneSola, since a significant number of the projects it was previously self-financing will now become the responsibility of the joint venture. That should give ReneSola a big revenue boost in the near-term, and also give it some much-needed cash and credit to start work on other new projects.
ReneSola actually mentioned the Eiffel Investment partnership in its fourth-quarter results in late March, and it's clear the company will look for more of these kinds of partnerships to relieve its own financial burden going forward. That might be relatively easy in the current climate, as governments in Europe, North America and Asia roll out increasingly aggressive plans to reduce their carbon footprints, partly by installing more renewable power plants.
The big question for ReneSola is whether it has laid the proper groundwork to rebound from a recent slump made worse by the global pandemic. The company's latest results were quite mixed. Its fourth-quarter revenue of $16.8 million was down year-on-year, though it swung to a profit of $2.5 million for the period from a $10.9 million loss a year earlier.
In terms of valuation, ReneSola's modest profit last year would translate to a relatively high price-to-earnings (PE) ratio of 120. The figure comes down to 60 based on analysts forecasts for this year, and drops further to 28 based on forecasts for 2022. By comparison, traditional panel makers like China-listed Trina Solar and New York-listed Canadian Solar trade at multiples of 26 and 16, respectively, based on 2020 profits.
The big premium in ReneSola's favor appears to show that investors are cautiously optimistic on the company's plant-building business model compared with its more traditional peers. ReneSola's potential comeback should be apparent in its quarterly reports this year, since both revenue and cash should show strong growth if sales of completed projects pick up with the pandemic's easing and it can offload more late-stage projects to the Eiffel and other joint ventures.
To subscribe to Bamboo Works weekly newsletter, click here