Snack Specialist Dali Courts Foodies With Healthy, Upscale Offerings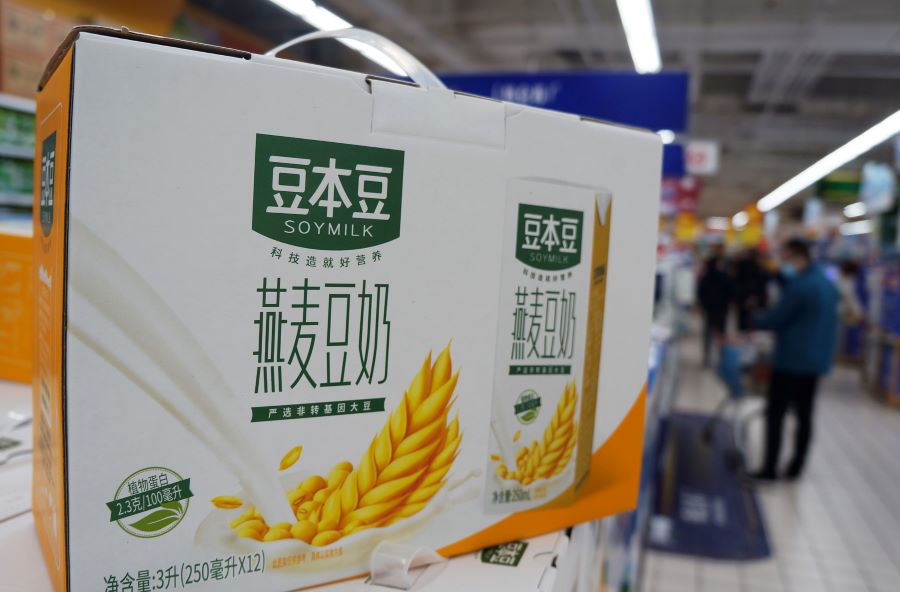 Slow-growth food maker places big bets on Doubendou and Meibeichen brands that cater to a new generation of affluent Chinese consumers
Key Takeaways:
Dali Foods is placing its bets on its Doubendou soy milk and Meibeichen line of upscale packaged breads and cakes
Success for either brand could help raise the company's valuation, which remains low compared to peers with more recognizable names
By Doug Young
When it comes to investing in food companies, there's no substitute for a well-known brand.
Second-tier player Dali Foods Group Co. Ltd. (HKEx: 3799) has learned that lesson well, with a stock price that has pretty much traded sideways since its 2015 listing in Hong Kong. But that doesn't mean the company has nothing to offer investors. And of course there's also the chance of a big payout if one of its brands makes it big in China's massive food market.
The company has just released its latest annual earnings report, which shows its business improved in the second half of the year as China's economy rebounded from a sharp pandemic-induced slowdown. Not so surprisingly, investors weren't too moved in either direction by the report, with Dali's stock up a modest 0.7% in late Tuesday morning trade after the announcement.
We'll shortly detail the results, which offer several interesting signs to entice investors. But first, we'll review some valuation comparisons between Dali and its peers that illustrate quite nicely just how important a brand is when valuing a food company.
Dali currently trades at a forward price-to-earnings ratio of 13, which is quite ho-hum. In this case it really doesn't matter if we use a future profit forecast or past earnings to calculate its PE, as the company's profits haven't risen all that much in recent years. More precisely, Dali's profit for 2020 was up a scant 12% from 2017. Of course, we could be a bit more optimistic and note that at least the figure hasn't fallen over that time.
By comparison, two other famous brands to recently list are quite richly valued. Nongfu Spring (HKEx: 9633), China's top bottled water brand, has a current PE of 63. And Yihai Kerry (Shenzhen: 300999), maker of the equally popular Arawana cooking oil, is similarly lofty at a PE of 65. Global beverage giant Coca-Cola (NYSE: KO), arguably the world's best-known beverage, trades in a middle realm with a PE of 30.
At the other end of the spectrum, Tingyi (HKEx: 322), whose Master Kong brand is practically synonymous with instant noodles in China, trades at a PE of 17 that is much closer to Dali's figure. Perhaps that's because instant noodles are rapidly becoming passe in China as incomes rise and people become more health-conscious.
Just about everyone in the food business understands the move to healthier foods, and Dali is no exception. It notes the trend even accelerated in China last year as many people remained homebound and ate out less, prompting them to eat healthier to avoid weight gain.
All that said, we'll wrap up our big-picture look at Dali with a view of its top and bottom lines before delving a little deeper into its latest annual report to look for nuggets of potential interest for its future.
Its revenue in the second half of the year grew by a relatively attractive 5.4% to 10.8 billion yuan ($1.6 billion), according to its report. That represented a nice turnaround from an 8.7% revenue drop in the first half of the year, when the results for its mostly snack-style products were affected by the pandemic. Its profit recorded a similar trend, posting strong 11.7% growth in the second half to 1.97 billion yuan after contracting by 9.5% in the first half.
Soy Milk and Upscale Cakes
A look at the detailed discussion section of its report shows the company is placing big bets on two major areas going forward: soy milk and packaged upscale breads and cakes.
The soy milk drive falls squarely into the health-conscious trend, and the company points out that its Doubendou (豆本豆) is one of China's top brands for soy milk snack drinks with about 15% of the national market, citing third-party data. In its interim report released last year, it noted: "The group believes that through its own brand building capability together with a new trend of healthy and nutritious diets, Doubendou will eventually develop into Dali's new lucrative star brand."
The other brand where it sees big potential is Meibeichen (美焙辰), an upscale line of packaged breads and cakes that are popular in China as a sort of "breakfast-on-the-go," or just a general group snack food for the office or visiting friends. This particular line was only introduced in 2018, and appears aimed at a more upscale market.
In its report Dali notes that Doubendou and Meibeichen accounted for 14% of the company's total sales last year "thereby consolidating their leading position in the industry in 2020." Unfortunately, it doesn't say how much that figure compares with a year earlier for either brand.
Lastly, we should also mention the company's dividend, which is a relatively common enticement for investors for this kind of slow-growth stock. In this case Dali slashed its dividend for 2020 to HK$0.16 from HK$0.308 in 2019. It doesn't give any reason for the big cut, which looks slightly strange when one considers its full-year profit was nearly unchanged.
But even at the current level, the dividend still represents a relatively reasonable 3.5% payout compared with the company's latest stock price. That's certainly not peanuts. And there's always the chance the dividend could go up again next year to 2019 levels, which would represent a more attractive payout rate of nearly 7%.
At the end of the day, the dividend alone could be enough for investors simply looking for a small return with relatively low risk and the added possibility for bigger rewards if Dali can find gold with a major new brand. Both the soy milk and upscale packaged breads and cakes look like reasonable bets for the future in that regard. Now it will be up to Dali to market and distribute both product lines well. And, of course, consumers will be the ultimate judges of whether these and other new initiatives succeed.
To subscribe to Bamboo Works weekly newsletter, click here