'Sauerkraut Fish' Specialist Serves Up Appetizing Earnings Report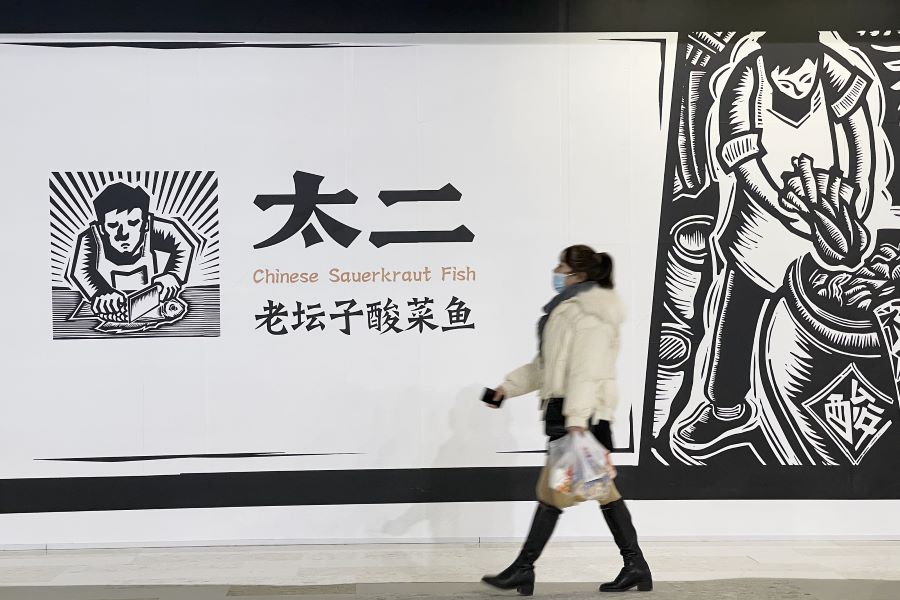 Shares of Jiumaojiu initially jumped 6% after company reported healthy growth in second half of last year on 'revenge dining,' as life largely returned to normal in China
Key takeaways:
Jiumaojiu's strong performance in the second half of last year partly reflects "revenge dining," as people spent more on eating out after widespread lockdowns in the first half of 2020.
The company's focus on its trendier Tai Er brand and rollout of a new hot pot chain could help to maintain its growth, even as its valuation remains extremely high.
By Doug Young
The term "revenge spending" has become popular in China over the last half-year, referring to people who spend more than usual after coming out of months-long lockdowns during the height of China's pandemic last year.
The latest earnings report from Jiumaojiu International Holdings Ltd. (HKEx: 9922) is a slight variation on that, which we'll call "revenge dining."
The company is a well-known restaurant operator in China, less for its namesake Jiu Mao Jiu brand and more for its Tai Er chain, which is also called "Sauerkraut Fish." That latter brand has become quite popular in China these last few years, perhaps riding on the tails of the bigger hotpot craze by selling stewed fish smothered with pickled vegetables in a big pot.
We won't go any deeper into the reason for the craze and will simply say that Jiumaojiu is clearly staking its future on the Tai Er brand. That's a theme we'll look at more closely later, along with whether the chain's rapid growth justifies Jiumaojiu's valuation that is currently quite rich.
But before we do all that, we'll look at the company's first annual report since its HK$2.1 billion ($270 million) listing at the start of 2020, just before the Covid-19 outbreak in central China started to make global headlines.
In this case, we really need to calculate the company's performance for the second half of the year using data for the full year minus the company's previously released figures for the first half of 2020. The reasons should be obvious, since all of the company's restaurants were closed starting in late January as China's outbreak took off, and didn't fully reopen until May 10.
Thus, data for the second half of the year is the true period of "revenge dining" mentioned at the outset. The company's trends could also be insightful for restaurant operators elsewhere in the world, since many could well see similar upticks as other countries slowly come out of their long-term lockdowns.
Jiumaojiu's top-line growth was strong, though perhaps not as impressive as one might expect. Its revenue rose by 21.7% in the second half of the year compared with the same period of 2019 to $1.77 billion yuan ($272 million). By comparison, its restaurant count rose by a slower 13% to 381. That means the company was getting more revenue per restaurant in the second half of the year than it was a year earlier.
Other figures in the report add weight to that conclusion. Perhaps the most-revealing for our "revenge dining" theme is that average spending at "Sauerkraut Fish" Tai Er restaurants rose about 8% year-on-year to 81 yuan per person. The higher spending per customer helped boost the company's operating margin to around 24.7% in the year's second half, according to our calculations, up significantly from 20.8% for all of 2019.
All of that brings us to Jiumaojiu's bottom line, with profit nearly tripling to 210 million yuan. Not a bad turnaround for a company that posted an 86 million yuan loss in the first half of the year when many of its restaurants were closed and people were generally afraid to eat out.
Too Rich?
With those latest results in mind, we'll spend the rest of our time looking at Jiumaojiu's stock and whether it represents good value at current levels. Investors certainly seemed to like the report, at least initially, with the company's shares up as much as 6% early Wednesday before giving back most of the gains by midday.
In the 14 months since its IPO, the shares rocketed from their listing price of HK$6.60 to as high as six times that amount last month, perhaps on hopes for the kind of "revenge dining" we've seen. They've given back some of that in the last few weeks, but are still providing healthy gains for their early investors at Wednesday's late-morning price of HK$27.85.
At least one major global fund manager seems to like the company, with BlackRock taking a roughly 5% stake starting in late February, according to the latest stock market disclosure.
But frankly speaking, the company's stock looks quite expensive at its current levels. It now trades at a sky-high price-to-earnings ratio (PE) of 324 based on 2020 earnings, which is normally what you see for super-high-growth internet companies. Even if we use its 2019 earnings as a better benchmark and assume its profit might double from that level this year, its PE based on that figure still comes out at a frothy 123.
By comparison, the company's even more highly hyped rival, hotpot sensation Haidilao International Holding Ltd. (HKEx: 6862), would trade at a PE of around 60 if we make the same assumptions. Then there's the stodgy Yum China (NYSE: YUM, HKEx: 9987), operator of KFC and Pizza Hut restaurants in China, which currently trades at a much more reasonable 31.
Yum China reported its own relatively upbeat results last month, with revenue up 11% in the fourth quarter and profit up 68%. Though, that said, Yum's gains were due to new store openings, and its same-store sales were actually down 5% year-on-year during the quarter, perhaps reflecting that people are tiring of its brands.
In that regard, perhaps Jiumaojiu deserves a premium over Yum, since its "Sauerkraut Fish" Tai Er restaurants are clearly a bit trendier and on the rise. The company said it will continue to open new Tai Er restaurants at a fast pace this year, and has also just opened a new concept restaurant, Song Chongqing Hot Pot Factory, aiming to cater to China's hot pot craze.
Still, it remains to be seen if that kind of growth story will continue to entice investors at the company's current frothy stock price.
To subscribe to Bamboo Works weekly newsletter, click here