Qudian Shares Sink Into Danger Zone as It Fails to Find New Footing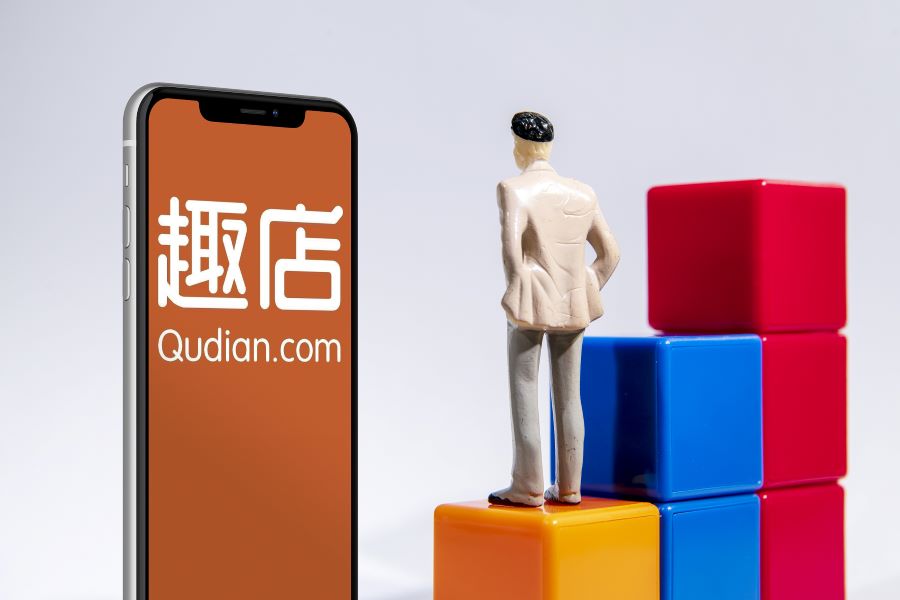 Embattled microlender's shares dropped below $1 to all-time lows as its loan business shrank and a new child education club struggled
Key takeaways:
Qudian's revenues slid 59% and the company swung to a loss in the third quarter, spooking investors and sending its shares to penny-stock territory
Company could be forced to do a reverse share split or delist if its stock trades below $1 for an extended period
By Mia Shanley
Bruised and battered shareholders of Qudian Inc. (NYSE: QD) took another beating this week after the Chinese microlender slipped into the red in the third quarter, sparking a selloff that sent its stock to all-time lows below $1 and throwing its listing into question.
Once a darling of the Chinese fintech industry, Qudian had a dramatic change of fortune when Chinese authorities began reining in thousands of freewheeling microlenders not long after the company's listing in late 2017. The group of companies were forced to comply with much tighter lending standards or change their business models to "loan facilitators" instead of direct lenders.
Qudian stuck with direct lending, even as many of its peers went the loan facilitating route, and has seen a devastating impact on its business as a result. After posting robust annual revenue growth through 2019, its revenues have been falling ever since and were down almost 60% in the third quarter to 347 million yuan ($55 million), according to its latest results issued on Monday.
Qudian uses big data to do customized credit assessments, targeting young, digital consumers who use its relatively small loans to buy items like laptops and smartphones. Many such borrowers were traditionally overlooked by China's old state-run banking system, which lacks the technology and experience to run such quick credit checks.
But the company is clearly more focused on loan quality over quantity as it works to shore up capital buffers, cap lending rates and weed out bad loans. That shift led it to post a net loss of 94.2 million yuan in the third quarter, reversing a 592 million yuan profit in the same period a year earlier and also reversing a profitable second quarter.
After falling over 20% on Monday following the report's release, Qudian's shares continued to slide and traded as low as $0.89 on Wednesday, threatening its listing should it stay below $1 for an extended period. Under rules on the New York Stock Exchange, where its shares are traded, a company falls out of listing compliance when its shares trade below $1 for 30 consecutive business days. It then has 180 calendar days to bring the stock back above the $1 mark.
Accordingly, Qudian could be forced to delist or do a reverse share split, whereby shares are merged to form a smaller number of total shares but at a higher price, to rise back above the $1 mark. Another U.S.-listed Chinese firm, news aggregator Qutoutiao (QTT.US), recently announced a similar reverse share split for the same reason.
All of that is bad news for long-term shareholders in Qudian, whose current $225 million market capitalization is a fraction of the $900 million it raised in its landmark IPO back in 2017, when it was one of China's first fintechs to list. The big question for Qudian, which was founded in 2014, will be whether it can return to a growth track within the country's new strict lending rules.
Kids Club
Qudian itself appears to be unsure of its own strategy – something that can't be too reassuring for investors. Earlier this year it launched an early childhood education Wanlimu Kids Club, even though it admitted in its annual report that it had no experience or track record of running such a business.
The company has tried to put on a brave face since the launch, saying it is making "steady progress" with the business. But its tone was much more muted on its earnings call this week – where just one analyst asked a question – following the release of its third-quarter results.
"The performance … it's not as good as we expected, because of the on-and-off regional Covid breakout," said Qudian's vice president of investor relations Sissi Zhu in response to the analyst's question about the business.
Qudian is currently operating seven such educational centers and has 10 more in the pipeline for 2022. But Zhu also added: "Our current imminent goal is to bring our centers to breakeven points as soon as possible before we do any further expansion."
Qudian is no stranger to failed ventures beyond its core microlending base. In 2017 it launched Dabai Auto, a financial leasing platform for car buyers, which it had to wind down just a couple of years later. It also tried its luck with a luxury e-commerce platform also called Wanlimu in 2020, just as Covid hit, only to wind it down a year later.
The company is dominated by founder and CEO Luo Min, who has led Qudian since its establishment, including its early headier days as a lender to college students. According to the firm's annual report, he holds 25.1% of the company's ordinary shares but 77% of voting rights – a typical arrangement for many U.S.-listed Chinese companies.
Qudian's struggles come at a difficult time for U.S.-listed Chinese stock investors, who have already been burned by deep declines in the wider tech sector as regulators clamp down on monopolistic behavior, data security, extracurricular education and a number of other areas.
Investors are undoubtedly anxious about possible further crackdowns and are probably hunting for firms with greater predictability or from other international markets with less heavy-handed regulators.
Some of Qudian's competitors who opted to become loan "arrangers", helping facilitate the lending between banks and consumers, have turned more upbeat about the future, attracting investors.
A good example is FinVolution Group (FINV.US), a former peer-to-peer lender that became a loan arranger, whose share price has almost doubled this year as its platform wins over customers and its revenue grows strongly. The profitable company expects its total transaction volume for the full year to more than double from a year ago.
Similarly, shares of U.S.-listed loan arranging platform 360 Digitech (QFIN.US) are up 70% this year as the company posts healthy growth, including a 25% revenue rise in the third quarter from a year ago.
By comparison, Qudian, whose stock is down 34%, is part of a group of others still finding their footing. Shares of personal financial management platform Yiren Digital (YRD.US) are down 8.3% year-to-date, while Lufax (LU.US), which is establishing itself as a loan facilitator, is down by more than half.
Qudian's final path is far from clear, which is perhaps part of its problem. Investors will be looking at whether it can turn around its core lending business or generate profits in child education, which is a crowded space in China and also under threat from its own recent regulatory crackdown.
And even though Qudian's share price looks awfully cheap at its current level in penny-stock territory, the uncertainties surrounding this firm look far too great while other companies appear to have found clearer, more promising futures.
To subscribe to Bamboo Works weekly free newsletter, click here