Newly Merged dMed-Clinipace Turns Up Heat in China's Booming CRO Market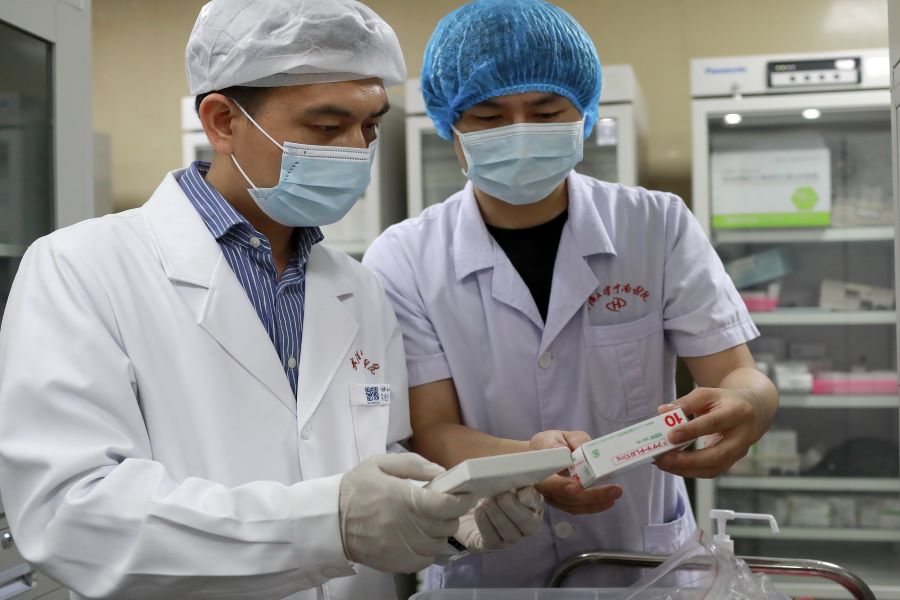 Company's new $50 million funding is the first since its April merger, as competition grows among nation's contract research organizations (CROs)
Key points:
dMed-Clinipace's raises $50 million in the first funding since its merger to form a CRO specialist with global presence
Eased regulations have fueled an influx of money and spate of M&A in China's increasingly competitive landscape
By Richard Barbarossa
Fresh off the April merger that created a major new Sino-U.S. clinical oncology contract research organization (CRO), dMed-Clinipace has embarked on a new round of fundraising as it eyes a potential public listing at a yet-to-be determined date.
High-profile institutional investors including Lilly Asia Ventures, Vivo Capital, Sequoia Capital China and Kaiser Foundation Hospitals all chipped in for the company's latest $50 million cash infusion, bringing its total fundraising to date to a hefty $343.1 million dating back almost a decade, according to data compiled by stock information site Crunchbase.
No valuations have been given throughout the two companies' various fundings. But one estimate after a Clinipace round in 2019 said the deal valued the company at between $100 million and $500 million at that time.
The April merger of Shanghai-based dMed Global and U.S.-based Clinipace created a company that sits astride the world's largest clinical CRO market in the U.S. and the fastest growing market for pharmaceuticals in China. The merged company has 1,700 staff in 22 offices across the Americas, Europe and Asia-Pacific, including over 700 people in China.
Its April merger is just the latest in a flurry of M&A activity in China's increasingly competitive medical services market, where many players have frothy valuations on big investor hopes for the sector.
CROs help drug developers put their products through the complex and rigorous clinical testing phases that typically last for years and are required before any drug can be commercialized. They typically offer outsourcing services from the discovery, pre-clinical and clinical stages of the process as well as services to register new drugs with local authorities.
And unlike drug developers that often take years to post their first significant revenues and profits, CROs can start generating steady revenue almost immediately and become profitable much faster.
CROs can typically shave off 20% to 30% of the time required for testing when compared to a pharmaceutical company doing the work itself. Salaries of R&D personnel at CROs are also up to 30% lower than peers in pharma companies, greatly reducing costs and accelerating approvals of new drugs, according to Shanghai Medicilon, founded in 2004 and one of the earliest entrants into the domestic market.
In announcing its latest funding this month, dMed-Clinipace said it will use the $50 million to cover costs associated with the April merger that created the current company. dMed founder Dr. Tan Lingshi said at the time of a $100 million funding last December, before the merger was announced, that his company was preparing for an IPO at an unspecified time. No update has been given since announcement of the merger with Clinipace.
Prior to establishing dMed in 2016, Tan, who is chairman and CEO of the merged company, was previously U.S. pharma giant Pfizer's vice president of worldwide development operations and chairman and general manager of Pfizer (China) Research & Development Co. Ltd.
The U.S. clinical CRO market was valued at $20.9 billion in 2019 and is forecast to grow around 8% annually through 2024, according to a report by Mirae Asset. China's is expected to grow from $3.7 billion in 2019 to $13.7 billion in 2024, representing annual growth of 30%, according to the report, as demand for drugs grows from the nation's aging population.
Consolidating Market
The merger that created dMed-Clinipace is part of a broader spate of M&A in China's increasingly competitive CRO sector, even as strong investor interest has seen valuations for some listed players soar. The sector's recent rapid growth has been fueled in part by groundbreaking changes that have streamlined the way that drugs are reviewed and approved to bring more cutting-edge medicines developed overseas to China.
The promulgation of the Drug Administration Law and Vaccine Administration Law in December 2019, and the revised Drug Registration Regulations in July 2020, were lynchpins in modernizing the review system and getting drugs to market more quickly.
Those changes have fueled demand for services from CROs like dMed-Clinipace, whose China operations can help foreign pharmaceutical companies navigate the regulatory environment and approval process. At the same time its non-China operations can also help Chinese drug firms test and market their products worldwide.
But the speedier approvals have also brought intense competition to China's CRO market, with a number of biotech companies emerging to offer their own similar services.
Market leader Shanghai-based WuXi AppTec dwarfs dMed-Clinipace in that regard, with more than 27,000 staff and 30 operation sites across China, the U.S. and Europe. In addition to CRO, it is also a contract development manufacturing organization (CDMO), which assist other companies in manufacturing their drugs.
Founded in 2000, WuXi AppTec's business has recorded sequential revenue growth in every quarter since the start of 2018, with the notable exception of last year's first quarter at the height of China's Covid-19 outbreak. Investors have taken note, with its Hong Kong shares soaring almost 150% since its blockbuster Hong Kong IPO in December 2018, giving it a market cap of HK$522.5 billion ($67.2 billion).
That valuation also puts it head and shoulders ahead of leading domestic competitors Pharmaron, which is valued at HK$170.8 billion; and Hangzhou Tigermed at HK$152.3 billion. WuXi AppTec and Pharmaron both have lofty price to sales (P/S) ratios, which indicate how much investors are willing to pay per dollar of sales, at around 30. Tigermed's is even more meteoric at 44.
Such multiples might seem frothy when one considers that global market leader IQVIA, which accounts for 6.5% of the world's CRO and CMO business, according to Mirae Asset, has a more normal-looking P/S of 3.88. The world's second largest player, Laboratory Corp. of America Holdings, comes in at just 1.81. Such high valuations for the Chinese companies indicate the big potential investors see in the country's nascent sector.
China's eased regulations also allow CROs to market drugs, essentially letting them sell innovative new medicines without possessing manufacturing capabilities. The permission of such a wide range of functions within individual companies has spurred a wave of M&A as companies seek to expand their portfolio of services.
In March Pharmaron announced it had bought Allergan Biologics' site in the British city of Liverpool for $118.7 million from AbbVie to boost its cell and gene therapy capabilities. In November it bought U.S.-based Absorption Systems for up to $137.5 million also to fine tune its capability in the same area.
Meanwhile, in 2019 WuXi AppTec acquired Pharmapace in San Diego, California, to enhance its biometrics services. In March this year it bought Oxgene, a British CRO that designs and develops scalable gene therapy technologies.
To subscribe to Bamboo Works weekly free newsletter, click here