New Energy Majors Daqo, Goldwind Face Political Heat From Washington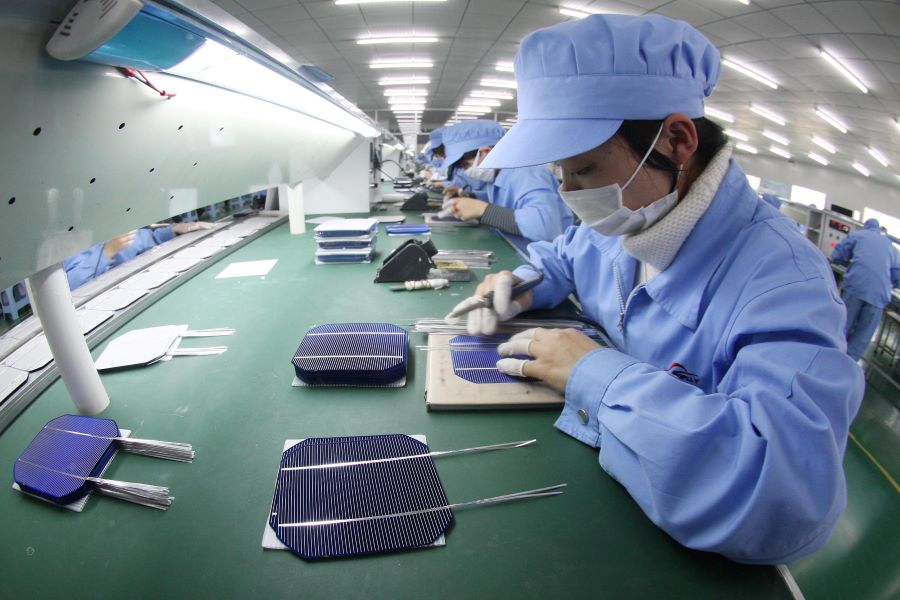 Xinjiang-based companies may get caught up in U.S.-China tussle, but any actions against them could be largely symbolic
Key takeaways:
New actions by the U.S. against Daqo appear largely symbolic and should have little to no impact on the company
Daqo, along with Goldwind, could trade at slight discounts to peers over the next year due to political risk
By Doug Young
There's nothing like a good political storm to cast a cloud over some of China's most promising new energy companies.
That's one of the big messages coming out of Washington these days, where the administration of President Joe Biden appears to be singling out companies in China's western Xinjiang region for "special" treatment. We won't go into the particular politics of this situation, since this space is reserved for discussion of corporate strategy and financials.
But it would be irresponsible to ignore the politics at play in this situation, which have Biden's administration reportedly set to sanction a number of Xinjiang-based companies in the solar energy sector, including Daqo New Energy Corp. (NYSE: DQ). Another company we follow, wind power equipment maker Xinjiang Goldwind Science & Technology Co. Ltd., is also based in the region and thus could get caught up in the tussle as well.
Bloomberg reported on Wednesday that Daqo was among five companies whose names would be added to an "entity list" maintained by the U.S. Commerce Department. A number of high-tech Chinese companies have been included on that list over the last couple of years, most notably telecoms giant Huawei. Inclusion means that any U.S. company must get a special government license before it can sell any of its products or services to a company on the list.
While being included on the list can be highly problematic for tech companies like Huawei, it's probably less-important for solar technology that is far less-sophisticated and widely available from many sources. Accordingly, Daqo probably wouldn't suffer any huge impact from being included on such a list, as it could easily turn to other countries to purchase equipment, materials or other products it currently buys from U.S. suppliers.
Investors didn't appear to make that distinction, however, with Daqo's New York-listed shares dropping 13% in Wednesday after-hours trade in New York. If that decline holds, the stock will have lost nearly 20% of its value this year.
Before the latest news, Daqo's shares were doing relatively well due to a global shortage that had pushed polysilicon prices to record levels. As a result of that, Daqo's profit more than doubled to $83.2 million in this year's first quarter from $33.2 million a year earlier.
While inclusion on the Commerce Department list probably wouldn't be too damaging for any company from the solar or wind power sectors, a U.S. import ban on their products could be worse. The Bloomberg report also mentioned that Biden's administration will ban the import of products from some Chinese solar companies in Xinjiang, though Daqo wasn't among those.
But even if Daqo's polysilicon were banned, the impact still wouldn't be that big on its business. A look at the company's two most recent annual reports contains no mention of its sales by region, which probably indicates it sells the big majority of its polysilicon within China. That's not surprising, since China currently manufactures more than half of the world's solar panels.
Many makers of those finished panels export to America, but those products don't appear to be affected by the latest Biden moves.
Preemptive Actions
We should also point out that Daqo has been quite preemptive in this situation, which perhaps was a factor behind why it wasn't included on the list of companies whose imports would be banned. The company hosted a visit to its main manufacturing facility in Xinjiang in May in an unusual effort at transparency aimed at showing it wasn't involved in any of the labor issues at the center of the Biden administration's concerns.
The company has emerged as one of China's most world-class solar industry players, counting itself among the global top five makers of polysilicon. Its list of major shareholders is also impressive, including asset management giants BlackRock and Invesco, which held 9.5% and 4.9% of the company's shares as the end of March, according to its most recent annual report.
Goldwind is another world-class company that could also get caught up in the fray. Like Daqo, it has an even more impressive list of major shareholders that includes BlackRock, JPMorgan, Bank of America, Morgan Stanley and Citigroup.
But here again, Goldwind doesn't appear to be at major risk even if it was added to the "entity list" or its products were banned from the U.S. The company's latest annual report shows it receives only about 10% of its revenue from exports, and the U.S. was listed as just one of a number of global markets where the company is active.
Like Daqo, Goldwind's stock is down by a similar 25% so far this year. Those declines are relatively small compared with solar panel makers, which are some of the world's biggest new energy companies and have suffered due to high polysilicon costs. New York-listed JinkoSolar's shares are down 40% year-to-date, and Canadian Solar is down 26%.
In terms of valuations, Daqo or Goldwind could be suffering slightly due to their Xinjiang roots. Daqo currently trades at a price-to-earnings (PE) multiple of 25, while Goldwind is slightly lower at 22. That compares to a much higher 48 for JinkoSolar and 40 for Canadian Solar. But even here, we should note that those figures are probably distorted by the fact that Daqo's profits have recently soared, whereas solar panel makers' profits have tumbled.
At the end of the day, it does appear the moves by Biden may be mostly symbolic, as both Daqo and Goldwind, as well as the many smaller players targeted by the latest sanctions, don't really do much business with the U.S. In this case investors appear rightly more focused on company fundamentals. But political risk still exists, and could cause these Xinjiang-based players to trade at a slight discount to their non-Xinjiang peers over the next year or two.
To subscribe to Bamboo Works weekly newsletter, click here