NetDragon still learning how to profit from education, as investors grow impatient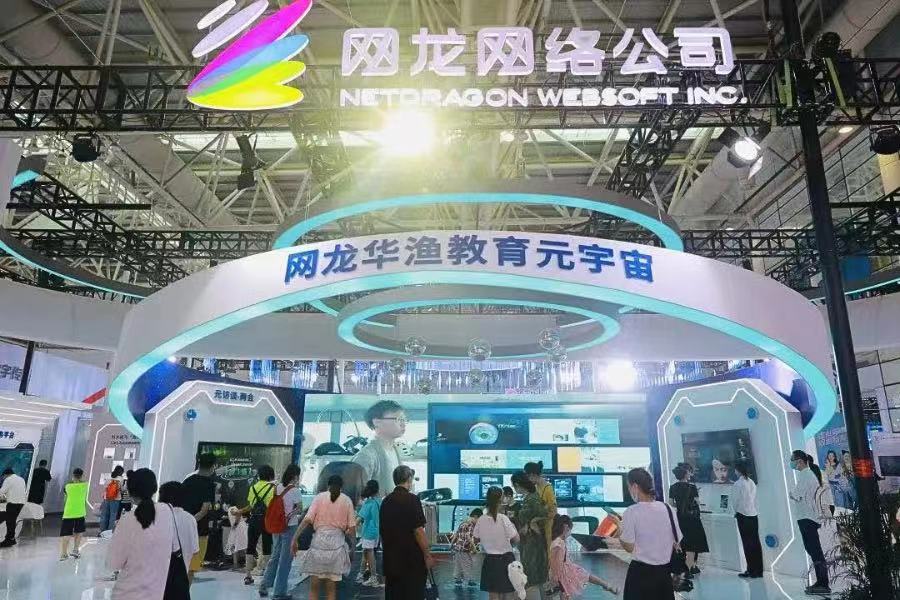 The company's education unit overtook its older gaming division in terms of revenue last year, even as the former lost money
Key Takeaways:
NetDragon's revenue fell 1.5% in the second half of last year, reversing a 26% rise in the first half
The company is laying the groundwork to become a provider of high-margin education services using its Promethean brand of classroom-based interactive panels
By Doug Young
Education pays, but games pay more.
NetDragon Websoft Holdings Ltd. (0777.HK) learned that lesson when markets opened on Tuesday in Hong Kong, as shareholders punished its stock after the release of an annual earnings report that showed its revenue contracted and its profit fell sharply in the second half of 2022. NetDragon's revenue comes from a mix of games and education services, and the company is one of China's oldest gaming companies.
On the broadest basis, NetDragon looks relatively impressive for its ability to consistently run a profitable gaming operation with a strong overseas component over its two decades of history. Apart from industry leaders Tencent (0700.HK) and NetEase (NTES.US; 9999.HK), few mid-sized gaming companies can make a similar claim.
At the same time, the company is building up what looks like a savvy education strategy that involves getting its interactive panels into classrooms as a key teaching aide, both in China and around the world. While that business is very low margin, NetDragon is laying the foundation to introduce instructional software to be used in those panels, a much higher-margin, recurring revenue business known as software as a service (SaaS).
The company has yet to reap rewards from that higher-margin educational SaaS business. But it formed a strategic partnership midway through last year and made a key acquisition late in the year to move in that direction. Whether it can succeed is another matter, as sales of its educational interactive panels, which it sells under the Promethean brand, totaled just 253,000 last year. While that figure was up 37.5% from 2021, it's still relatively small.
Investors were unimpressed with the educational unit's potential and focused on the company's stumbling revenue and plunging profit in the second half of the year instead. The stock opened 15% lower the day after the report's publication and was still down sharply late in the morning.
The company operates in two of China's most risk-prone sectors, so the fact that it can remain profitable more than two decades after its founding seems relatively impressive.
China watchers will know that its core gaming business comes under regular attack by Chinese regulators who are constantly trying to rein in the industry to reduce its influence on the nation's youth. Private education services are also a touchy area, and were the subject of a massive clampdown two years ago that wiped out much of the sector. A few companies have survived that by shifting their focus from K-12 education to less-sensitive college students and adults, though most have yet to return to profitability.
NetDragon didn't have any problems staying in the black last year, though its profit in the second half of the year dropped 57% to 269 million yuan ($39 million) compared with the year-ago period, according to our calculations using company data from the latest report. That marked an acceleration from the 21% profit decline in the first half, as the company got caught up in a mix of turbulence created by China's strict Covid-control measures, combined with lingering effects of the latest gaming and education crackdowns.
NetDragon summarized things by calling 2022 "a year of both opportunities and challenges," echoing the sentiment by many Chinese companies.
Gaming old timer
Despite its lesser-known status, NetDragon is one of China's oldest gaming companies, with a history dating back to 2001. It has worked with big names like Disney (DIS.US) and Electronic Arts (EA.US) over the years, and added education services to its portfolio with the establishment of a joint venture in 2014.
Games and education have varied in their contributions to the company's business, but have roughly taken a 50-50 share over at least the last five or six years. Education overtook games in terms of revenue last year, after revenue from the latter fell 7.8% in the second half of the year and the former rose by 5.6%. That led the company's overall revenue to decline 1.5% to 3.6 billion yuan in the second half of the year, reversing a 26% revenue gain in the first half.
From a broader perspective NetDragon's diversified revenue stream looks generally good. The big problem lies in the huge profitability gap for the two businesses. Games are hugely profitable, boasting a gross margin of 95.6% for last year. Education is a major slacker, at least in that regard, with a gross margin of just 23.2% – and that was down sharply from 30.8% the previous year.
The company is trying to improve the education business' profitability by laying the groundwork for the rollout of higher-margin services to offer over the many hardware panels that it's selling into classrooms both in China and overseas. To that end, it acquired a digital whiteboard platform operator called Explain Everything in December, and said it will use the company to create lessons, activities and interactive presentations to offer over its Promethean panels.
Earlier last year in June, it also entered into a strategic partnership with a company called Merlyn Mind, which specializes in AI technology that NetDragon hopes to build into its future SaaS education products and services.
The company also continues to invest in its gaming business, hiring 300 new R&D team members last year to take advantage of an expected market recovery in 2023. It also continues to expand that business globally to diversify from the lucrative but clampdown-prone China market, with overseas markets accounting for 16% of its gaming revenue last year.
The Tuesday selloff marks an ongoing underappreciation of NetDragon's shares by investors. The stock now trades at a price-to-earnings (P/E) multiple of just 7, far lower than NetEase's 21 and 33 times for China East Education (0667.HK), a provider of vocational training services.
The skepticism is probably at least partly justified, since the education business is currently losing money and needs to prove it can become profitable in the next one to two years. The company's strategy for reaching that profitability certainly seems valid and it's making the right moves in that direction. Its longer-term ability to stay in business in such a changeable environment also seems to show the company's education drive could have a reasonable chance of success.
To subscribe to Bamboo Works free weekly newsletter, click here