Nayuki Goes Upmarket in Search of Better Margins, Cooler Competition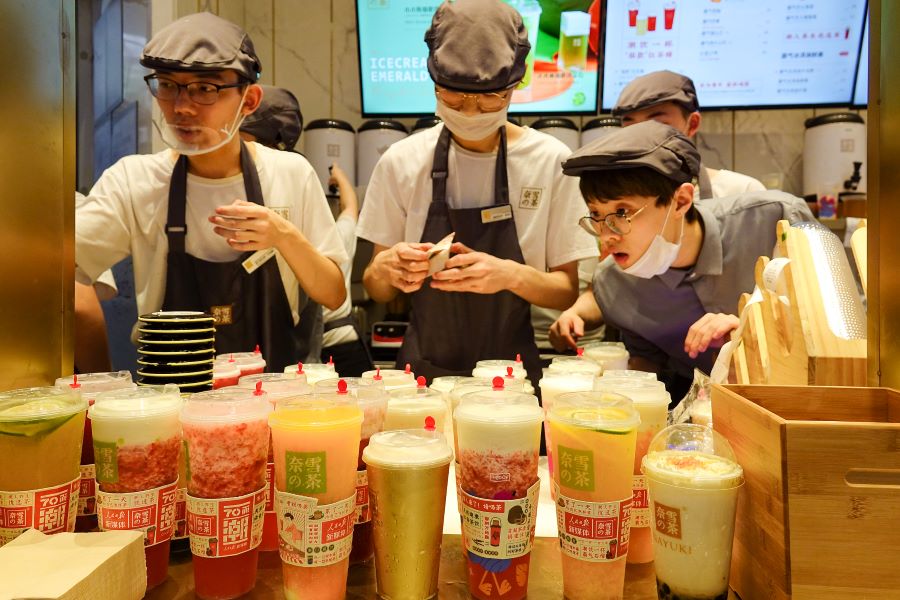 Premium tea specialist says it will record an adjusted net loss for 2021, blaming Covid-related disruptions
Key Takeaways:
Nayuki said it expects to post an adjusted net loss for 2021 due to Covid-19 disruptions, reversing a profitable first half of the year
Company is focusing on higher-end stores in bid to improve margins and lower dependence on highly competitive lower end of the market
By James Dyson
Bubble tea or tea bubble?
The answer for Nayuki Holdings Ltd. (2150.HK), the Shenzhen-based new style tea retailer, is both. But it's not quite as champagne bubbly now as it was during the first half of the year in the run-up to its IPO at the end of June. The irrational exuberance of that period is now fading and the main bubbles for the company are increasingly the tapioca variety that form the chewy basis for its namesake teas.
Since its listing, Nayuki's share price has halved. In late October the company issued a profit warning for 2021, citing reduced revenues caused mostly by recurring Covid-19 outbreaks that affected its business. The company said it recorded an adjusted net loss for the third quarter, compared to an adjust net profit a year earlier. As a result, it expects to record an adjusted loss for the full year of 2021.
Nayuki's shares closed Monday at HK$9.50 ($1.22), roughly half its IPO price of HK$19.80 at the end of June.
Nayuki is China's second largest chain specializing in new style teas after HeyTea, with a 19% share of the modern tea café market, based on total retail consumption in 2020. It had 668 teahouses at the end of September, up from 578 at the end of June and nearly double its 349 teahouses back in June 2020.
Nayuki blamed its profit woes partly on "less flexibility for the human cost of stores in the short term," meaning it's difficult to hire and relocate staff around its store network because of restrictions created by Covid. It added that its automatic and digitalized tools are still in the testing phase, and thus it has yet to reap the financial benefits from efficiencies that technology will bring.
The bottom line is that profit growth will remain slow for the rest of the year not only due to the above factors, but also because of the cost of new teahouse openings and other related expenses.
While the profit warning reflects a tough period, Nayuki's underlying core business looks solid. The company's revenues grew by an impressive 80% year-on-year to 2.16 billion yuan ($338 million) in the first half of 2021. That helped it record an adjusted profit of 48.2 million yuan during the period, reversing a 63.5 million yuan loss for the same period of 2020 when many of its stores were shuttered at the height of China's Covid-19 outbreak.
It's safe to say, of course, that this year's very positive first-half performance was probably achieved at least partly with an eye on the listing, which ultimately raised $656 million and whose retail portion was 432 times oversubscribed. That listing gave Nayuki a frothy market value of about $4 billion, though now the figure is half that.
By way of comparison, HeyTea was valued at $9.3 billion at its most recent fundraising in July. That's nearly five times Nayuki's current value, and suggests a valuation bubble for the trendier HeyTea.
Competitive Edge
Finding a competitive edge in a very crowded market, which could help to differentiate its products and improve margins, is vital for Nayuki and its peers. That's true especially at the most crowded low-end of the market where margins are extremely slim. In the face of such competition, tea companies are looking at a variety of ways to boost their bottom line – sometimes with highly unusual moves.
An example of one such leftfield undertaking to improve margins comes from Changsha-based Urban Tea Inc. (MYT.US). In one of quirkiest impossible-to-foresee moves, the Nasdaq-listed milk tea maker opted to diversify into the hot cryptocurrency mining business early this year. In June it went the whole hog and changed its name to Bit Brothers Ltd.
That kind of move follows similar plays into the hot cryptocurrency mining area, including earlier such moves by former online lottery ticket seller BIT Mining (BTCM.US) and former game operator The9 Ltd. (NCTY.US).
Nayuki's growth strategy isn't quite so radical. Its third-quarter business update shows a discernible move upmarket to where margins are higher and competition is less intense. During the period, it increased its number of teahouses by 90 between the end of June and the end of September. The growth came entirely from its high-end teahouses, whose count rose by 110, typically in shopping malls and office blocks. By comparison, the number of lower-end teahouses shrank by 20.
That strategy makes sense given the underlying strength of Nayuki's teahouse business, despite pandemic-created disruptions. Store-level operating profits rose almost 500% in the first half from a year earlier to 385 million. Impressive, yes, though one should also remember that China was in the eye of the Covid-19 storm in the year-ago period. In February 2020, more than 60% of all tea shops in China had no sales revenue, according to the China Tea Industry Economic Research.
Yet, that core store-level profit still augurs well as pandemic-related disruptions continue to ease. The premium tea market is huge, worth about 410 billion yuan in 2020, accounting for about a third of China's non-alcoholic beverage market during that time, according to third-party data cited in Nayuki's IPO prospectus.
Nayuki deserves credit for quickly rolling out digital tools during the pandemic and offering free delivery for all online orders. As a result, the total number of transactions completed on Nayuki's WeChat mini program doubled in the first half of the year compared to the previous year. Online orders accounted for 70% of all sales during the period.
Nayuki also deserves kudos for the precision in which it has identified its target customers. In China, about half the consumers of new-style teas belong come from the post-90s generation, with female consumers accounting for about 70% of the market.
According to Daxue Consulting, Nayuki targets 25-to-29-year-old women in tier 1 cities. The aesthetic of its teahouses, along with the perceived health qualities of its tea, are a draw for this demographic. Even the Japanese name is distinctive and appealing to that group.
New style teas sold by Nayuki, categorized as "freshly made tea drink," are the fastest growing non-alcoholic beverage in the market. Premium teas are forecast to make up 42% of China's overall tea market by 2025.
From a valuation perspective, Nayuki looks well priced at current levels with a price-to-sales (P/S) ratio of 3.3. By comparison, similarly high-growth Chinese restaurant chains Haidilao (6862.HK) has a lower P/S of 2.6, though Jiumaojiu (9922.HK) is a bit higher at 5.7.
To subscribe to Bamboo Works free weekly newsletter, click here