Maluji eyes Sichuan-spicy IPO in Hong Kong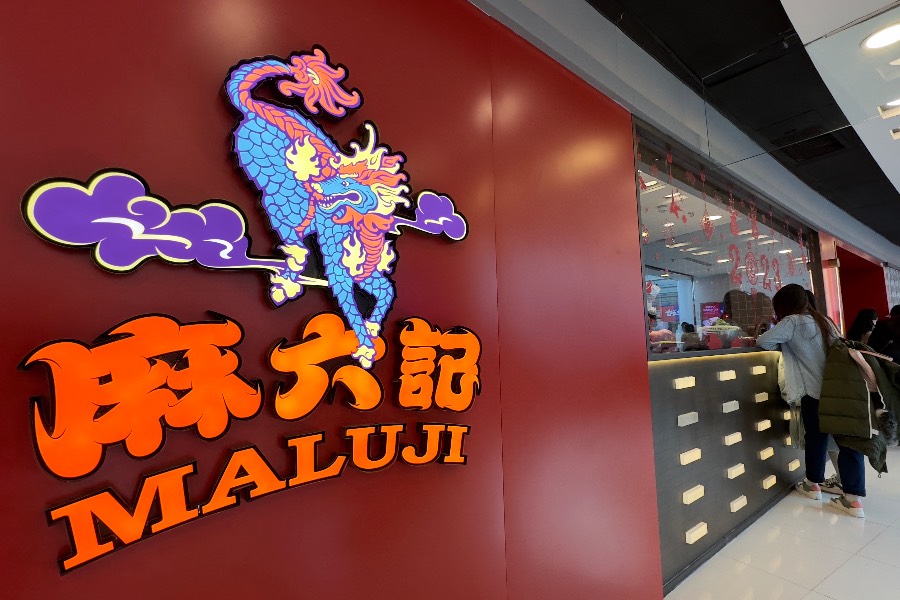 The restaurant chain operator famous for its hot-and-sour noodles is reportedly talking with two investment banks to make a listing next year
Key Takeaways:
Maluji's business has boomed on the recent popularity of its hot-and-sour noodles, which generate millions of yuan in daily sales on short video site Douyin
The company, which is reportedly eying a Hong Kong IPO, faces concerns over the safety of ingredients in its noodles
By Lau Chi Hang
From divey noodle joints in hidden corners to grand establishments on busy streets, China's restaurant scene is huge and quite diverse. Its low barriers to entry attract nearly anyone who can cook, creating a bloody battleground where only a handful of outlets can withstand the test of time. In such an intense environment, today's toast of the town can often become tomorrow's leftovers.
South Beauty was one such former flavor of the day, briefly enjoying its moment in the sun. But the bloom quickly fell from its rose, as founder Zhang Lan faced fundraising difficulties and got into a big dispute with one of its private equity investors. The chain's business suffered with all the turbulence, and the former "beauty" quickly lost her allure.
But Zhang refused to give up, and eventually made a comeback with her latest chain, Maluji, serving up fiery Sichuan cuisine. Now, the chain may be looking to also spice up its finances with reports that it's considering a Hong Kong IPO as early as next year. The company is currently talking with CMB International and Huatai Securities to sponsor the listing, according to the reports. Both banks and Maluji declined to comment. 
Recipe for success
Born in 1958, Zhang grew up in a rural, mountainous area in Central China, which she credits for her resilient and determined personality. In 1989, she travelled to Canada on her own and worked various jobs, including as a nanny and in a restaurant. She returned to Beijing in 1991 with $20,000 in savings, which she used to set up her first two restaurants whose average daily sales quickly reached the equivalent of tens of thousands of dollars – a big sum at that time.
She later sold the restaurants for a big profit, and used that to establish the South Beauty brand. At its peak, Zhang was worth an estimated 2.5 billion yuan ($343 million) and ranked third on a list of China's richest restauranteurs in 2009. At the top her game at that time, she never could have imagined losing her seat at the catering empire she founded just a few years later. More on that shortly.
Zhang failed at a number of new attempts to re-enter the business before setting up Maluji in 2020 with her son Wang Xiaofei. Starting with their first store in Beijing, they quickly expanded to other cities, and had opened 29 stores across China in just three years.
Catering to China's recent love affair with takeout and semi-prepared meals that can be cooked at home, Maluji's brick-and-mortar restaurant presence also extends into the online realm. Customers can order prepared dishes, hotpot bases, and pickled vegetables. Maluji's hot-and-sour noodles and maoxuewang, a specialty of Chongqing, are two of its signature products, with the hot-and-sour noodles gaining a major fan base.
But the lingering pandemic hit the entire Chinese catering sector hard. In the face of such challenges, Zhang turned to Douyin, the Chinese version of TikTok, to peddle her products through video and livestreaming. Strong appetite for gossip surrounding her son and his Taiwanese celebrity ex-wife, Barbie Hsu, also brought attention to the Maluji brand. The company's zooming sales are no doubt a major factor behind Zhang's latest dream of taking her company public.
Food safety concerns
One potential issue for Zhang's IPO is suspicions surrounding the accuracy of ingredients listed for Maluji's hot-and-sour noodles, which also raises food safety concerns. This March, the China Food Safety Network evaluated 10 hot-and-sour noodle brands and named Maluji as one of three suspected of falsely claiming to use sweet potato flour while actually using tapioca and fern root flour. Indeed, tapioca and fern root flour are both cheaper than sweet potato flour, with fern root products often priced at about half of sweet potato equivalents.
The expose also discovered that Maluji's hot-and-sour noodles contained aluminum ammonium sulphate, which can lead to health issues like osteoporosis, anemia, and even Alzheimer's disease when ingested in excessive amounts.
Food safety aside, Maluji has also faced criticism for its heavy reliance on hot-and-sour noodles. While the hot product may boost the company's revenue in the short term, such heavy reliance on a single product poses its own risks if tastes change.
Other critics argue that Zhang, in her livestreaming, is simply hyping her son's high-profile breakup to generate buzz for her noodles. While leveraging family feuds can work initially, such gimmicks can quickly lose their edge as the public moves on to the next gossip of the day. All this shows that Zhang has plenty of critics, any of whom could pour some cold water on an IPO.
Investor disputes
At the same time, some investors may also worry about Zhang's reliability. In 2008, she accepted $300 million from CDH Investment and CICC to expand South Beauty, with the condition that she would list the company by 2012. When an IPO failed to materialize by that date, Zhang was required to buy back the shares from the investors at a higher price.
Facing financial constraints, Zhang had to sell 82.7% of her shares to private equity fund CVC in 2014, losing control of the chain. A year later, however, CVC raised concerns over the whereabouts of South Beauty's funds and sued. In the end, CVC won its lawsuit, and was awarded 980 million yuan in damages. But CVC later claimed that Zhang had transferred some of her ill-gotten funds offshore, resulting in more litigation in Singapore. The courts finally ruled for CVC about a year ago, allowing CVC to take control of around 400 million yuan held in foreign bank accounts connected to Zhang and her family.
Zhang's involvement in such investor disputes has left a bitter taste that could undermine sentiment towards a Hong Kong IPO for Maluji. That said, Zhang's business acumen and determination make her a strong candidate to succeed in the tough catering industry. "I'm not a social media influencer because that fame doesn't last long," she was once quoted as saying. "Instead, I consider myself to be a lifelong entrepreneur."
Have a great investment idea but don't know how to spread the word? We can help! Contact us for more details.
The Bamboo Works offers a wide-ranging mix of coverage on U.S.- and Hong Kong-listed Chinese companies, including some sponsored content. For additional queries, including questions on individual articles, please contact us by clicking here.
To subscribe to Bamboo Works free weekly newsletter, click here