JinkoSolar, Canadian Solar See Sunnier Skies in China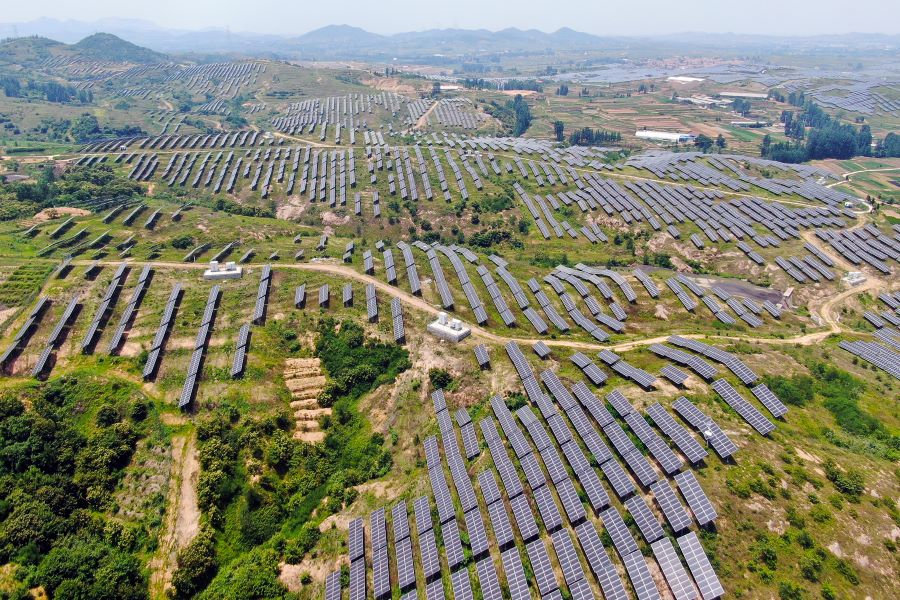 Pair of solar panel makers separately announce they have filed to list on China's two-year-old Nasdaq-style STAR Market
Key points:
Shares of JinkoSolar and Canadian Solar have jumped after both announced applying for secondary listings in China
Applications could be a prelude to eventual bids to delist their shares from New York
By Doug Young
The near-term outlook for China's bustling solar sector may be cloudy, as soaring material costs dampen demand for pricier solar panels. But you would never know that based on an overnight rally that saw shares of most U.S.-listed players soar by anywhere from 9% to as much as 22%.
Investors were excited by two announcements that look remarkably similar, one from JinkoSolar Holding Co. Ltd. (JKS.US), and the other from rival Canadian Solar Inc. (CSIQ.US), two of the world's leading solar panel makers. Both said that their subsidiaries had applied for listings on the STAR Market, a two-year-old stock exchange in Shanghai targeting high-growth companies, especially from the tech sector.
We've previously noted that both companies were seeking such listings, though at last report it was all just talk, and Canadian Solar hadn't even formally confirmed its intent. Now JinkoSolar has confirmed it has submitted the paperwork for its principal operating subsidiary, Jinko Solar Co. Ltd., to list on the STAR Market. Canadian Solar said its majority-owned CSI Solar Co. Ltd. unit made a similar application.
Those two announcements come just a month after we got word of similar intent from Daqo New Energy Corp., one of the world's leading makers of polysilicon that is the main ingredient used in making most solar panels.
Timing of the two announcements on the same day seems just slightly coincidental, and it's even possible there was some behind-the-scenes coordination to maximize the impact on the companies' stocks. If that was the case the legality of sharing such market-sensitive information between companies could be slightly questionable. But there's no question the simultaneous announcements had the desired effect.
JinkoSolar's shares got the biggest boost, rising 23% in Monday trade in New York. Canadian Solar and Daqo got smaller but still significant boosts of about 13%, while solar power plant builder ReneSola also rose 9%. It's worth noting that with the exception of Daqo, all of the other three stocks are still down from where they began 2021, reflecting the solar sector's difficulties this year due to a shortage of polysilicon and resulting soaring prices.
The logistics of these secondary listings are quite straightforward. In most cases, the U.S.-listed companies, which are all technically incorporated outside China, simply create new China-based units containing most of their main operating assets. That unit then becomes the actual vehicle for the STAR Market listing, since Chinese law requires that companies making such listings must be incorporated in China.
For all intents and purposes, the new STAR Market listings will be nearly identical in terms of assets to their New York-listed counterparts.
Valuations for the companies on the two different markets could be quite different, which we've previously discussed, due to the firewall that keeps most U.S. investors out of China and vice versa. The Chinese companies are quite aware of this and may be looking forward to higher valuations from their STAR Market listings than they now have in New York.
Delistings in Sight?
With all that background in mind, we'll spend the second part of this space exploring the potential that some or all of these companies might be pursuing these STAR Market listings as a prelude to abandoning New York. Such a move wouldn't be all that surprising in the current climate of U.S.-China tensions, including a U.S. threat to delist Chinese companies that refuse to make their accounting records available to the U.S. securities regulator.
From a structural perspective, we've previously seen Chinese companies do this kind of listing of several units with overlapping assets, followed by later delistings of some of those units. The latest to hedge their bets like this is New York-listed Sina Corp., which for years was one of China's premier internet names.
The company later listed its popular Twitter-like Weibo in New York, and Sina's own Weibo stake gradually became its main asset as its other assets faded. Last year Sina's management tried to privatize the company, which would leave Weibo as its main publicly traded asset. But that deal has stalled this year as Sina minority shareholders complain the buyout price is too low.
Asset strategies aside, there's also the Beijing factor in these latest STAR Market listings. China has been pressuring its cutting-edge companies to list domestically, and in some cases is asking them to specifically avoid the U.S. A notable case saw Reuters report in May that Beijing was pressuring leading podcast platform Ximalaya to abandon its plans for a New York listing in favor of Hong Kong.  
Ximalaya had filed for a New York IPO in late April to raise $100 million. But the plan has disappeared since then, and there was no news or updated listing documents until the Reuters report a month later.
Canadian Solar actually attempted to privatize from New York in 2017, but that deal stalled and was withdrawn a year later. Rival Trina Solar was also previously listed in New York, then successfully privatized in 2017 and later re-listed in Shanghai, where its shares are now traded.
A look at company valuations shows that listing in China doesn't necessarily bring a big premium in terms of price-to-earnings (PE) ratios. Trina currently trades at a PE of 44, which looks quite similar to the 47 for Canadian Solar. ReneSola trades at a higher PE of 57, though we should note the company is a solar power plant builder and not a panel maker. Daqo trades at a more modest PE of 28, though again we should note that company is a materials supplier to panel makers.
At the end of the day, we probably shouldn't be too surprised if one or more of the Chinese solar companies do end up delisting from New York following their new listings in China. That could provide some quick profits for investors if they can choose which companies might delist, since such privatizations almost always come at buyout prices with premiums of anywhere from 10% to 50% above the company's latest stock price.
To subscribe to Bamboo Works weekly newsletter, click here