Investors Bet on Older, Offline Plays Among Battered Education Stocks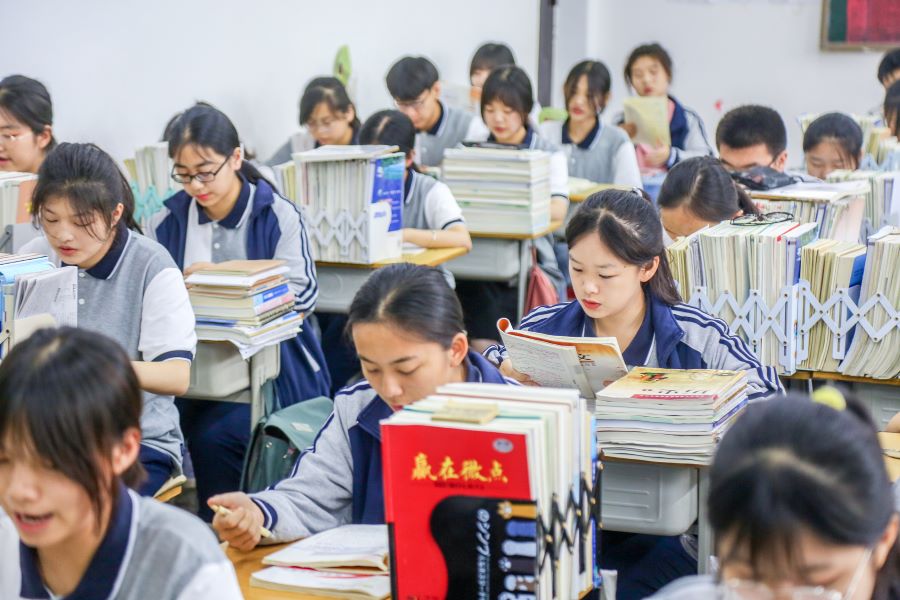 Embattled sector braces for reckoning day in September when all private educators will be required to have government licenses
Key points:
China East Education's rally owes to its newly announced share buyback, as well as growing confidence it will suffer less impact from an ongoing sector crackdown
Older players like New Oriental and TAL Education also look well positioned to weather the cleanup
By Doug Young
There's nothing like a fire at someone else's home to divert attention from your own burning house.
That's the latest message coming from China's battered private education sector, which held up relatively well on stock markets Tuesday when compared with the bloodbath for Chinese internet companies on signals of a new crackdown by the online regulator. That storm saw shares of newly listed shared ride specialist DiDi Global plunge 20%. Two other newly listed companies singled out in the crackdown, Full Truck Alliance and Kanzhun, also tumbled 7% and 16%, respectively.
Into the center of that storm, vocational education specialist China East Education Holdings Ltd. (0667.HK) made a very well-timed announcement of a plan to buy back its own battered stock. That sparked a rally for its shares, which closed up 4% in Tuesday trade in Hong Kong and were up another 1.3 Wednesday morning.
At the same time, IPO candidate Spark Education appears to have withdrawn its listing application, based on its disappearance from a list of active offerings maintained by the New York Stock Exchange. That disappearance pre-dates the storm that swallowed up DiDi this week, and reflects the fact that education companies are still clearly in the heart of their own storm.
A broader look at Chinese education stocks shows a trend emerging as people try to bet on what the new landscape will look like when things finally settle down.
On the one hand, people seem to be betting the largest and oldest companies, especially ones with strong offline elements and adult education focuses, will survive and perhaps even thrive in the new landscape. Meantime, smaller and newer companies like Spark, which tried to wow investors with their highly scalable online business models, appear to be in the most doubt.
We'll take a closer look at the numbers behind that trend shortly. But first we'll recap all the latest news from both the broader online realm, as well as the news from China East Education and Spark Education.
The broader online news, which we discussed at length on Tuesday, saw China's internet regulator single out DiDi, Full Truck Alliance and Kanzhun for investigations over whether their user data policies might pose a national security risk. In our analysis, we noted that the move seemed aimed at discouraging – but not banning – up-and-coming Chinese internet companies from listing in New York.
The education crackdown is a bit older and has been brewing for the last three or four months. That particular campaign doesn't have any political overtones, and instead is aimed at easing pressure on stressed-out Chinese youth from a growing field of online-based extracurricular education companies. Spark outlined the many regulatory actions now in the works against the group in its IPO prospectus published in late June.
The bottom line is that many now see September as a sort of "D-Day" for the sector, as all private education companies will be required to get government licenses starting from then to continue doing business. Operators of traditional private schools have always been required to get such licenses, but online classroom operators previously weren't.
Share Buyback
Next, we'll look at the latest individual actions, starting with China East Education's newly announced plan to buy back up to HK$600 million ($77 million) worth of its Hong Kong-listed shares. The company notes that such a buyback would amount to up to 10% of its total share count. 
Such buybacks are quite common when a company is trying to support its stock price, and China East Education can afford such a move thanks to funds raised from its 2019 IPO and the fact that it's currently profitable. But even after the two-day rally, the company's shares are still down nearly 40% so far this year.
There's not much more we can say about Spark's apparent withdrawal of its IPO application, since companies aren't required to provide any comment when making such a move. But it's worth noting the company comes from the newer generation of online-only education providers that's the main focus of the regulatory crackdown.
In terms of stock declines, China East Education's 40% year-to-date drop is actually among the better performances from the group, reflecting the broader bearish sentiment. Two of the industry's oldest and largest players with a strong offline-classroom focus, New Oriental and TAL Education, are down 56% and 70% year-to-date. Hailiang Education, another offline specialist that operates government-authorized primary education private schools, is down by a milder 37%.
While all of those declines look severe, they are relatively modest compared with a 66% decline for Koolearn, the online unit of New Oriental, and a 74% decline for online specialist Puxin Ltd. Another online specialist, 17 Education, which listed last December, is down 72% from its IPO price.
In terms of market values, New Oriental and TAL are the clear leaders with values of more than $10 billion. China East Education and Hailiang fall into a middle category with values in the $1 billion to $3 billion range, while 17 Education and Puxin fall into the "minnow" category with values of $600 million or less.
Lastly there is price-to-earnings (PE) comparisons, with New Oriental and TAL both now trading at ratios of 32 based on 2020 profits. Hailiang, which was less-affected by the pandemic, trades at a relative bargain of 18, while China East Education, which was highly affected, trades at a lofty 76. None of the online companies have PEs since all are currently losing money.
At the end of the day, it does seem that investors are betting that the big names will ultimately survive the ongoing education crackdown, meaning names like New Oriental, TAL and China East could be good values for investors with a strong stomach for risk. The biggest online players will likely survive as well, though they could take big revenue hits as they are forced to live in a post-crackdown world where things like weekend and holiday classes are banned.
To subscribe to Bamboo Works free weekly newsletter, click here