Invesco, Fidelity Hitch a Ride With Full Truck Alliance's Supersized IPO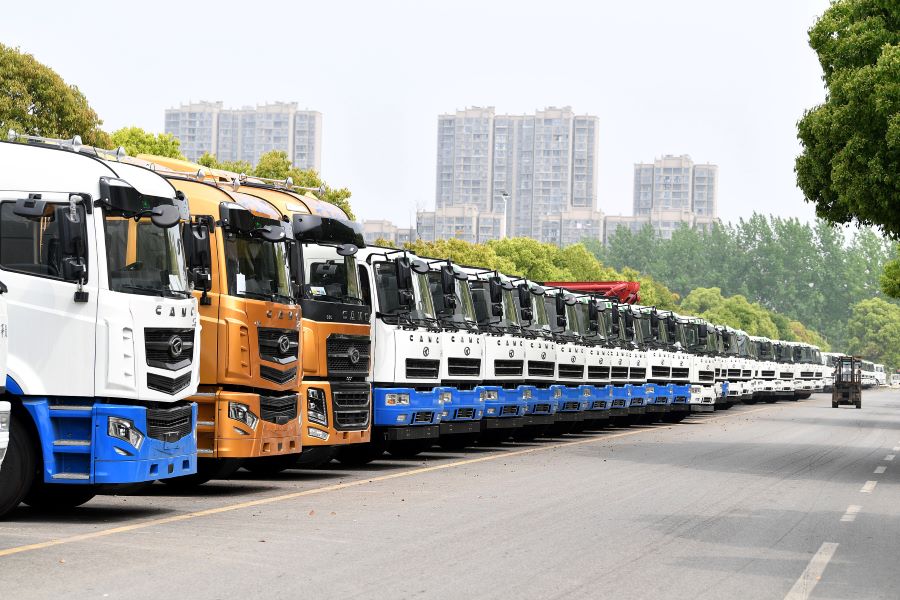 Trucking services leader boosts fundraising target to $1.8 billion, which could become the largest New York listing by a Chinese company this year
Key points:
Full Truck Alliance is well-positioned to consolidate its leading position in China's emerging trucking services market
The company's sharp boosting of its IPO fundraising target reflects investor confidence in its strong growth and profit potential
By Doug Young
When it comes to big money, there's lots to be made on China's roads – specifically in trucking services.
That's the main message coming from Full Truck Alliance Co. Ltd. (NYSE: YMM), which has just super-sized the fundraising target for its upcoming New York IPO. More precisely, the operator of a platform that helps match truckers with the companies whose goods they deliver has disclosed in an updated filing that it's aiming to raise up to $1.8 billion in its listing.
That's a huge jump from the original $100 million figure given when the company, which operates a network called huochebang, filed its initial IPO prospectus around three weeks ago. Of course, the initial figure is always considered a temporary placeholder to be updated after the company gauges investor demand. But it's relatively uncommon to see such a major upward adjustment, which indicates demand must be quite strong.
In this case, Full Truck Alliance has found some strong supporters in U.S. fund giants Fidelity and Invesco, which have expressed interesting in buying $100 million and $500 million worth of the IPO shares, respectively, accounting for about a third of the total on offer. Still, that means the company would need to find buyers for another $1.2 billion worth of shares.
The listing could be the largest so far this year by a Chinese company in New York, beating out the $1.35 billion raised by another trucking company called TuSimple back in April. But whereas TuSimple is still developing its product focused on trucking automation, Full Truck Alliance has been operating its services since 2011 and has relatively sizable revenue.
All that said, we'll start with a look at the bigger picture in China's trucking landscape before delving into Full Truck Alliance's financials, which appear to portray a company that's just hitting its stride after years of development. The macro story is that China's highway network is relatively extensive and new, mostly constructed over the last 30 years during the country's remarkable economic growth story.
The country's trucking industry has developed alongside the road network and now looks much like the West in terms of making goods widely available nationwide on a year-round basis. But unlike the West, China's trucking sector is still highly fragmented, consisting of thousands of truck owners and similar numbers of companies looking to get their goods from point A to point B.
"In China, the matching of shippers and truckers traditionally took place offline in remote logistics parks, where shipping orders were written on blackboards in a disorganized manner, with most of the negotiation process conducted over the phone or in person," Full Truck Alliance said in its prospectus, describing conditions that still persist in parts of the country.
The company says that following the buildup of its more advanced online networks, it now acts as middleman for the fulfillment of about a fifth of China's medium- and heavy-duty trucking orders. That makes it the "world's largest digital freight platform by gross transaction value" it said, citing third-party research it commissioned for the IPO prospectus.
That research estimated China's road transport market was worth 6.2 trillion yuan ($969 billion) in 2020, with trucking shipments making up the bulk of that at about 5.3 trillion yuan. The value of the trucking shipment market is expected to grow to 6.5 trillion yuan by 2025.
Sort of Profitable
With all that big-picture information as background, we'll delve into Full Truck Alliance's financials that show the company is growing rapidly and moved into the black in this year's first quarter on a non-GAAP basis.
After reporting year-on-year revenue growth of just 4% in 2020, the growth rate went into high-gear in the first quarter of this year and roughly doubled to 867 million yuan from the same period a year earlier.
There's no explanation for the sudden acceleration, though it's likely related to weakness in the first quarter of 2020, when China's pandemic was at its height. That weakness also would have inflated the growth rate in this year's first quarter when business was back at more normal levels, compared with depressed levels a year earlier.
The company posted a 197 million yuan net loss in this year's first quarter, which was roughly triple the 63 million yuan loss a year earlier. But excluding share-based compensation costs, which typically refers to the award of stock and stock options to employees, the company swung to a 111 million yuan non-GAAP profit in the first quarter from a 30 million yuan loss a year earlier.
In terms of valuation, a price-to-earnings (PE) comparison that gives the best snapshot of a company's worth is impossible because Full Truck Alliance and other similar style companies are mostly losing money. On a price-to-sales (P/S) basis, the company looks relatively pricey but not outrageous.
Based on its 2020 sales and a market value of about $20 billion, if it prices its IPO shares at the top of their range, Full Truck Alliance would trade at a P/S ratio of about 50. The company's business model is quite unique, making true peer comparisons nearly impossible.
But the recently-listed, money-losing Yidu Tech, which provides similar style intermediary services in the healthcare sector, now trades at an even higher P/S of 59. Weimob, another service-oriented intermediary in the e-commerce space, trades at a far lower P/S of 17. That company is somewhat limited due to its heavy reliance on a single platform, Tencent's WeChat, which is far more competitive than the space where Full Truck Alliance operates.
On the whole, Full Truck Alliance does seem nicely positioned as the clear leader in its niche, with plenty of room to further consolidate that position. The votes of confidence from Fidelity and Invesco are also positive signals, which were likely key factors in the company's aggressive boosting of its fundraising plans.
To subscribe to Bamboo Works weekly newsletter, click here