Autonomous Truck Startup TuSimple Navigates Difficult Terrain Between U.S. and China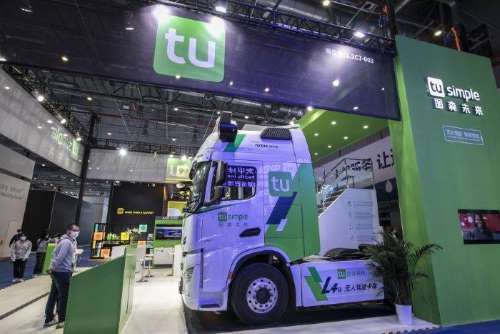 Company's bumpy New York trading debut reflects investor indecision as it becomes world's first autonomous driving technology firm to list
Key Takeaways:
TuSimple's biggest strengths are its strong business partners and early arrival to the relatively simple long-haul truck segment of the autonomous driving sector
The company's biggest vulnerabilities are its China ties, as well as competition from rivals backed by giants like Amazon, Alphabet and Baidu
By Doug Young
Life is anything but simple these days for TuSimple Holdings Inc. (Nasdaq: TSP), the newly listed autonomous truck technology firm having a slight identity crisis as it tries to distance itself from its Chinese roots and convince the world it's an American company.
TuSimple scored a major milestone late last week, when it became the world's first pure-play autonomous-driving technology company to go public, raising $1.35 billion with its Nasdaq listing. The company got a nice premium for its first-to-market status, as it beat out names like Argo AI and Plus that are eyeing their own listings.
The crowded field includes other names with deep-pocketed backers, such as Waymo, owned by Google parent Alphabet, as well as Amazon-backed Aurora. And then there's Chinese online search giant Baidu, which is placing huge bets on the space with its project called Apollo.
All that competition will undoubtedly weigh on TuSimple in the years ahead, as this field of companies engage in a road race to see whose technology can gain traction first. But for the moment, TuSimple is engaged in a tougher battle to convince the world – and a skeptical U.S. government – that it's not a Chinese company.
The results of that gambit could be critical to the company's future. That's because a determination by Washington that TuSimple is exposed to interference from Beijing could potentially put the brakes on its global aspirations as it targets the U.S., Europe and Japan as its primary markets.
That challenge is reflected in the performance of TuSimple's stock on the first two trading days after its Nasdaq debut. The shares priced at $40, higher than the earlier published range of $35 to $39, reflecting investor enthusiasm about its first-to-market status.
The stock closed flat on its first trading day, and was down slightly the day after that. But on each of those days the stock dipped significantly lower in intra-day trade. If fell as low as 20% below the IPO price on its first day, and was down as much as 10% on the second, before rallying both days to finish mostly flat.
That might indicate a little bit of cheerleader trading as "friends" of the company jumped in to create enthusiasm and prop up the share price in the face of broader market skepticism.
The best indicator of the uphill climb TuSimple faces was contained in its own prospectus, which said the company is being reviewed by the U.S. national security regulator due to possible China ties. Specifically, the Committee on Foreign Investment in the United States (CFIUS) is looking into whether one of TuSimple's key investors, an entity called Sun Dream, has such ties.
There's really no question on this topic, since Sun Dream is controlled by Sina Corp., one of China's earliest internet companies that is also parent of the country's popular Twitter-like Weibo, making it about as Chinese as a company can get. Sun Dream currently owns shares that give it 7.9% of TuSimple's voting rights, the prospectus shows.
But it could be forced to sell that stake if CFIUS deems Sun Dream is Chinese controlled – a decision that should have been announced by April 14, according to the prospectus. If CFIUS decides Sun Dream must sell its stake, the agency could take further steps to try and determine just how Chinese TuSimple is.
Chinese Roots
There's really no question that TuSimple has its roots in China, though it has taken pains to rapidly move its mass into the U.S. over the last few years. The company's two co-founders, Chen Mo and Hou Xiaodi, both worked at Chinese companies before setting up TuSimple in 2015 with headquarters in Beijing and San Diego. Its current CEO Lü Cheng, who has more of a financial background, counts the very Chinese Hopu Investment and Citic Capital as two of his past major employers. Cheng, who has more of a financial background, counts the very Chinese Hopu Investment and Citic Capital as two of his past major employers.
A determination that its Chinese connections are too strong could deal a huge setback to the company. The U.S. was already wary of such connections due to weak legal protections that make Chinese companies relatively powerless to resist requests for sensitive information from Beijing. That campaign turned up significantly under the presidency of Donald Trump, and doesn't look set to recede under new President Joe Biden.
In a bid to distance itself from its Chinese roots, TuSimple took the unusual step of moving its place of incorporation this year from the Cayman Islands – the preferred registration destination for offshore listed Chinese companies – to the U.S. state of Delaware. In that process, abandoned its previous use of the variable interest entity (VIE) structure that is often used by Chinese companies listing in the U.S. and Hong Kong.
It took the similarly unusual step of floating ordinary shares in the IPO, setting itself apart from newly listed Chinese companies that usually prefer to trade the more foreign-sounding American depositary shares (ADSs).
From a purely financial and strategic standpoint, the company looks relatively solid. Its shareholders and early investors include the likes of navigational technology maker Navistar and parcel delivery giant UPS. The company also has a development agreement with Volkswagen's Traton SE unit.
In terms of financials, the company is clearly still in the development stages. Its revenue has grown steadily in the last two years, but was still just a minute $1.8 million last year. Its net loss has also ballooned as it ramps up its business, growing to nearly $200 million last year from $145 million in 2019.
At the end of the day, TuSimple looks relatively attractive from a purely business standpoint. It has a solid series of alliances with major players, and is focused on the long-distance truck sector that is far simpler than autonomous cars. But it is vying with a crowded field of startups, some of which are backed by very big names. And as we've pointed out above, the biggest risk factor could be its China ties if Washington feels uncomfortable with that part of its story.
To subscribe to Bamboo Works weekly newsletter, click here