Fresh test for cancer-screening firm Genetron after Nasdaq exit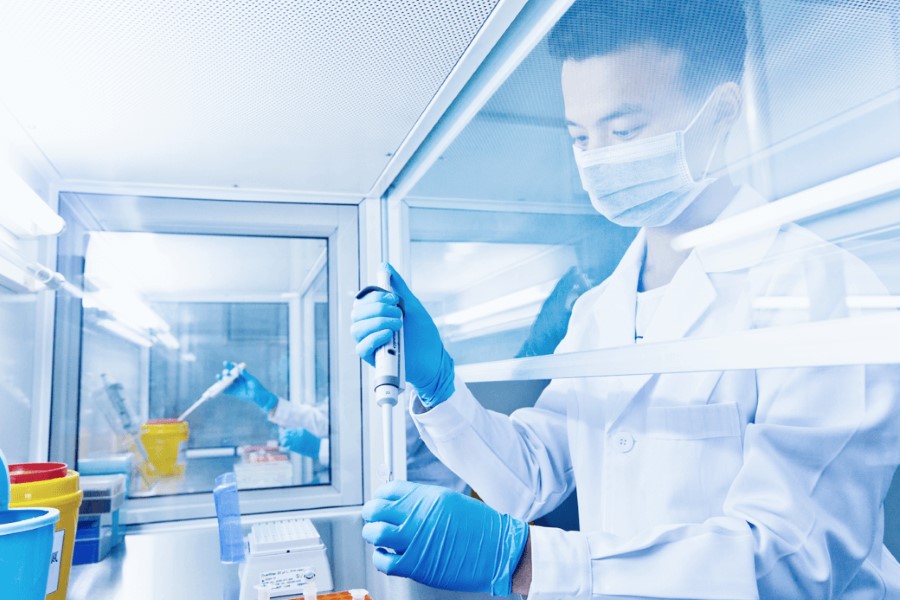 The onetime star of the U.S. stock market is being privatized with the help of new investors as it adapts to tough challenges in China's cancer-testing industry
Key Takeaways:
Genetron Health has increased its revenues by more than 20% annually over three years but profits have proved elusive
The cancer diagnostics industry, which makes most of its money from out-of-hospital screening, is grappling with high sales costs and tighter regulation
By Molly Wen
Three years ago, cancer-testing company Genetron Health (GTH.US) was a rising star in the field of innovative diagnostics, dazzling investors with a high-profile IPO on the U.S. stock market.
But like several other Chinese startups, the company found its star quality was dimmed by the harsh reality of falling stock market values and dwindling turnover.
Last Thursday, the precision oncology company announced it had signed a deal to return into private hands, joining a host of Chinese companies such as 58.com and United Family Healthcare in retreating from the U.S. equity market.
Genetron Health will merge with its parent company in a privatization deal worth $126 million that it expects to complete in the first quarter of 2024.
The delisting decision draws a line under what was the biggest IPO in the business of precision cancer medicine when Genetron Health launched on the Nasdaq in 2020 in a blaze of publicity, supported by prominent investors.
The privatization proposal made by company co-founder and CEO Wang Sizhen in August 2022 offered $0.272 for each ordinary share in Genetron Health and $1.36 per American Depositary Share (ADS), each representing five ordinary shares.
In the 14 months since then, Genetron Health's share price has been stuck in a downward spiral. The deal price represents a premium of about 15% over the last trading day before the offer was received, and a whopping 42% over the closing price on Oct. 11, 2023, the last trading session before the finalized deal was announced.
It's a far cry from the buoyant days of June 2020, when the U.S. flotation was backed by a raft of long-term funds and professional healthcare investors. Such was the demand that the ADS issuance volume was expanded from 13 million to 16 million. The issue price of the sought-after stock was raised to $16 from the estimated upper limit of $13.5. After a positive market debut, Genetron Health's shares soared to $31.54 by February 2021, but after that they hit the skids and hovered around $1 after May 2022.
The fall from grace was precipitated by persistent financial losses. Revenues rose by more than 20% a year over three years but the company could not stem a flow of red ink. In 2022 the firm logged revenues of 651 million yuan ($89 million), a year-on-year increase of 22.3%, but its net loss grew 61.3% to 811 million yuan.
In a tighter market for biopharmaceutical funds, investors have been placing a bigger premium on assured profits in their stock picking. Even companies such as Genetron Health that are well-positioned in a promising market have struggled to win investor confidence because of an unclear path to profitability.
Regulatory changes
Genetron Health provides screening for early-stage cancers, as well as diagnosis, treatment and drug development services using next-generation sequencing (NGS) technology, which can analyze patients' DNA for customized treatment plans.
One of its two main business lines involves providing genetic testing services via self-built central laboratories or at facilities jointly run with hospitals. In 2022, this business contributed more than 80% of company revenue. The other main business is the sale of diagnostic products, mainly medical devices and kits approved by regulators and registered to medical institutions.
Patients are typically referred by their physicians to cancer-testing institutions that pay 30% to 50% of the fees to the doctors under revenue-sharing schemes while also providing commissions to sales agents. This system explains the staggeringly high sales costs in the sector. In the case of Genetron Health, sales expenses in 2022 reached 365 million yuan, 56% of total revenue.
The business model has come under increasing strain after the government launched a campaign to root out corruption in the medical industry. In May this year, the National Health Commission and 14 other departments called for a clean-up of the way third-party services such as genetic testing and drug procurement are handled. Some provincial regulators have even issued instructions for the outsourcing of patients' test samples that prohibit doctors from making direct contact with third-party testing providers. The stricter rules have delivered a blow to the cancer diagnostics sector, which makes most of its money from tests conducted outside of hospitals.
In September, Genetron Health trimmed its payroll and canceled sales positions in its out-of-hospital testing team in many parts of China. The move should cut sales and administrative expenses, as well as reduce exposure to risks associated with the anti-corruption campaign. However, the smaller sales force could also limit the company's revenue in the out-of-hospital business. To offset any ill effects, the company is working to ramp up its in-hospital business, establishing 60 hospital partnerships by the end of 2022.
With tightening regulations, the cancer-testing sector will need to invest more heavily to develop money-making opportunities. Genetron Health has battled through several liquidity crunches in the past. Between 2020 and 2022, its end-of-year cash and cash equivalents were 1.38 billion yuan, 640 million yuan and 180 million yuan. But the privatization process has also brought in a set of new shareholders, including CICC Kangrui Medical Fund, Wuxi Guolian Group and CCB (Beijing) Investment Fund Management.
A much-needed capital infusion at this pivotal juncture for Genetron Health may help the company seek out new ways to thrive as a private enterprise.
Have a great investment idea but don't know how to spread the word? We can help! Contact us for more details.
The Bamboo Works offers a wide-ranging mix of coverage on U.S.- and Hong Kong-listed Chinese companies, including some sponsored content. For additional queries, including questions on individual articles, please contact us by clicking here.
To subscribe to Bamboo Works free weekly newsletter, click here