Fresh From Surviving Short Seller Attack, ReneSola Sinks Again on Revenue Shortfall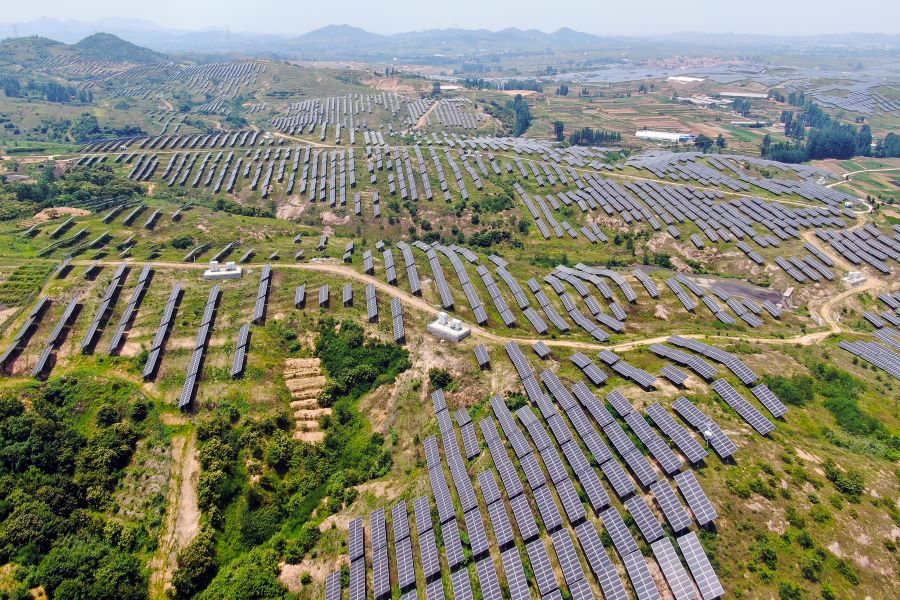 Company's third-quarter revenue was significantly lower than guidance given three months earlier, as it cited delays in several project sales
Key takeaways:
ReneSola reported third-quarter revenue of $15.5 million, lower than earlier guidance for $19 million to $21 million
Stock had largely bounced back from short seller attack last week, but sank 10% in after-hours trading after the latest results were announced
By Doug Young
The fun never seems to end for solar farm developer ReneSola Ltd. (SOL.US).
The company's stock had largely recovered over the last two trading days after coming under attack from a short seller last week. But having survived that assault, the shares are once again under pressure – this time from the company's own newly-issued third-quarter financial report that included a sizable revenue shortfall.
The company has always been a relatively small player, initially trying to compete in the crowded field of solar panel manufacturers. It made a key decision in 2017 to exit that highly competitive space and moved to solar power plant development, in what looked like a shrewd step just as solar power was becoming commercially competitive with traditional fossil fuel power plants.
The move has been generally good for ReneSola's stock, which now trades at roughly double where it was before the switch. But the change also involves a move into an area that's quite a bit less-transparent than the simpler business of making and selling solar panels, which involves transactions that happen quickly and are easy to confirm.
By comparison, solar farm construction is a process that takes years, starting with the identification of projects, followed by obtaining necessary permits, actual construction and finally selling the project to a buyer. Many things can go wrong in that long process, with the result that new projects often get trumpeted in their early stages, only to die a far quieter death for any number of reasons.
That reality was the main foundation for last week's short seller report from Grizzly Research, titled: "We Believe ReneSola is a Fraudulent Company; Most Projects Never Existed." The contents are pretty obvious from the title. But to summarize, Grizzly said its own research revealed that most of ReneSola's projects in Europe, its biggest market, "seemingly do not exist."
ReneSola's stock fell as much as 16.6% the day the report came out, and ended the day down 14%. The company issued the usual response, saying the report contained "inaccurate conclusions, misstatements of historical facts, errors, and superfluous opinions." It also announced a $50 million share buyback on Monday, which looks modest on the surface but is actually quite large when one considers the company's current market value is just $400 million.
With the worst behind it, ReneSola's shares gained back most of the losses in the first two trading days of this week. But then things got dicey again when it released its latest quarterly results after markets closed on Tuesday, revealing a fairly significant shortfall in its revenue for the third quarter and also a major downgrade in its revenue outlook for the year.
The stock sank about 10% in after-hours trade after the report's release, returning to levels not far from where it was shortly after the Grizzly attack. The implication was obvious, even if not completely logical: Grizzly accused the company of faking projects, and now the latest numbers were indeed revealing a revenue shortfall.
Delayed Transactions
All that said, we'll take a closer look at the numbers that spooked investors, and also get an expert's view on the broader issue of how likely new projects are to get completed after being announced by solar farm developers.
ReneSola posted third-quarter revenue of $15.5 million, which was up 59% from a year earlier but down 16% from the previous quarter, according to the announcement. That figure was sharply lower than the company's earlier forecast for third-quarter revenue of $19 million to $21 million given with its second-quarter results back in August.
Adding to the concerns, the company gave new full-year guidance for revenue of $77 million to $83 million, which was sharply lower than the $90 million to $100 million guidance given just three months earlier in the company's second-quarter report.
ReneSola blamed the third-quarter shortfall on delays in the sale of several projects, including one in Spain that would have generated $2 million, and an unspecified number in the U.S. state of Pennsylvania that would have generated another $6 million to $7 million. It blamed the European case on the buyer changing its mind, though it added a new buyer had been identified at a "somewhat higher price"; and it said the Pennsylvania sales had been delayed by "administrative reasons" and were expected to close in next year's first or second quarters.
Reflecting the big discrepancy between projects that get announced and ones that actually go all the way to completion, ReneSola said it currently has 1.8 GW of mid- to late-stage projects in its pipeline and is aiming to have 2 GW by year-end. But it said in the same report that only a far smaller 15 MW of projects are currently under construction.
One of our sources, who is closely involved in the industry, said that on a broader basis there is a "wide tendency for developers to exaggerate the amount of pipeline projects."
"If the same project remains on the roster for too long, never gets executed, it probably means there are some problems with that project intrinsically," he said. "These kinds of projects are just written off from an accounting perspective…which, indeed, retail investors would not be able to know about."
He suggested that investors could look for frequent management changes, no progress signs for specific projects in the years after they are announced, and auditor changes as signals that individual projects have stalled and are unlikely to get completed.
Somewhat surprisingly, ReneSola's stock still looks relatively richly valued even after all the selling pressure. The stock trades at a forward price-to-earnings (P/E) ratio of 14 and price-to-sales (P/S) of 4.7, though it's possible those could change if analysts revise their estimates following the latest developments. Chinese peer GCL New Energy (0451.HK) also trades at a forward P/E of 14, but its P/S is far lower at 1.2. And Brookfield Renewable (BEP.US) also trades at a lower P/S of 2.4.
To subscribe to Bamboo Works free weekly newsletter, click here