Dingdong Boosts Lead Over Older Rival for High-End Grocery Delivery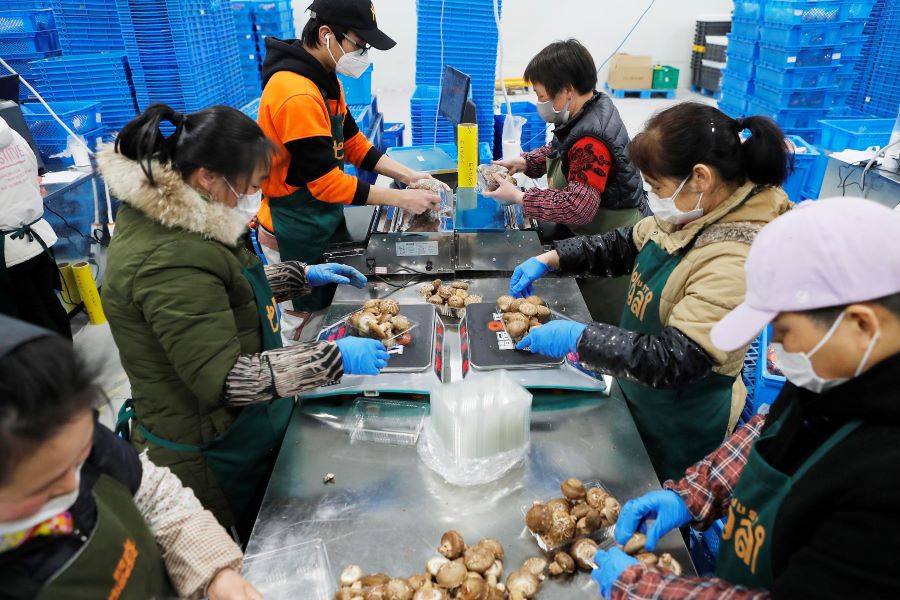 4-year-old company posts 80% revenue growth in its first quarterly earnings report, double the rate for its 7-year-old rival Missfresh
Key points:
Online grocer Dingdong boosted its edge over older rival Missfresh by posting sharply stronger revenue growth in the second quarter
The two companies could be well positioned to avoid a recent wave of regulatory scrutiny due to their relatively small size
By Mia Shanley
In the fierce battle for Chinese grocery shoppers who are rapidly moving online to buy everything from live seafood to fresh flowers, Shanghai-based Dingdong Macai (DDL.US) appears to be edging out its older rival Missfresh (MF.US), based on their maiden quarterly earnings published over the past week.
Investors seem increasingly aware of that reality, with Dingdong's stock faring far better than Missfresh's since the pair made nearly simultaneous New York IPOs in June.
The 4-year-old Dingdong saw its second-quarter revenues rise nearly 80% to 4.65 billion yuan ($719.6 million) from the same period in 2020 – a year when strict Covid-19 lockdowns spurred customers across the country to put more food in digital baskets. The company showed the big gains weren't just a fluke by forecasting a bold doubling of revenues in the third quarter, according to its report released on Monday.
Those gains were roughly double the growth rate from Missfresh, founded in Beijing in 2014, whose revenues rose 40.7% to 1.9 billion yuan in the same period and which forecast far slower growth of 40% to 45% in the third quarter.
Investors were broadly unimpressed with the numbers, though gave a slightly better reception to Dingdong. Missfresh shares have shed nearly 10% of their value since its results announcement last week and now trade near a post-IPO low. Dingdong's shares are roughly flat over the three days since its announcement. At its latest closing prices, Dingdong's $5 billion market cap makes it about five times as large as Missfresh's $1 billion.
Both Missfresh and Dingdong were early to roll out their online grocery services in China, but are now facing fierce competition from internet behemoths like Alibaba, Meituan and Pinduoduo which were later to the game but are moving aggressively as they vie for a slice of the pie.
To counter those giants, Missfresh launched a tie-up with No. 2 online retailer JD.com earlier this year and said recently it has seen a near fivefold increase in sales on the platform since April.
What sets Missfresh and Dingdong apart from competition is their service and speed, which makes them popular among higher-end customers who are less price sensitive and "stickier." Dingdong's monthly transacting users rose almost 40% to 8.4 million in the second quarter compared with a year earlier, while Missfresh rose at a slightly slower 35%.
Both companies rely on a highly centralized business model that uses self-operated mini warehouses to bring fresh, high-quality produce from the countryside to city customers – sometimes in under an hour after an order is placed. Competitors like Meituan and Pinduoduo use de-centralized models that let third-party suppliers and warehouse operators perform most of those tasks. Their costs are much lower, but the tradeoff is they have less control over quality.
While they're growing fast, both Missfresh and Dingdong remain deeply in the red as they spend heavily to expand and offer discounts to attract new customers. Dingdong's third-quarter net loss more than doubled to 1.9 billion yuan year-on-year, while Missfresh's more than quadrupled to 1.4 billion yuan over that period.
Despite that, Dingdong's CEO Liang Changlin attempted to give a rough roadmap to eventual profitability as investors may start becoming impatient for that day. "We aim to become profitable in our more mature markets first, then scale our profit goals to more markets across the nation," Liang said on his company's first earnings call since its rocky IPO in June.
In its home Shanghai market, for instance, Dingdong expects to deliver a positive operating profit in terms of unit economics in the fourth quarter this year, he added.
No Sloucher
The tone at Missfresh, which is backed by internet giant Tencent, was more subdued.
Chief Executive Xu Zheng said his company's revenue growth would "further accelerate" in the coming quarters, but he didn't discuss profitability potential. Missfresh will continue to focus on first- and second-tier cities in China and "high-value customers," he said on the company's debut earnings call.
Still, Missfresh is keen to show it won't be left in the dust.
It recently announced its deployment of "smart vending machines" in its home Beijing market, and debuted new sugar-free Oreo cookies in a tie-up with U.S. snack food giant Mondelez. And in a bid to show it wasn't just a food seller, it said its international fresh flower sales during China's "Valentine's Day" in August surged almost 500% this year.
High delivery costs are a sore point for investors in this sector. Fulfillment costs at Dingdong were equal to about 36% of its total revenues in the second quarter, while the figure was a bit lower at 28% for Missfresh.
Both digital grocers listed in the U.S. in June as a wave of new regulation was building steam in their home China market, where tech firms were coming under fire for monopolistic and data security practices, a factor which has caused shares for the broader sector to slump.
Missfresh's American depositary shares (ADSs) closed on Wednesday at $4.39, or about a third of their $13 per share IPO price. Softbank-backed Dingdong shares have fared better, currently trading at $21.34, down a milder 9% from their $23.50 IPO price.
Uncertainty over future regulation has clearly unnerved investors, a factor which Dingdong's Liang addressed on his earnings call. "China's fresh grocery market is very big, allowing multiple players," he said. "There is very little potential for monopolies in this space."
China's grocery market was worth 11.9 trillion yuan in 2020 and is expected to grow to 15.7 trillion yuan by 2025, according to third-party research provided in Missfresh's prospectus. But it is also highly fragmented, with the top 10 players accounting for less than 10% of all sales.
Dingdong is clearly trying to take control of the narrative, casting itself as a leader that can make fresh groceries "as readily available as running water."
The far larger Meituan, which counts eating-related products and services as one of its core businesses, has warned it could be forced to pay huge antitrust fines, most likely related to its takeout dining business. Pinduoduo, which just had its first-ever profitable quarter, has pledged current and future profits to farmers – a move that appears aimed at appeasing regulators.
Meituan's shares have tumbled more than 40% from a peak reached in February, while Pinduoduo's have lost nearly half their value in the same period.
In China, bigger is not necessarily better these days – a fact that could help protect Dingdong and Missfresh from the full brunt of regulations for now.
In particular, Dingdong, with its user stickiness, may have just the right balance of being big enough to gain scale but small enough to fly under the regulatory radar at a time when larger rivals are getting caught up in Beijing's broader clampdown.
To subscribe to Bamboo Works free weekly newsletter, click here