Dating App Momo Seeks Image Makeover With Name Change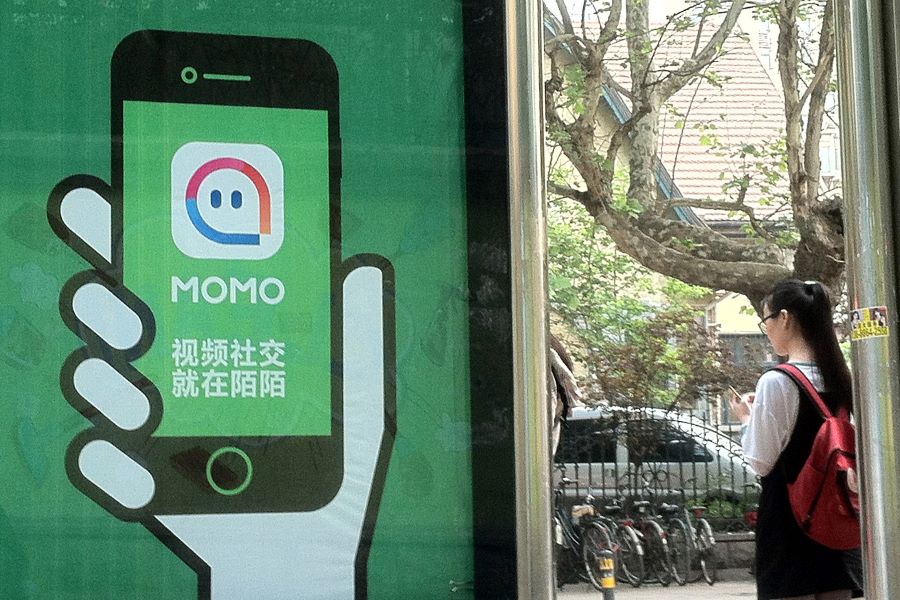 Adoption of new Hello Group name comes as U.S.-listed Chinese shares get pressured by ominous signals from Beijing
Key points:
Momo's name change to Hello Group may reflect a change in its business mix, and also a bid to sound friendlier to U.S. investors
The company trades at a weak valuation compared to global peers, but is hoping for improvement after a major overhaul of its Tantan unit
By Doug Young
What's in a name? For China's Momo, it may hope Hello will sound sweeter to buyers of its U.S.-listed shares.
That's one possible interpretation of the latest news from China's leading "meet up" app, which has just announced a name change that saw it officially become Hello Group (MOMO.US) as of Monday. The company previously spent the 10 years since its founding, including nearly seven as a listed company, known by the name of its core app Momo, often referred to as the "Tinder of China."
Despite the seeming simplicity of the name change, nothing is ever that simple when it comes to Chinese companies listed in the U.S. these days. In this case, Momo has given remarkably little explanation for its decision, leaving plenty of room for our own interpretation.
There are quite a number of ways to look at this. The most straightforward might be to look at how the company's business has changed since its founding in 2011. Then there's the fact that it might be wanting to downplay its Chinese roots. And lastly there's the sudden cloud of uncertainty hanging over all U.S.-listed Chinese companies due to recent actions by China's own regulators.
Before taking a closer look at all these factors, here's how investors have reacted to the name change. The company's shares have fallen about 19% since it first announced its intent to change to Hello Group on June 28, though they rose 3.7% in the latest session after the change was officially approved.
Year to date the stock is down 6%, which is actually a relatively mild drop compared to some of the losses we've seen for other U.S.-listed Chinese internet majors over that time. E-commerce giants Alibaba and JD.com are down 12% and 17% year-to-date, respectively, while shares of search leader Baidu have lost about a quarter of their value.
All of the stocks have been hammered by confusing signals coming from China's regulators. Most notable among those are the cybersecurity regulator's concerns about data security, and the securities regulator's concerns about the controversial variable interest entity (VIE) structure used by many Chinese companies listed in the U.S. and Hong Kong.
In an encouraging signal in that regard, the Chinese securities regulator has just put out a message saying it will try to be more predictable in its handling of this situation going forward. That's a reference to China's relative inexperience in regulatory matters, which often leads its regulators to announce new policies in sudden and haphazard ways that create huge uncertainties for affected parties.
Against all that backdrop, let's delve back into Momo's sudden name change and what may be driving it.
The most-obvious reason could stem from the company's 2018 acquisition of another "meet up" app called Tantan, which top management believes has the potential to become as important as the original Momo to the company's business mix. Thus one could interpret the Hello name as more inclusive of both the Momo and Tantan apps. The Hello name also conveys a gentler kind of relationship than the more direct "meet up" implication from Momo's older name, whose Chinese connotes the meeting up of strangers.
Foreign Friendly
Then there's the issue of trying to sound less Chinese, which some might see as a bid to make itself more attractive to U.S. investors who are the main buyers of its stock. Wearable device maker Huami did something similar, taking on the name of a company it acquired when it changed its name to the more English-friendly Zepp Inc. earlier this year.
This particular strategy isn't all that uncommon for foreign brands in general that are trying to expand globally, with Japan's Panasonic as a good case in point. The one risk for Chinese companies that do this is the potential for backlash from China's vibrant and unpredictable crowd of online patriots, who can sometimes create problems for both domestic and international companies that fall into their crosshairs.
Then there's the issue of U.S. listings for Chinese companies, which have been quite volatile lately. The similarly named shared bike specialist Hello Inc. was one of around a dozen companies that had filed for New York IPOs, but then put those plans on ice in recent weeks after all the recent regulatory noise from Beijing.
Hello Inc. was one of the few of those that actually told the U.S. securities regulator last month it was formally withdrawing its IPO prospectus submitted in April. In late June another dating app and direct Momo rival called Soulgate also pulled its IPO that was set to raise $257 million at the last minute, saying it was looking into other funding alternatives.
Bigger issues aside, the bottom line for Momo is that the company has recently become a laggard in terms of fundamentals, which is something a simple name change can't fix. Its revenue fell 3.4% to 3.47 billion yuan ($537 million) in the first three months of the year, and its first-quarter profit fell by an even larger 14% to 462 million yuan.
The company attributed the weak results at least partly to Tantan's poor performance, and revealed it had replaced Tantan's CEO and COO in April in a bid to shake up the unit.
That revelation hasn't done much for Hello Group's valuation, with the stock now trading at a price-to-earnings (PE) ratio of just 8 based on analyst forecasts for its 2021 profit. On the same basis, recently profitable U.S. peer Bumble Inc. trades at a far higher PE of 30. Even social media stalwart Facebook trades at a far higher 27, and Twitter is even higher at 87.
From a broader perspective, the newly branded Hello Group probably sees this name change as kicking off a new chapter for the company as it enters its second decade. On the one hand it is hoping to cast off its somewhat negative image as an app the encourages short, meaningless relationships in favor of longer-term more substantive ones. At the same time, it is trying to become more name-friendly to the U.S. investors who are the main buyers of its shares – at least for now.
To subscribe to Bamboo Works weekly free newsletter, click here